The champagne corks are popping at Xiaomi: things are getting better and better in Europe for the busy smartphone manufacturer. The Chinese were able to record decent growth last year and secured third place behind Samsung and Apple. However, a look at the individual quarters shows that Xiaomi has to change something in its product policy.
The European mobile communications market had a real curiosity to offer in the past year: According to market researchers from Counterpoint Research, the lead changed four times. Samsung, Apple and Xiaomi fought a tough competition for the favor of European smartphone buyers in 2021.
Samsung, Xiaomi and Apple alternate leadership in the European smartphone market
The bottom line is that Samsung again took first place : With a market share of 32 percent, the South Koreans are exactly where they were in 2020 (Counterpoint Research). In view of the increasingly fierce competition, however, this can be counted as a real victory. Apple was able to make significant gains: The launch of the iPhone 13 really paid off for the US company. In 2021, the market share increased by 4 percentage points to 26 percent.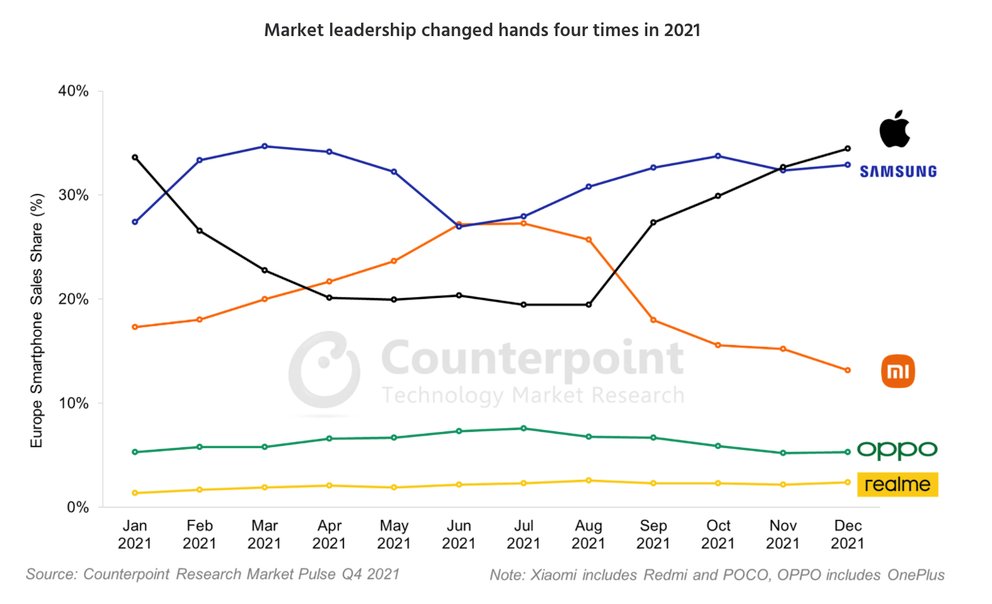 But Xiaomi was able to make up even more ground : if the Chinese had only a 14 percent market share in Europe in 2020, a year later it was already 20 percent – i.e. 6 percentage points more. According to market researchers, annual growth is a whopping 50 percent. Despite the success, Xiaomi should give food for thought when it comes to market shares.
The Counterpoint Research chart clearly shows that Xiaomi was able to grow, especially in the first half of the year . For a brief moment in June, the mobile phone manufacturer managed the previously unthinkable: Samsung was dethroned in Europe – at least for a moment. Shortly thereafter, Samsung passed Xiaomi again. The electronics group owes this above all to the good performance of the Galaxy A series, according to the verdict of the market researchers.
Xiaomi offers much more than just smartphones:
At the end of the year, Xiaomi was no longer able to counter Samsung and Apple
After the peak in June, however, things only went downhill for Xiaomi . At the end of the third quarter of 2021, but especially in the fourth quarter, Xiaomi no longer had anything to oppose the competition from Samsung and Apple in Europe.
Xiaomi, at least it seems, ran out of steam in Europe, especially towards the end of the year . In 2022, this must not happen again to the ambitious Chinese manufacturer. Xiaomi has to save a few smartphone blockbusters for the third and fourth quarters of 2022.