The players of the professional circuit of the WPT will receive, from now on, the same economic prizes as the men
(8-3-2022) World Padel Tour will equate the economic prizes that it distributes in its tournaments to both sexes. As of this season, women who participate in the professional circuit will receive the same money as men.
Setpoints Events, the management company of the men's and women's circuits of the World Padel Tour, takes a step forward in parity between both competitions. From now on, the prizes that the male and female players of the WPT tournaments will receive are equal.
The economic endowment of the women's tournaments will increase by 250% in the Challenger category, 178% in the Open category, 180% in the Master category and 160% in the Final Master, unprecedented growth worldwide. In this way, WPT tries to recognize the professional level of the players and "reward the sacrifice that has meant competing in unequal conditions until now".
This is an unprecedented measure in global professional competitions. A measure with which the WPT seeks to close the gender gap in professional padel, and which arrives on March 8, Women's Day. WPT thus reverses the prizes announced for this 2022, as shown in the following table.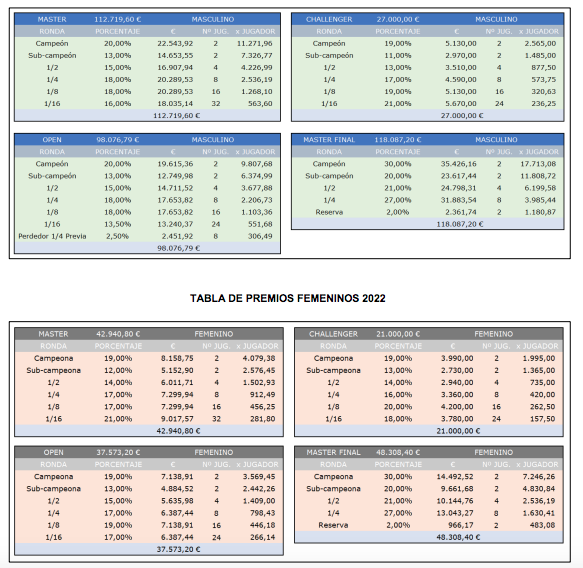 In January, World Padel Tour announced the prize tables for the male and female categories. In the Master there was a difference of 69,779 euros: 112,719 for men and 42,940 for women. In the Challenger, 6,000: 27,000 euros for them, 21,000 for them.
More significant were the distances in the Open (60,503 euros difference between the 98,076 that they receive and the 37,573 that they were going to receive); and the Final Masters (69,779 euros between the 118,087 that they give to the players and the 48,308 that the players received).
---