If you are upgrading your Android phone for a newer model, one of the first things to cross your mind will be how to transfer your information from one device to the other.
Important information you would wish to take with you includes messages, calendars, photos and music, but perhaps the most significant is your contacts.
Contacts are imperative for individuals and businesses alike. They contain crucial information like phone numbers, email address and physical addresses.
There are a number of ways to transfer contacts from Android to Android, but by far the most efficient method is to use a popular tool like Droid Transfer.
What is Droid Transfer?
Droid Transfer is a Windows PC app which allows you to manage and transfer data between your Android devices and your PC, as well as transfer contacts and other files between your Android devices.
It is super easy to use, and you can have your files transferred in seconds.
With Droid Transfer, you can copy a variety of files from your Android:
Messages
Music
Photos
Calendars
Contacts
Call Logs
Files
Apps
Clipboard
How do I transfer contacts from Android to Android?
In order to migrate your contacts with Droid Transfer, you'll need to back them up to your PC, then restore them to your new device. Watch this video for details of the quick way to transfer your Android contacts…
Here are detailed instructions on how to transfer your contacts with Droid Transfer…
1. Download and install Droid Transfer on your PC.
2. Get the Transfer Companion app free from Google Play Store on both your old Android and your new Android phone.
3. Launch Droid Transfer and connect the Android device which contains your contacts (you can connect using your USB cable or Wi-Fi). The image below shows an Android scanning. Droid Transfer's QR code to establish a wireless connection.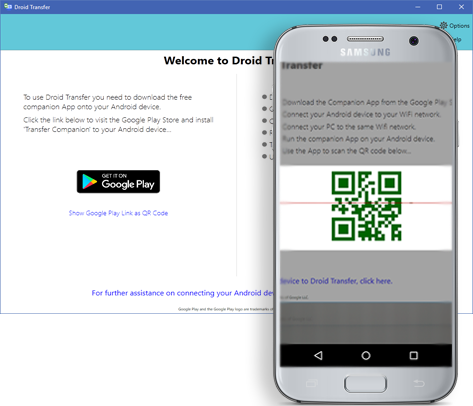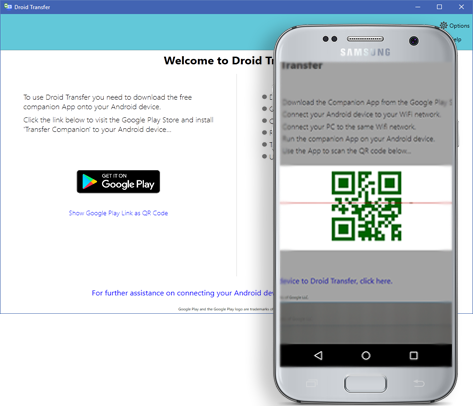 4. Open the "Contacts" section in Droid Transfer.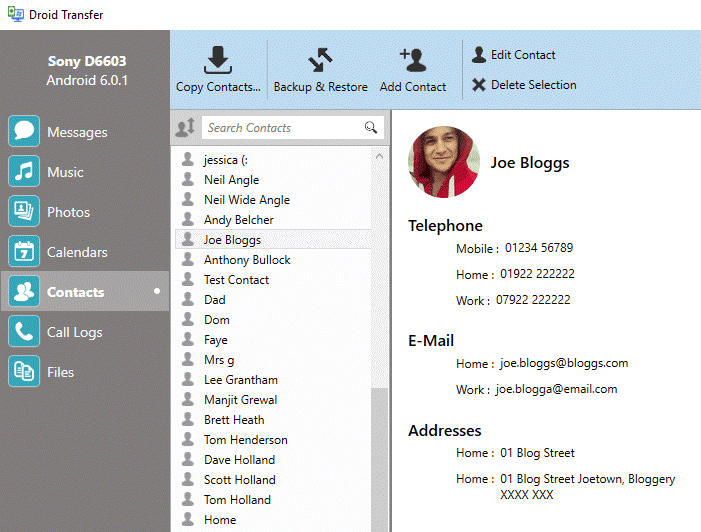 5. Click "Backup & Restore", then click the "Backup" button.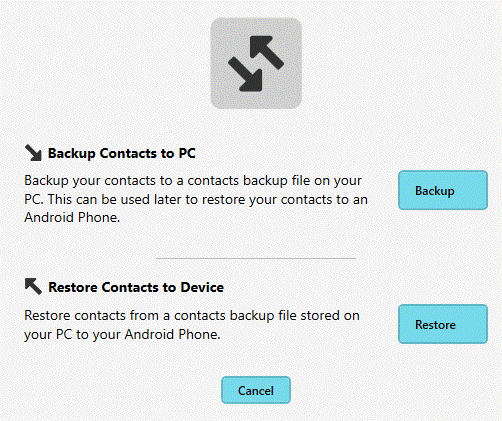 6. Choose to back up your entire list or select only certain contacts by enabling "Backup selected contacts".
7. Once your selection is made, click "Backup".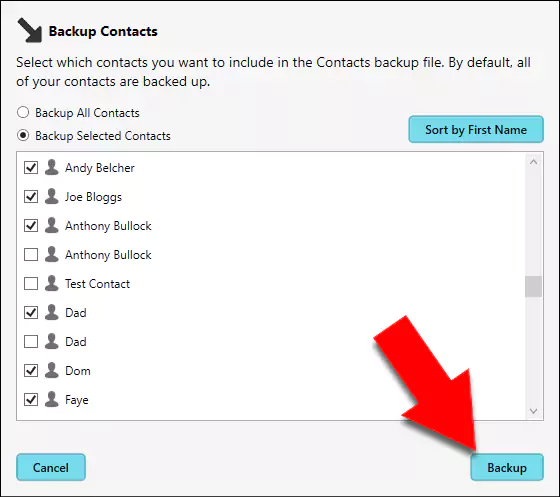 8. Select a location on your PC to save the backup file to and click "Save".
9. Safely disconnect your phone and connect your new Android device with Droid Transfer.
10. Click Contacts > Backup & Restore > Restore.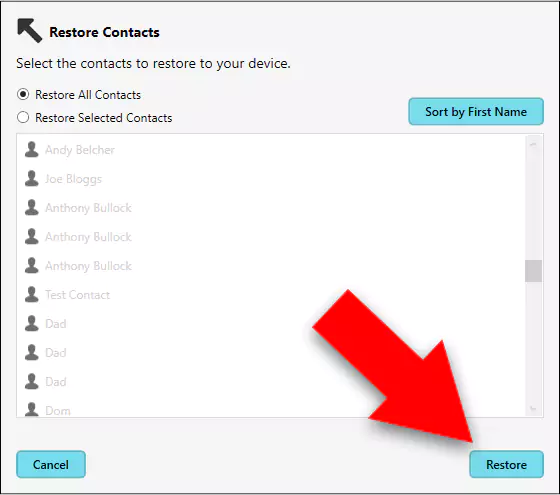 Select your contacts backup file from step 8 and click "Open".
Choose to Restore all contacts, or only selected ones from your backup file, then hit Restore.
What else can Droid Transfer do with my Contacts?
Of course, transferring contacts from Android to Android is why you are here, and this is easy using Backup & Restore in Droid Transfer.
However, you'll notice that the software also offers other handy functions in the Contacts section:
Copy Contacts…: Copying your Android contacts to your PC is a great way to keep your contacts safe should anything happen to your phone.

You can back up your contacts to your computer as vCard (the standard format for saving contacts), as CSV (for use in spreadsheet management apps like Excel), or directly into Windows Contacts or Outlook.


Add Contact: Besides copying your contacts, Droid Transfer also enables you to create new contacts and save them to your Android phone. You can import contact vCards from your PC to your Android, or create a new contact from scratch, all from within Droid Transfer.


Edit Contact: Editing your contacts on the small screen of your Android can be less than ideal.Luckily, you canedit, add and delete fields within a contact entry using Droid Transfer.


Delete Contacts: Easily delete one or multiple contacts from your Android.


Why use Droid Transfer?
Droid Transfer really does cover all bases when looking at managing data between Android and PC, or Android and another Android. Here are just a few reasons why it is head and shoulders above other methods…
Transfer multiple data types (Contacts, Messages, Calendars, Music, Photos…)
Connect and transfer with a USB cable or Wi-Fi.
Local transfers mean that you don't need to upload your sensitive data to online cloud services.
A user-friendly interface which makes it easy to use, even for less technically confident people.
Compatibility and Pricing
If you want to get started with Droid Transfer, here's what you'll need:
Droid Transfer is available on a PC or laptop running Windows 10, 8/8.1, 7, or Vista.
Make sure your Android devices are running Android 4.4 (Kitkat) or higher in order to install the Transfer Companion app on them.
The software is compatible with all Android makes (Samsung, Sony, Huawei, OnePlus, Google…).
You'll need to purchase a Droid Transfer licence to access the full version of the software.
A licence provides full access to the software on up to 2 PCs. It's a one-time purchase, so you won't be charged every month like subscription-based software.
The best thing is that you can use any number of Android devices with your licence!
Visit Droid Transfer's store page to find localised pricing.
If wish to see how Droid Transfer stacks up against other contact transfer apps, see our guide on the top ways to transfer contacts from Android to Android.
Also see,
5 Best Free Video Converters For Windows 10