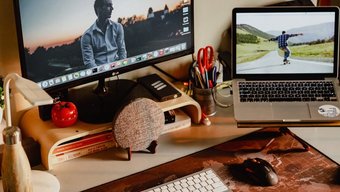 Apple MacBook Pro and MacBook Air work well even when you use them with a monitor. As long as you have a USB-C hub / adapter or the correct USB-C to HDMI cable, you can connect your MacBook to an external monitor. Apple MacBooks include a Thunderbolt USB-C port that also supports Power Delivery. Therefore, it is a good idea to take full advantage of these features.
But, if you want an "inexpensive" or "affordable" monitor, the scene changes dramatically. For example, Thunderbolt monitors or 4K monitors are expensive and cost a north of $ 700.
Fortunately, there are good enough budget monitors out there that will work brilliantly with your Apple MacBook Pro or MacBook Air. While we've tried to pack as many USB-C monitors for seamless connectivity, there are a couple of non-USB-C displays. But don't let that stop you from checking them out because the other features make up for it.
Let's look at some of the best affordable monitors for Apple MacBook Air and MacBook Pro. But first,
1. LG 29WN600-W Wide Monitor
Resolution: 2560 x 1080 (wide) | Size: 29 inches | Panel: IPS
USB-C: No
Ports: 2 x HDMI, 1 x DisplayPort, 1 x 3.5mm Audio
Offers
LG 29WN600-W.AEU – 29 '' Flat UaWide Monitor (IPS Panel: 2560×1080, 21: 9, 400nit, 1000: 1, sRGB> 99%), diagonal 73 cm, input: HDMIx2, DPx1, AMD FreeSync, 2 speakers x 7 W, Color White
Enlarge your useful surface by 32% thanks to the 21: 9 UaWide format
Expand content on the screen, without losing resolution or sharpness, thanks to Super Resolution + technology
More vivid colors and better contrast with VESA DisplayHDR 400
AMD FreeSync technology for flicker-free action
IPS panel that allows constant colors at 178º viewing angle
If you are looking to increase your productivity levels, there is nothing like a wide screen and the LG 29WN600-W fits the bill. The 29-inch 21: 9 screen gives you ample screen space to get your work done. At the same time, the slim bezels along the sides help your case and make it easy to pair with a second monitor.
It's one of the least expensive monitors on this list, and for the price, it offers impressive image quality. At the same time, the IPS display panel makes sure you get vivid colors and wide viewing angles. When it comes to numbers, the LG 29WN600-W can display 98.5% of the sRGB color spectrum.
At the same time, the panel is bright and can reach 300 cd / m2, which is more than enough for regular office work.
IF you have a secondary Windows laptop, you can take advantage of the Windows Snap feature. This makes it easy and convenient to dock open windows, making it easy to work on multiple windows at the same time.
The ergonomics are pretty decent. Again, it's a budget monitor, so you'll have to forgo features like height adjustments. Offers minimal tilt adjustments. But the good news is that you can mount it on a monitor arm. You also get a decent number of ports. The lack of a dedicated USB-C port means that you will have to take the help of a USB-C hub or adapter to connect it to your Mac.
2. ASUS ProArt Display PA247CV monitor
Resolution: 2560 × 1440 | Size: 27 inches | Panel: IPS
USB-C: yes
Ports: 1 x DisplayPort 1.2, 1 x HDMI 1.4, 1 x DisplayPort Out, 4 x USB 3.0, 1 x USB-C
ASUS ProArt PA247CV – 24 "Professional Monitor, IPS, Full HD (1920 x 1080), 100% sRGB, 100% Rec.709, Calman, USB-C, DisplayPort, ProArt Preset, ProArt Palette
23.8-inch IPS Full HD (1920 x 1080) LED display with 178-degree viewing angles
Supports 100% of sRGB and Rec. 709 color spaces
Calman verified and factory calibrated for color accuracy
DP connectivity via USB-C with 65W power delivery, DisplayPort, HDMI and USB hub
75 Hz refresh rate and Adaptive-Sync technology (48 to 75 Hz) to optimize fast action and prevent image stuttering
If you're looking for a monitor for creative purposes within a certain budget, ASUS ProArt Display PA278CV checks the right boxes. This is the successor to the ProArt PA278QV and brings an interesting combination of features, including the handy USB-C port. At the same time, the USB-C port can supply power up to 65W, making it suitable for charging the MacBook Air. And being created for creative professionals, you can expect rich and accurate colors from this 1440p display.
However, that's not the only thing worth checking out. For one thing, this one has a higher refresh rate than the standard 75Hz. This results in smooth scrolling while scrolling through long web pages. Besides, you can also expect movies and videos to be smooth.
Last but not least, the 27-inch screen is more than enough to run multiple windows side by side, as long as the app supports it. And on the off chance that you connect it to a Windows laptop, you can get the most out of the DisplayPort Out port. With it, you can daisy chain multiple monitors, reducing cable clutter.
3. HP E24u G4 USB-C Monitor
Resolution: 1920 x 1080 | Size: 24 inches | Panel: IPS
USB-C: Yes (100W)
Ports: 1 x HDMI 1.4, 1 x DisplayPort 1.2, 1 x DisplayPort 1.2 out, 1 x USB-C downstream, 4 x USB 3.1 downstream
E24U G4 FHD MNTR
HP E24u G4, 60.5 cm (23.8 "), 1920 x 1080 pixels, Full HD, LCD, 5 ms, Black, Silver
If a business monitor is more than your cup of tea, then the HP E24u is worth a look. This 24-inch monitor includes an FHD screen and is suitable for regular office work. But the feature that helps it stand out from the rest is its support for 100W charging power. So yes, you don't need to connect a separate power cord to run your laptop. In addition, it includes an integrated USB-C hub that allows you to connect various peripherals and accessories. Helps to transfer data to external storage.
Surprisingly, the HP E24u has a wide range of ports. In addition to the USB-C ports, there are HDMI and DisplayPort connectors. So you can also connect Windows desktop or older laptop.
As noted above, this monitor is designed for regular commercial jobs and not for color critical jobs. However, you can dabble in informal photo editing from time to time.
4. LG 27UK650-W UHD Monitor
Resolution: 3840 x 2160 | Size: 27 inches | Panel: IPS
USB-C: No
Ports: 2 x HDMI 2.0, 1 x DisplayPort 1.2, 1 x 3.5 mm
LG 27UL650-W – 68.6 cm (27 ") 4K UHD Monitor with IPS Panel (3840 x 2160 pixels, 16: 9, 350 cd / m², sRGB> 99%, 1000: 1, 5 ms, 60 Hz) Color Silver and White
Hardware adjust color settings to maintain accuracy in any game or audiovisual content
Vivid colors and better contrast with VESA DisplayHDR 400
RADEON FreeSync technology for flicker-free action
Interaction in real time and without lag thanks to Dynamic Action Sync (DAS Mode)
Black Stabilizer Technology (Black Stabilizer Technology) that allows differentiated dark colors
If you want a 4K monitor to connect to your Apple MacBook and you don't want to spend that much, then the LG 27UK650 turns out to be a good choice. For the price, check all the correct boxes. For one thing, the IPS panel gives you vibrant image quality. Details appear crisp and clear, so they stay true to their 4K monitor label. At the same time, you can also use it for color sensitive work. It can display 99% of the sRGB color gamut.
It has a premium look, all thanks to the slim bezels and curved monitor stand. The stand is ergonomic and you can adjust the height by about 100mm. The viewing angle is decent at 178 angles, and if you have to share your screen with colleagues from time to time, it shouldn't be a problem.
The affordable price means you'll have to give up some features and in this case, it's the HDR. Although it supports HDR 10, the resulting image quality when reproducing HDR quality leaves a little to be desired. The lack of local dimming and the low-gloss ceiling may not deliver dark or deep colors like their premium counterparts and can sometimes result in washed-out colors.
You don't get a USB-C port here either. Instead, you can choose between two HDMI 2.0 ports and one DisplayPort 1.2. Without a dedicated USB-C port, you will have to rely on the old USB-C adapter to connect your Mac to the display.
5. Dell U2520DR Monitor
Resolution: 2,560 x 1,440 | Size: 25 inches | Panel: IPS
USB-C: Yes, 90W
Ports: 1 x HDMI, 2 x USB-C, 2 x DisplayPort, 3 x USB-A, 1 x 3.5mm audio
DELL Monitor 25 "LED IPS UaSharp U2520D 2560×1440 Quad HD Tempo di Risposta 8 ms
Dell Express serial connection enables automatic second screen detection
With the ability to tilt, rotate, pivot and adjust the height of the monitor to suit your needs, you can be comfortable all day
Dell Display Manager (DDM) Easy Organizing feature lets you quickly organize and view applications in parallel
Quick-access, easy-to-place side ports allow you to easily charge and connect to devices
The Dell U2520DR costs a bit more than previous monitors. However, it does bring an interesting set of features to the table. Although it may not have a 4K panel, the 1440p display offers sharp and vivid image quality. At the same time, you can use this monitor for occasional color-critical jobs, thanks to its support for a wide color gamut (99% sRGB). The price does justice to the dynamic range and you will most likely love the result.
It is a USB-C monitor and includes two USB-C ports, and one of them can provide 90W of power. Also, since it supports DisplayPort over USB-C, the same port can also send the video signal. Cool right?
Other than that, you also get a wide variety of ports, including nifty UBS-A ports for connecting your peripherals. Another highlight of the Dell U2520DR is its ergonomics. For example, you can adjust the height (5.1 inches) and tilt and rotate the screen according to your preferences.
The second eye
When you get an external display for your MacBook Pro or MacBook Air, get a laptop riser to go along with it. With both displays at the same level, you can work more efficiently. And trust me, your neck will thank you. Alternatively, you can take the deal even further by mounting it on a desktop stand (as long as the monitor has VESA-compliant stands).
The entry The 5 best budget monitors for MacBook Air and MacBook Pro was first published in TecnoTuto .