The Steam platform is one of the most popular places to go for PC gamers. A wide variety of games and the relevant information can be found quickly, which can make the purchase decision much easier. Every now and then there are also great offers among the top sellers. We introduce you to the top 10.
Steam: Which games are top sellers currently leading?
There are long-running hits like CS: GO, which have been on gamers' shopping lists for months. Now and then there are also surprises, such as the tactical first-person shooter Ready or Not . This game has been around on Steam for a while, but is now selling like the proverbial hot cakes.
So it is worthwhile to check regularly with the global Steam top sellers to see if there is a new insider tip or even a special bargain . We are now introducing you to the top 10 Steam top sellers – maybe there is one or the other for you.
10. Elden ring
Official Description: The new fantasy action RPG. Rise up and allow yourselves to be guided by grace to wield the power of the Elden Ring and become an Elden Lord in the Lands in between.
Elden Ring is expected to be released on February 25, 2022.
9. DYSMANTLE
Official Description: Rise from your lair. Ruin everything. Escaped from the wretched island. Explored. Fights. Level up. Survive. Collect. Handcraft. To harvest. To hunt. To build. Farm yard. Solve riddles. Fishing. Cook. Life. Enjoy the bittersweet post apocalypse.
8th place – Project Zomboid
Official Description: Project Zomboid is the ultimate zombie survival game. Alone or in an MP: You plunder, bast, trade, fight, farm and fish for survival. A hardcore RPG skill set, huge map, massively customizable sandbox, and cute tutorial raccoon await the unwary. So how are you going to die? All it takes is a bite …
7th place – Monster Hunter Rise Deluxe Edition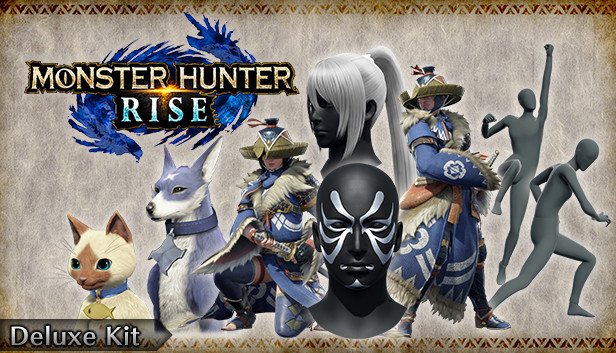 Official Description: Contains the base game Monster Hunter Rise and a deluxe kit.
The deluxe kit includes:
– Kamurai "hunter layer armor set
– "Shuriken collar" palamute armor piece
– "Fish collar" piece of Palico armor
– gestures (4 jumps)
– Samurai pose
– Kabuki face paint
– "Izuchi braid" hairstyle
6th place – It Takes Two
Official Description: Embark on the craziest journey of your life in It Takes Two. Invite a friend to join for free with the Friend's Pass and work together on a variety of fun-wacky gameplay challenges. GAME OF THE YEAR winner at the Game Awards 2021.
By the way: You can get the game on Steam until January 10th for 19.99 euros instead of 39.99 euros, so save 50%!
5th place – Farming Simulator 22
Official Description: Now with the exciting addition of seasonal cycles! New machine categories and crops add new game mechanics to the gaming experience.
4th place – CS: GO – Operation Riptide
Official Description: Immerse yourself in Operation Riptide! New challenges are waiting for you, with new maps, new game mode options and the brand new private queues! Operation Riptide's mission system has been redesigned: Complete your weekly missions and choose from a variety of rewards, including new agents, weapon collections, stickers and patches.
Caution! CS: GO Operation Riptide is an extension. You need the base game to use it.
3rd place – Foundation
Official Description: Foundation is a laid-back medieval city building game without a grid with an emphasis on organic development, monument building and resource management.
2nd place – Monster Hunter Rise
Official Description: Take on the challenge and go hunting! In Monster Hunter Rise, the latest in the award-winning and best-selling Monster Hunter franchise, you become a hunter, explore brand new maps and use a variety of weapons to slay fearsome monsters in a completely new story.
Monster Hunter Rise is expected to be released on January 12, 2022 for PC.
1st place – Ready or Not
Official Description: Ready or Not is an intense, tactical first person shooter that depicts a modern world where SWAT police units are called in to defuse hostile and confrontational situations.
(Source: Steam)