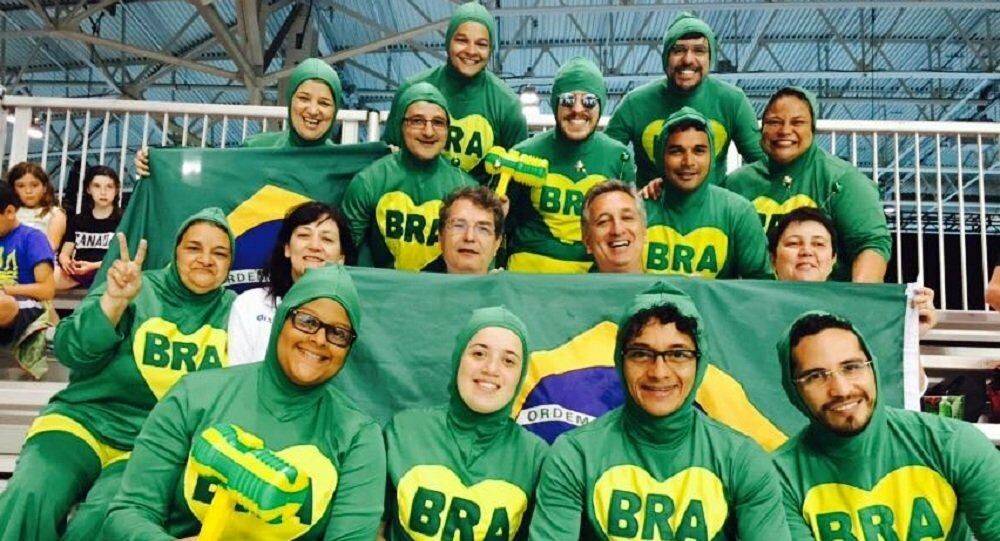 the saga of fans and family members who will not be able to go to Tokyo for the Olympics

Os Chapolins, a group of friends who travel together in all editions of the Olympic Games (personal archive) The Olympic Games in Tokyo 2021 will be different from all others, especially when it comes to the fans. The competition venues will have their stands empty for the first time, a feeling of frustration for both the athletes, as well as for the fans and their families. Many of them even had tickets, tickets and accommodation purchased. And now, they begin to be reimbursed little by little, recovering, at least, the financial part. This is what happened with the Chapolins Torcedores group, and with Mafuxinha Monteiro, a great beach volleyball fan, as well as the relatives of the athletes Hugo Calderano and Luisa Baptista. After the postponement of the Olympics last year, the uncertainty about the presence of the public persisted until March of this year, when it was announced that only Japanese could go to the arenas, without foreign fans. However, a state of emergency was decreed in Tokyo in the first week of July and, with that, there will be no crowd at the events. The measure was expected by most people, but it is not without frustration. In the case of Chapolin Fans, they started buying tickets in 2019, during the Pan American Games in Lima-2019. According to Saulo Próspero, Erik Ullysses and Gustavo Cardoso, members of the group, around 225 tickets were purchased, which represents approximately R$130,000. "It was a year of great apprehension and great expectations that everything would end well and we could go. It took years of planning, saving money and plotting a script. And, despite already waiting for this, there is still a little frustration and a little sadness. It would not only be the opportunity to follow the Games in loco, but also to get to know a new country and a new culture", lamented Erik Ullysses. Mafuxinha Monteiro's case was a little different. A number one beach volleyball fan, she won tickets to a group she calls the guardian angels. And in parallel, she sold brooches and raised a fund to raise money and travel to Tokyo. Almost everything was ready, with painted banners and personalized clothes, but Mafuxinha didn't even have to buy the tickets, once the decision was announced. "I was very disappointed. I was very sad for all the effort I made, having sold my things, having gone back to my mother's house, selling brooches and everything. I was so excited. Even with the restrictions, I thought I could go and be there somehow. But today I understand, they know what they do and they will be totally different Games".
Mafuxinha, a beach volleyball fan, had to postpone plans to go to Tokyo (personal file)
Ticket Refunds
After the frustration of not being able to travel to Tokyo, came the concern about the expenses that had been made. Tickets, boarding fees and hotel reservations were soon refunded after the announcement by the International Olympic Committee (IOC). As for tickets, chargebacks started last week, but fans will not receive the full amount they paid. As the purchase was made through an official reseller in Brazil, they had to pay an extra 20% fee on the value of the tickets. And this fee will not be refunded. "I think it's normal to have a fee, but I also think it's abusive to charge 20%. Besides, it wasn't a reason for our cancellation, because we wanted to. So I think it is abusive for them to cancel the Games and for us to have this loss", said Mafuxinha. The official ticket reseller took a stand on the case. "We clarify that the service fee is the company's remuneration for intermediation services that were provided in ticket sales. Note that the company is international, headquartered in Switzerland, subject to the laws of your country, however, complying with the rules for charging the service fee in Brazil, which deals with the advance and cancellation of services, reservations and events due to of the pandemic".
away from the family
In addition to the fans, who suffered from the news of the absence of a public were the athletes and their families. Hugo Calderano, from table tennis, and Luisa Baptista, from triathlon, were two of them. The families had already booked a ticket and booked a hotel in Tokyo, but had to cancel. "Honestly, it's been such a difficult and sad year and a half, that it has become unimportant in the larger context. Of course we really wanted to be there. We waited and hoped until the last possible moment. But, even in relation to the Games, our biggest concern was that they would happen and that Hugo would be well enough to participate", said Elisa Calderano, Hugo's mother.
Hugo Calderano's mother hugs her son at Rio 2016: family stayed in Brazil and athlete went to Japan alone (Danilo Borges/Brasil2016.gov.br)"I had several stages of feeling. At first, I tried to remain optimistic. When they hit the hammer and I went to cancel the flight, I cried a lot, I was sad, because it's not often that we have a daughter going to the Olympics. But I left the sadness aside and started to vibrate a lot, because Lu was making a childhood dream come true. Regardless of the distance, our hearts will be with her and we just want her to be happy", added Jaqueline, Luisa's mother. And from the athletes' point of view, it's another challenge in a journey full of them to fulfill the Olympic dream. "It will be a hard and unprecedented moment. I'm used to competing with the presence of an audience, especially my family. But the support and emotional security of my family members was essential for me to be at the Olympic Games. And although they are not physically present with me, I know they will be cheering and sending positive vibes", added Luisa Baptista.
Correct decision?
The decision about the absence of a public, now total and before foreigners, causes disagreement among fans. Saulo Próspero, who was responsible for programming and purchasing tickets for the Chapolins, for example, disagrees. "I think it was a huge planning mistake by the Japanese government. Vaccination there took a long time to start and 10 days before the Games they only vaccinated 15% of the population with two doses. This is using vaccines with 21-28 days, not 3 months between doses. How come the government didn't start vaccinating quickly months ago? Even more so in a country with a very large elderly population. Now it got pulled and they took the public out of practically everything. Grotesque mistake". On the other hand, even with the sadness of not being able to closely follow the Olympic Games in Tokyo 2020, Erik Ullyses and Elisa Calderano consider the decision to be correct. "I think the decision is the right one, yes. It would be too risky for Japan to receive fans from all over the world for two weeks. I think the health of the athletes, the Japanese, and consequently the whole world, should come first. So let's enjoy it from here, cheer for our athletes from a distance and celebrate their victories a lot. In 2024 we will be back in Paris to celebrate sport as well as life," Erik said. "Organizing the Games in this context must be a nightmare. I think it was the right decision, which shows the responsibility the Japanese government has with its population and with everyone involved in the event. Of course, after playing Rio 2016 with a huge crowd screaming his name, it will be a bit melancholy for Hugo to play in an empty gym. But I'm sure athletes will be able to find joy somehow. Cultivating the Olympic spirit at this moment will do us all good, whether we are in Tokyo or not", concluded Hugo Calderano's mother.**By Fernanda ZalcmanDo you want to understand what the financial market is and how it works? Watch the free series "Carreira no Mercado Financeiro" and discover the sector of the economy that pays the best salaries in 2021.
Related