The most visited online sports stores by Spaniards – CMD Sport In order to offer you a better service, CMD Sport uses cookies. By continuing to browse the site you accept their use. To accept
Primary Mobile Navigation
---
As published by CMDsport magazine in its number 452
READ THE COMPLETE INFORMATION IN PDF FORMAT
on August 30, 2022 at 7:17 am
Cover of the MULTISPORT section of the digital magazine CMDsport, number 452, and pages that are included in this edition in the aforementioned section.
(30-8-2022). What are the online sports stores that Spaniards visit the most in Spain? Is there much difference between the data of the leader and those of the rest of the competitors? Find out in the digital magazine CMDsport, number 452.
Decathlon is the irrefutable king in the online orbit of Spanish sports retail. The ecommerce of the French giant registers in Spain an average of about 19 million clicks per month. No other operator reaches even 5 million clicks on average. Along with Decathlon, the other most advantageous sports retail ecommerce in this regard would be Sprinter and Wala.
This information is what opens the Multisport section of the digital magazine CMDsport, number 452. It also specifies which are the leading ecommerces in terms of estimated monthly clicks that the Sistrix meter gives them.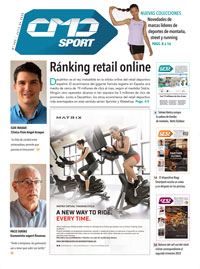 NOVELTIES SPRING-SUMMER 2022-2023
On the other hand, various leading brands present their most emblematic novelties for the spring-summer 2022-2023 season of mountain, street and multisport disciplines.
Among the brands are banners such as: +8000, Dare2b, John Smith, Regatta, Rusell Athletic and Trangoworld.
Read all this information starting on page 4 of the digital magazine number 452 of CMDsport.
---
Change Location
To find awesome listings near you!