Cover of the FITNESSGYM section of the digital magazine CMDsport, number 452, and pages that are included in this edition in the aforementioned section.
(31-8-2022). The Valencian startup, Zonyx, has developed a solution, Nagi Smartpool, which offers data that will transform the experience and management of swimming pools and beaches in Spain and abroad. The digital magazine CMDsport number 452 includes the assessments that various managers make of this innovative technology.
Digitization has already reached swimming pools. Users, lifeguards, monitors and managers of sports centers and gym chains can now benefit from the 'Big Data' offered by a small device that is incorporated into swimmers' goggles and that emits bluetooth signals that allow the user's position to be recorded in all times. That device, called the Nagi Smartpool, is battery-powered and is estimated to have a useful life of between a year and a half and two years.
This information is one of the 'succulent dishes' of this edition of the digital magazine number 451 CMDsport.
Also, various managers of sports facilities relate their experiences with this device which they predict will change "a before and after" in the management of the aquatic environment.
COACHES AND PROFESSIONAL INTRUSION
This edition also includes an interview with the CEO of the Angel Aranque Physiotherapy Clinic, Idel Aranque. The expert maintains that "the lack of unity between coaches allows intrusiveness to persist." Aranque acknowledges that "there are many autonomous communities where you can be a personal trainer without training."
Ilde Aranque regrets the 'flight of talent' that fitness is experiencing as a result of the fact that "the sector is undervalued and many graduates in physical education end up applying for police or going to other sectors where they can earn more".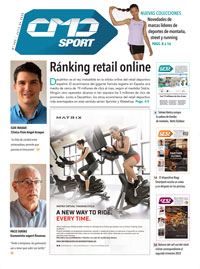 PRICE INCREASE
On the other hand, this edition also includes an interview with the economist specializing in financial planning, Paco Subías. This expert assures that "sooner or later, fitness is going to have to raise its prices".
Subías predicts that "post-pandemic growth is going to be lower than expected and, furthermore, it is going to be accompanied by high inflation."
Read all this information and others starting on page 18 of the digital magazine number 452 of CMDsport.
---