It's not always easy to find Free programs in Spanish to make videos with photos. I know that sometimes the language is a barrier, especially in programs with a very specific vocabulary, and the other barrier is the price, not always affordable in programs to make videos with photos and music.
Now, I don't know if you've ever tried to make a video with photos and add inspiring music to it but I highly recommend it. I believe that photography, video and music are perfect allies to find a good narrative, an emotion, to feel that we have captured some magical moments, that we have won the game over time by stealing those moments from oblivion.
So we are going to find a few programs for you to make spectacular videos of your special moments, do you feel like it? Go for it.
INSIDE THIS ARTICLE… 📖
Programs to make video with photos and music for free and in Spanish
I did not want to reduce the list too much because it is not always easy to find programs to make videos with photos and music for free in Spanish, but I have looked for some that, although they are in English, are easy to understand and others that allow them to be translated directly into Spanish.
In both cases, I'm sure you'll get by with the one you choose from this list 😉 .
1. Windows Movie Maker
A program to do video with photos and free music in Spanish for Windows that, despite having been discontinued by Windows, is very complete. It does not receive updates, so the download version is the latest.
However, it continues to stand out for the number of editing options, transitions, and functions it offers. It has a simple and intuitive interface, classic, can be configured in Spanish, and requires few technical requirements.
windows movie maker
Here you can see how to use Windows Movie Maker:
Download Windows Movie Maker for: Windows
2.Filmora
It is a very complete program that exists in a paid and free version, both for Android and iOS systems. In addition to allowing you to make videos with photos and music for free, you can configure it in Spanish.
As an editing program, it is very complete with many transition, text and editing options (color correction, video effects, subtitles, changing backgrounds, etc.) and more than 100 video and audio tracks.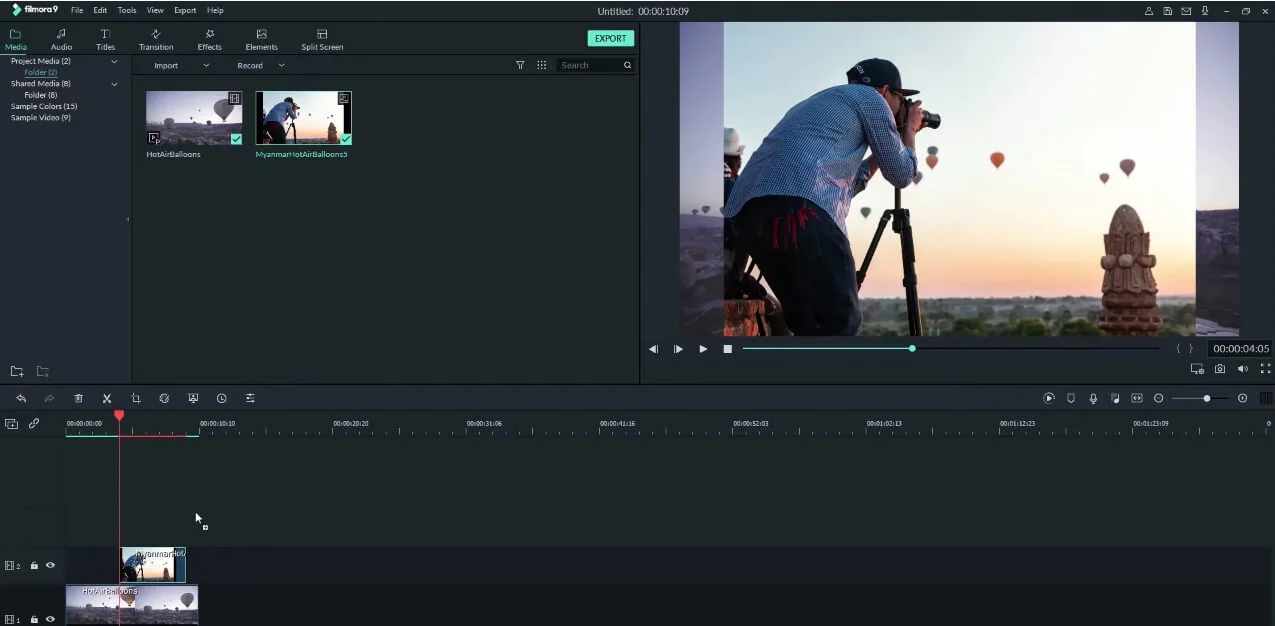 Filmora
One of the most complete editors with a free version and in Spanish with few limitations (yes, add a watermark to your works). If it convinces you and you want to get the most out of it, its price is not excessive at all for the features it offers.
Here you can see how it works:
You also have it in a mobile application version.
Download Filmora for: Windows / macOS
3. kden live
An open source video editor that you can use to make video with photos and music in Spanish which is also gratuitous and very complete.
It is compatible with most operating systems and has many advanced options such as 2D titles, multi-channel audio and video montage, configurable shortcuts, numerous effects and transitions, and many other features.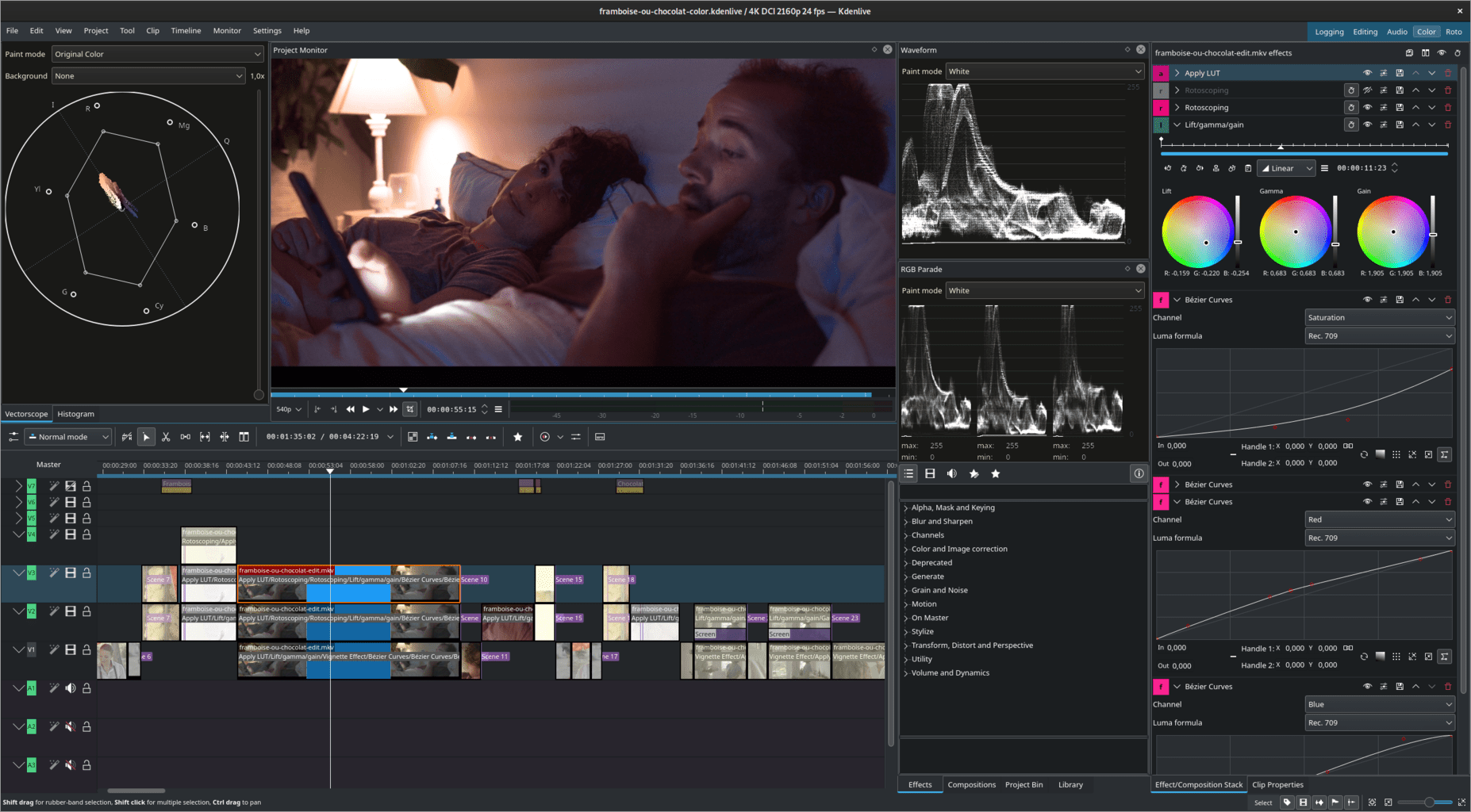 If you want to go further in video editing, this is a good program, although it needs a good learning curve.
Here is a video to learn how to use it:
Download Kdenlive for: Windows / macOS
4. VSDC
Another program that allows you to do video with photos and music free very intuitive and easy to use. To use it you first have to register.
This video editor has features like filters, transitions, visual effects, blur, etc., all in a simple and comprehensive interface.
VSDC
Here you have his presentation video of version 7.1 of the program:
Download VSD for: Windows
5.AVS Video Editor
A very complete video editor that offers a free version. AVS Video Editor has all the basic functions such as transitions, the possibility of adding subtitles, processing 4K files, color correction, slideshows with music, voice, etc.
The free version adds a watermark to the works but, even so, it is very complete and interesting for Windows users who want to make videos with music and photos.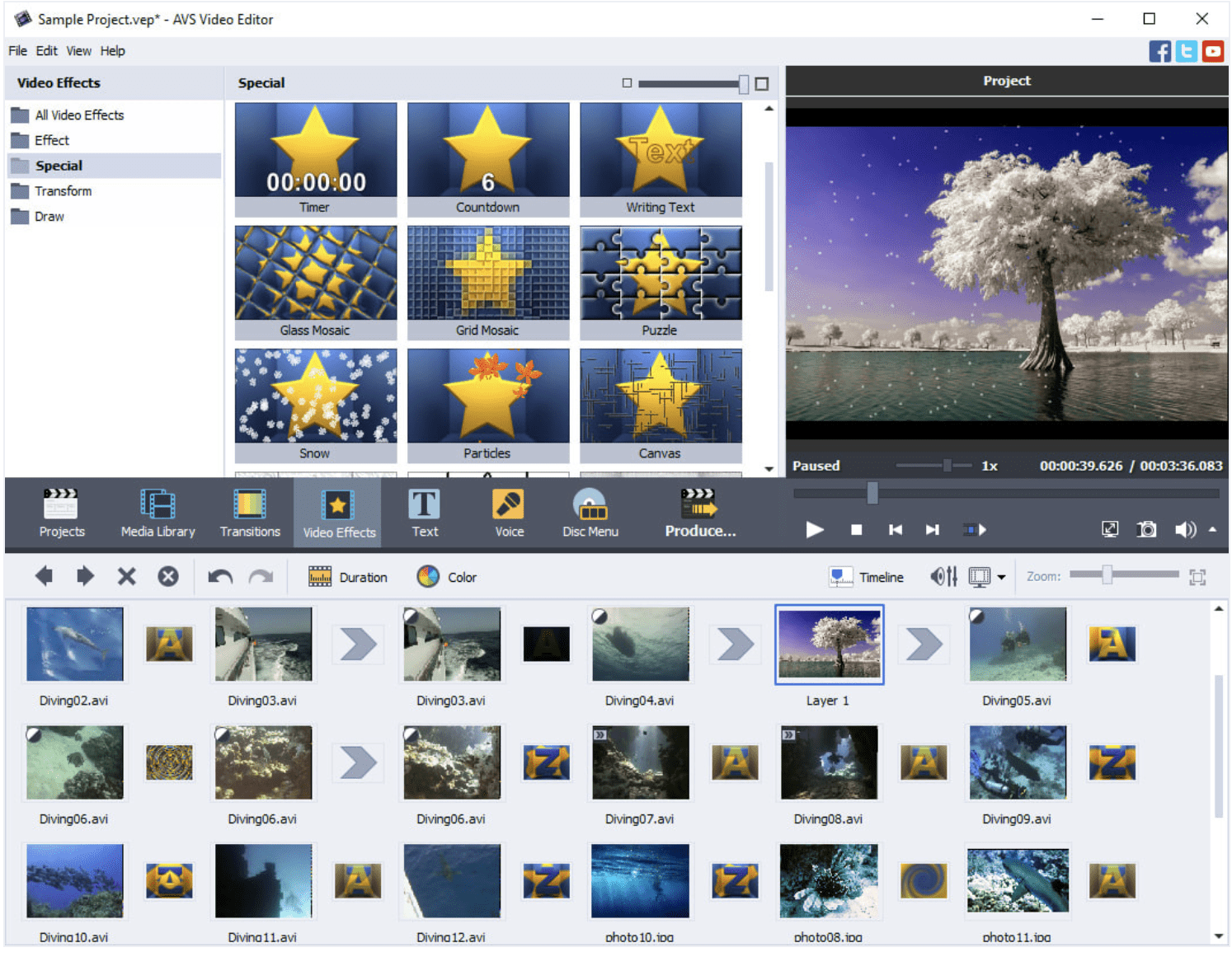 Download AVS Video Editor for: Windows
6.Videopad Video Editor
A Free video editor for Windows and macOS users very, very complete. It supports more than 60 formats, more than 50 visual effects, 3D video editing, audio effects, color adjustments, subtitles, and fast and intuitive editing.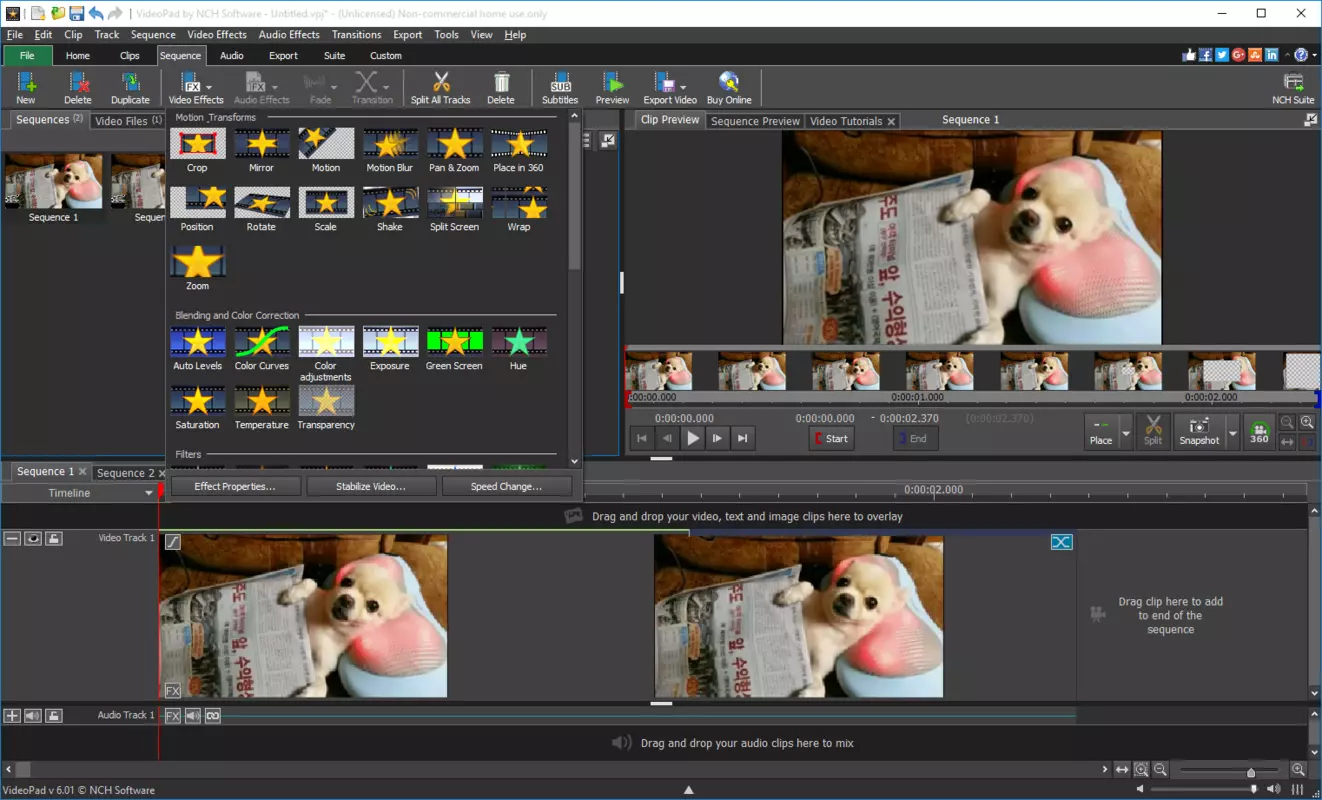 VideoPad
Download VideoPad for: Windows/macOS
7. ivsEdits
It is a program to edit video with a free version exclusively for Windows system. You need to register to use it, but its use is free.
It is conceived in a modular way and allows quick editing, group work, supports analog or 4K files. It is linked to Vimeo, so it is optimized for uploading videos to that platform.
This editor is exclusively in English, but learning the basic functionalities is not difficult to handle even knowing little English 🙂 .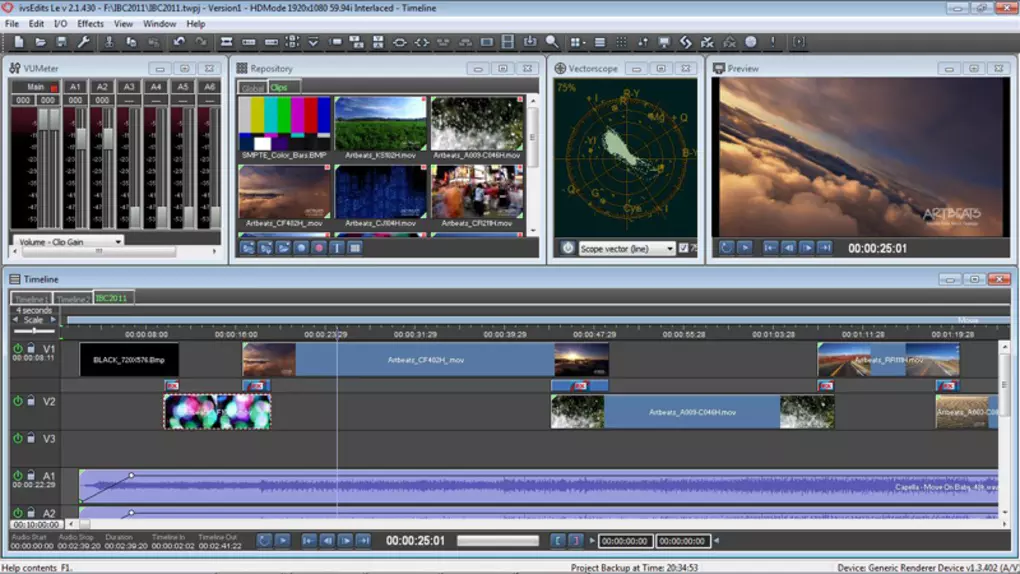 iv's Edits
Download ivs Edits for: Windows
7. DaVinci Resolve 18
Da Vinci Resolve is a professionally tinted program of which there is both a free version as a paid one with, obviously, more features.
A fast, non-linear editing system with a simple interface suitable for beginners but also for professional use. It allows you to compose visual effects, create graphic animations and mix audio.
The free version supports virtually all 8-bit formats at a maximum frame rate of 60 f/s in UHD definition (3840 x 2160).
It is the most complete and professional program on the list, so it requires a learning curve, but as a video editor, it is the best you will find, even in its free version.
Here you can watch a video to learn how to use it in version 17:
Download DaVinci Resolve for: Windows/macOS
Apps to edit videos with photos
If what you are looking for is an application for your mobile computer or tablet, we have this article with the best photo video editing apps that will solve all your doubts.
Have you already decided on your program to edit video with photos and music? For special occasions or simply to be able to see your photos in a more pleasant and emotional way, to send or to give as a gift.
Making videos with your photos is a way to bring your photos to life, and you already know that in this blog we are fans of it.
I hope this article will help you so you don't get lost among thousands of options and go straight to what you need 🙂 . If you found it useful, don't forget to share it. Thank you and see you next time.