Do you want to create a video with your mobile photos and you don't even know where to start? You need one application to make videos with photos. Today I'm going to help you find her.
I am going to present you with a list of the best applications to make a video with photos (and music) for FREE, so that you can find the ideal one for you according to your needs, regardless of the device you use (iPhone or Android). Also, I will leave you with some tips on how to make your video.
INSIDE THIS ARTICLE… 📖
How to make a video with photos?
Before leaving you a list with the best applications, I am going to leave you with some recommendations of how to make a video with photos:
Apps to make videos with photos
Give it the time it deserves. If you want to obtain good results, it is not enough to select four photos and wait for the program to do the rest. Forget the rush. Although if there is no choice but to run, below I leave you with some perfect applications for those emergencies.Choose the app. Determine beforehand if you want music, if you will also include videos in addition to photos, if you want to introduce voiceovers, texts, etc. Write a list with the ideas that you have in your head and look for an application that has all the functions you need and that is comfortable and easy for you. Create a script. Are you going to tell a story? Put them in chronological order? Will you enter text in between? Take paper and pencil and assemble the entire script first, then the rest of the work will be much easier for you and you will save yourself the effort of doing and undoing.Select the photos. Before you start editing, select the photos you want to appear in the video. Save them as favorites or in a separate folder, depending on what your phone allows. Try to be consistent. Not only on a narrative level, but on a visual level. Photos that have a similar aesthetic, the same filter and format (vertical or horizontal), if you put backgrounds that harmonize with each other, the same typography in the different texts, etc. Typography. Speaking of typography, look for a simple one so that you have time to read the texts, especially if they are long. Dynamism. Try not to get too boring. Dynamic videos are much more appreciated. Music. Choose the theme well, according to the story or what you want to convey. Sounds and voices. Be careful if there is a video where there is a voice and you don't want it to be lost, the voice has to be heard over the music.Export. When exporting, keep in mind if you are going to project it on a big screen or if you want to share it on social networks or WhatsApp, this decision will determine the final size (you can have several versions). Premium or free version. If you are going to create a lot of videos and, especially, for work or professional topics, I recommend that you choose the premium version of your favorite application. More than anything so you can remove watermarks and create without any limits. The prices are usually quite affordable and it ends up being a good investment. For sporadic videos, family videos, etc., with the free options you have more than enough.
Now yes, we are going to search for the best application to make videos with photos.
Google Photos
This application is ideal if you already have it installed and use it. It's not the most complete for making videos, but it is one of the most complete for managing your photo archive on your mobile and if you have it on hand and want something fast, it will work for you. You can also make collages or create an animation.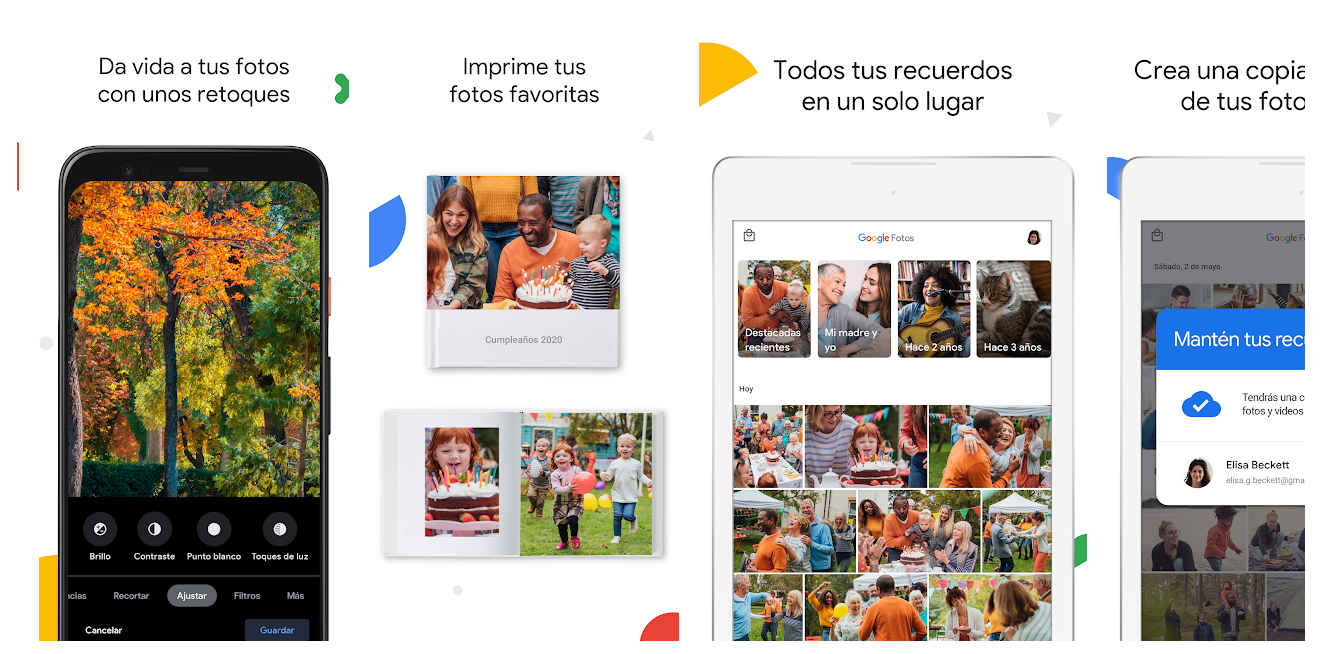 Google Photos
Download Google Photos for: Android / iOS
How to make a video with photos in Google Photos?
Once inside your account, go to Library > Utilities > Movie. Choose a template or the new movie option, select the photos with which you are going to assemble the video and click on Create.
Then you can add some more image in between by clicking on the three horizontal buttons to the right of each clip. Determine the duration of each of these clips by moving the cursor on the gray bar to the right or left. You can choose if you want vertical or horizontal format and add music.
It also allows you to include videos with photos.
InShot
This is one app to make videos with photos free which offers many options. It is really complete, intuitive and has everything you may need, both to make personal and family videos, as well as to create content for your social networks or make videos for your company.
Music, effects, voiceover, photo editing (you can even remove the background very easily), text, backgrounds, templates and much more. I find it really useful that you can control the volume of the music independently in each clip.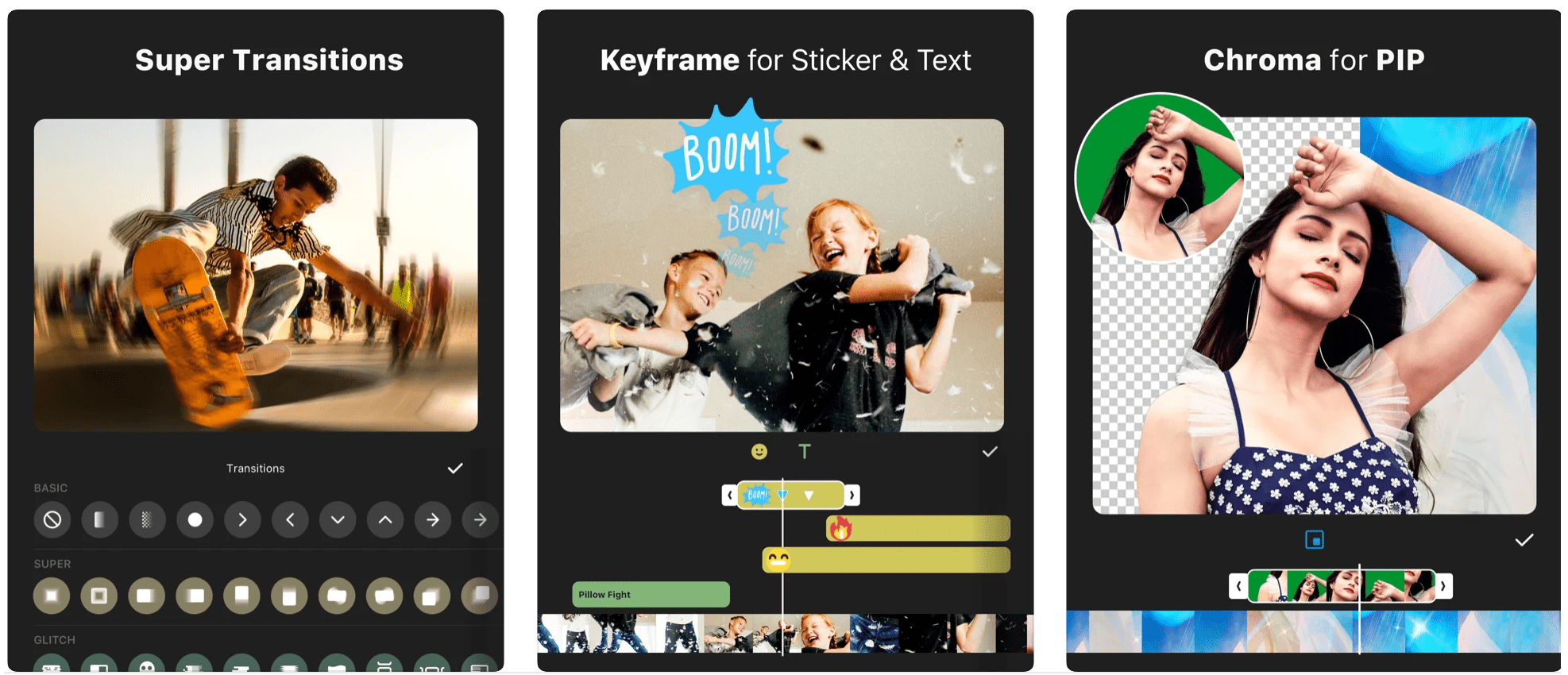 InShot
Download InShot for: Android / iOS
GoPro Quick
Despite being the app for GoPro cameras, you can take videos with it regardless of which camera or smartphone you took the photos with.
It is intuitive, you can add music, modify the format, choose between different templates or set the duration.
The advantage is that it is quite automatic, you select the photos and choose a theme and that's it. If you have little time, this is your editor.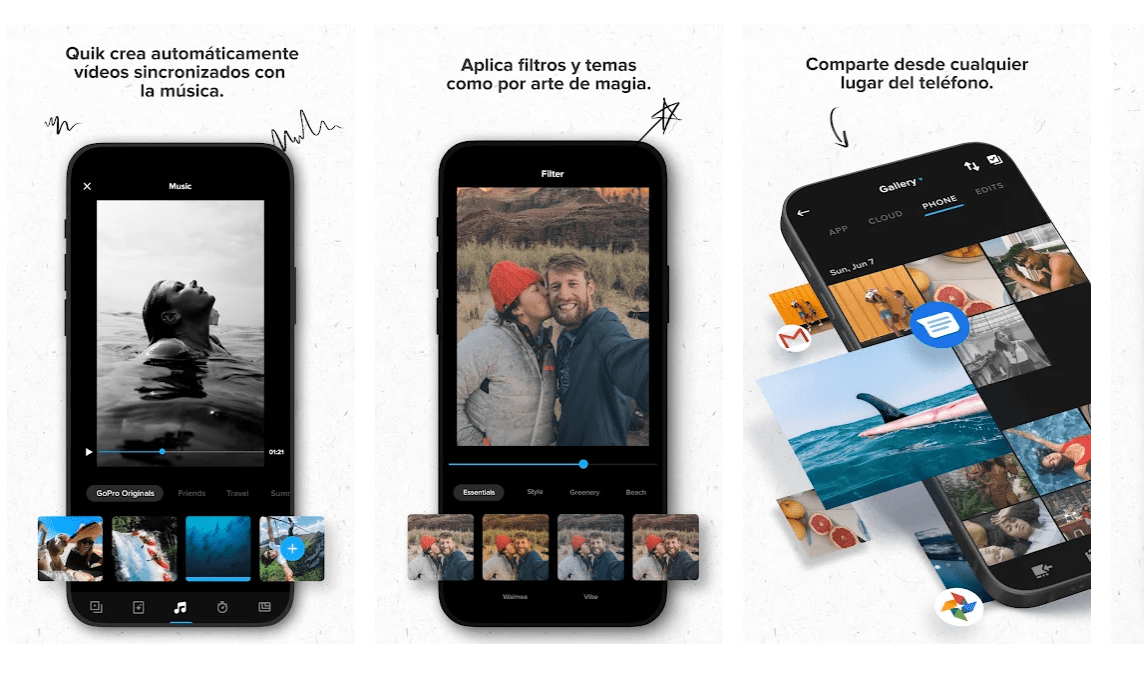 GoPro
Download GoPro Quik for: Android / iOS
Filmora
Application to make videos with photos that will delight tiktokers and youtubers. With filters, effects, stickers and much more. Let creativity fly with all its options.
The watermark is quite discreet, although if you want to remove it you can do it with the paid version. Once the video is finished you can share it on your favorite social network.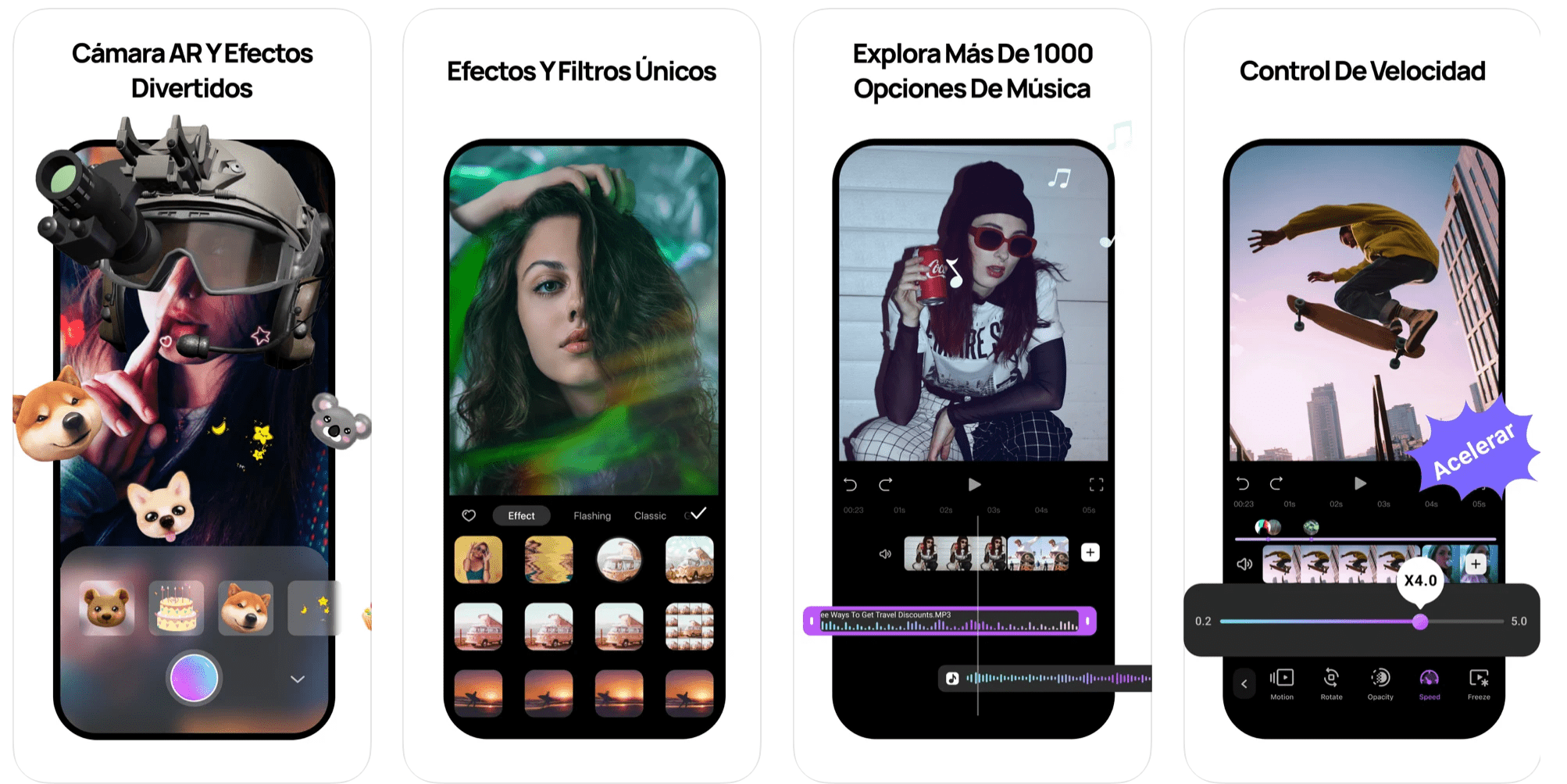 Filmora
[Descargar Filmora para: Android / iOS]
livevideo
Perfect for making a quick and easy video with photos. This application is very complete, it offers many options for creative and dynamic videos and, in addition, it is quite automatic. It also allows you to export your videos as GIFs.
The only drawback is that to remove the watermark you have to go through the checkout. But if you don't care, it's an excellent app.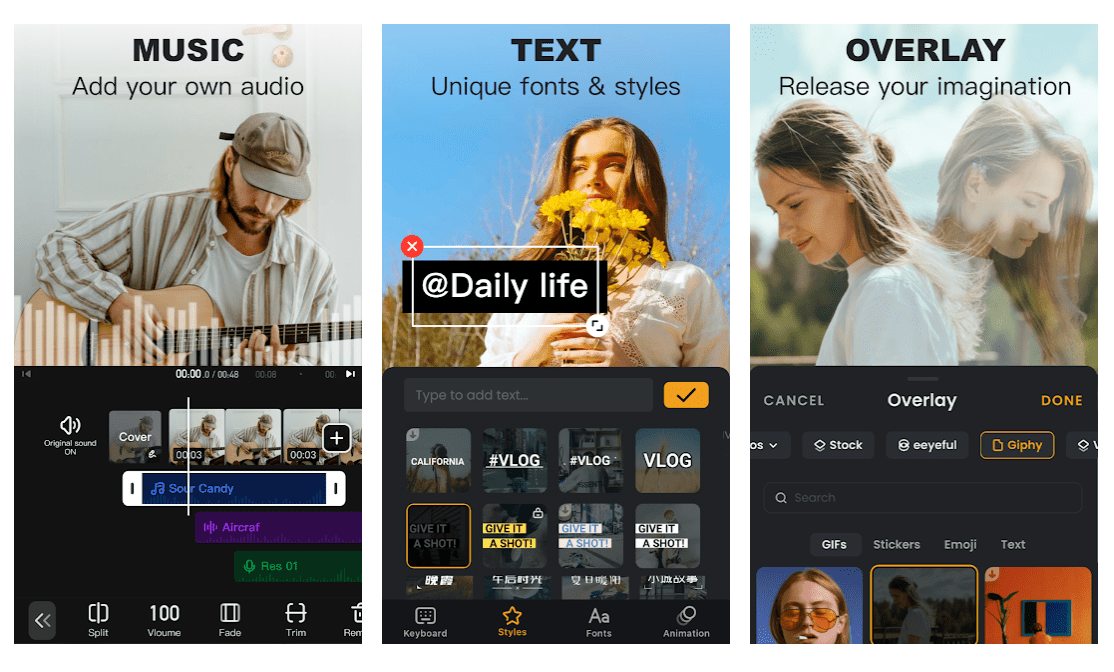 livevideo
[Descargar VivaVideo para: Android / iOS]
Kine Master
With this application you work horizontally. Once you click on Create new project, you choose the name, the format, the display mode, the duration of each photo and the transition. Then you go selecting photos and adding.
The process is slower and less automatic, although it also allows for more control. You can put voice over and music, although this must be provided by you or go to the resource store and download the tracks one by one (there are also free ones). It is an excellent application to make videos with photos and music, although it needs to spend time.

kinemaster
[Descargar KineMaster para: Android / iOS]
Magisto
With this free Vimeo app you choose the template, the music, the photos, you click and right away you have your assembled video ready to save or share.
You also have the premium version if you want to remove the logo or have more options.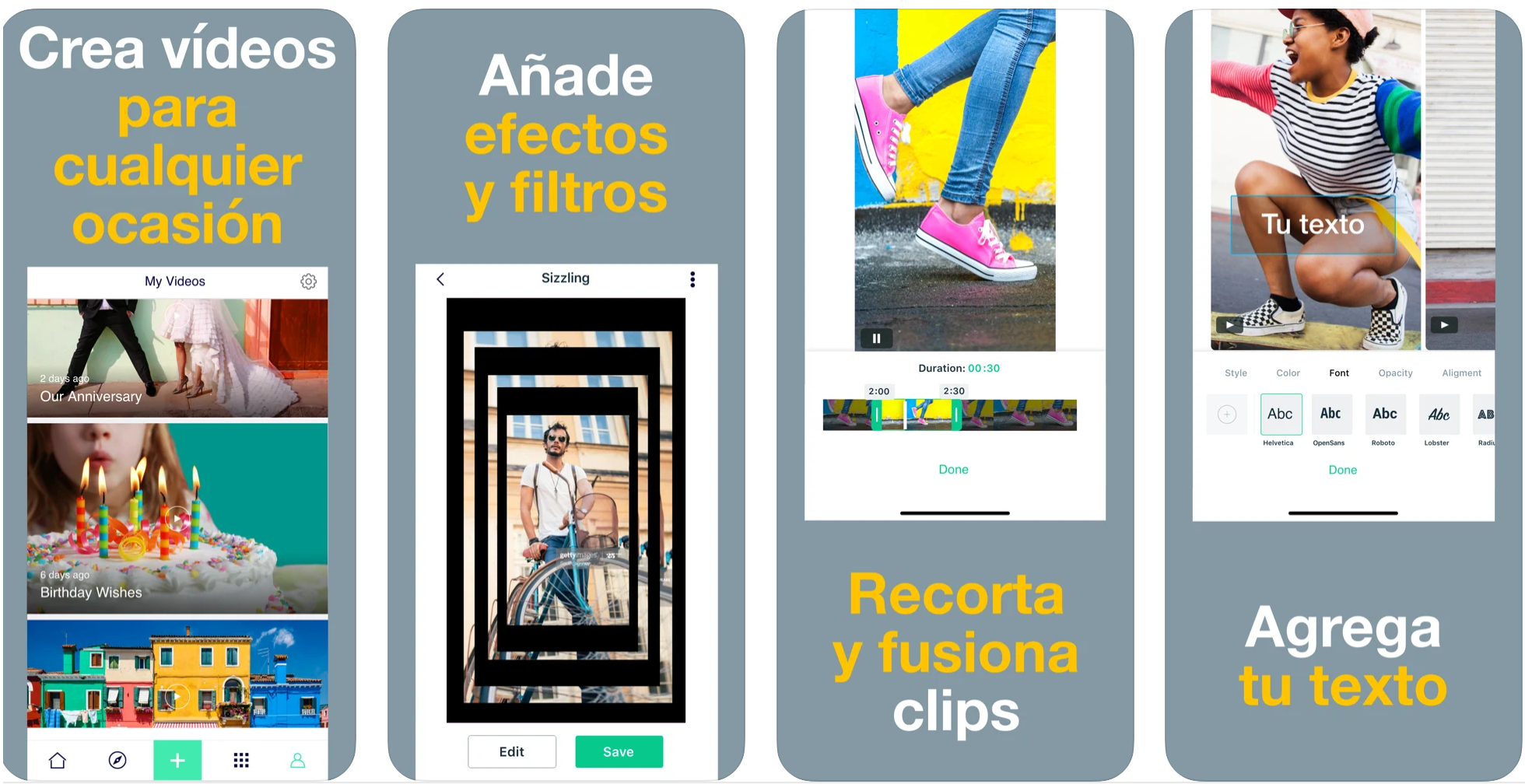 [Descargar Magisto para: Android / iOS]
Video Show
Another excellent application with which to make videos with photos and music in an easy way. You can use themes to make videos more automatic or customize clip by clip.
It offers many options although, you know, to remove watermark, you need to pay.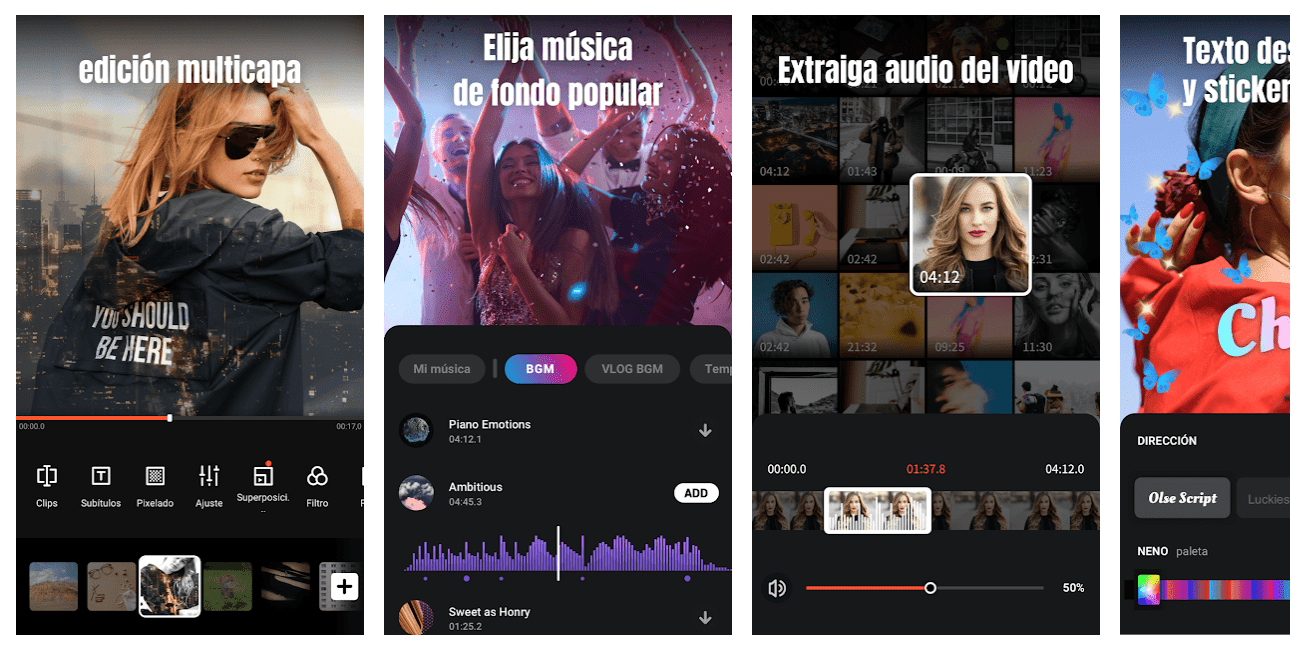 Video Show
[Descargar VideoShow para: Android / iOS]
Adobe Premier Rush
The most complicated thing may be entering for the first time because it asks you to register, through your Adobe account, Google, etc.
Once you have passed this first requirement, although you have several premium options, it is an application to make videos with photos and music for free that allows you to apply color filters, include effects, adjust the speed, choose between various formats (16:9, 9:16 , 4:5 or 1:1) or add graphics or a voiceover, for example.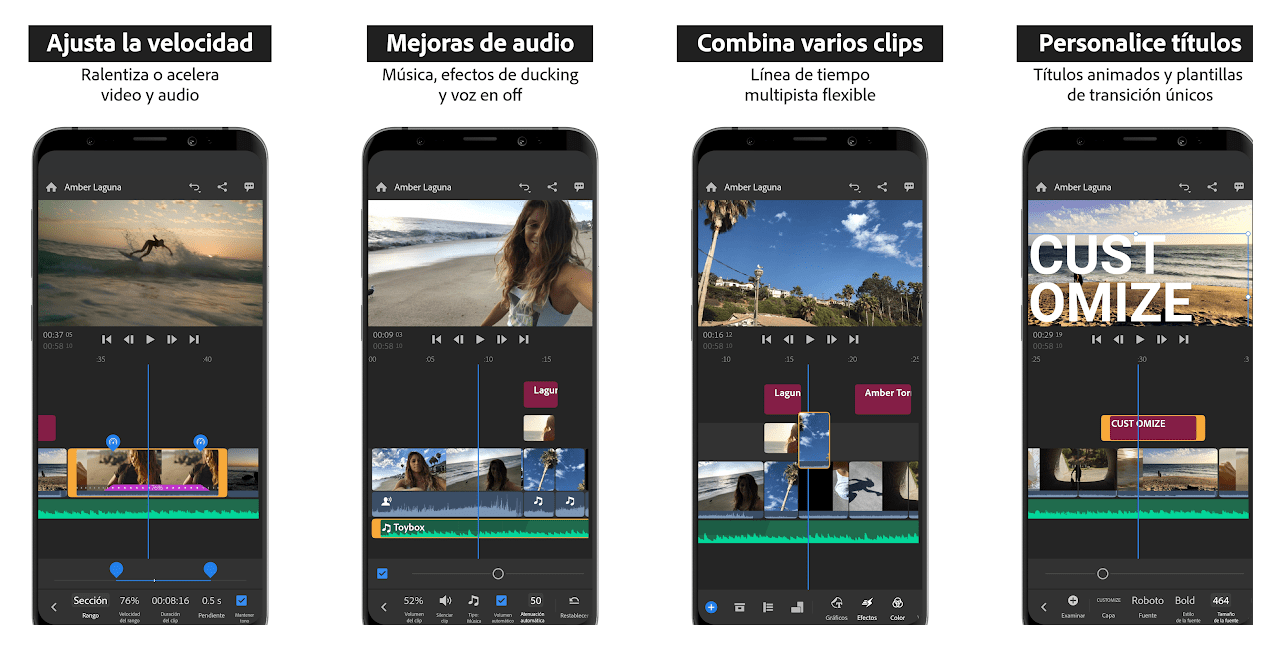 Adobe Premiere Rush
[Descargar Adobe Premiere Rush para: Android / iOS]
iMovie (iOS)
This app to make videos with photos on iOS or iPhone It allows you to make a video with photos and music but also to create a trailer like the ones in the movies, following a template from the several that it gives you to choose from.
It is very complete, it allows you to make practically professional videos, include music, videos, photos, texts, backgrounds, filters, effects, voiceover… It doesn't lack anything! With a little time and creativity you can make a spectacular video with your photos for free.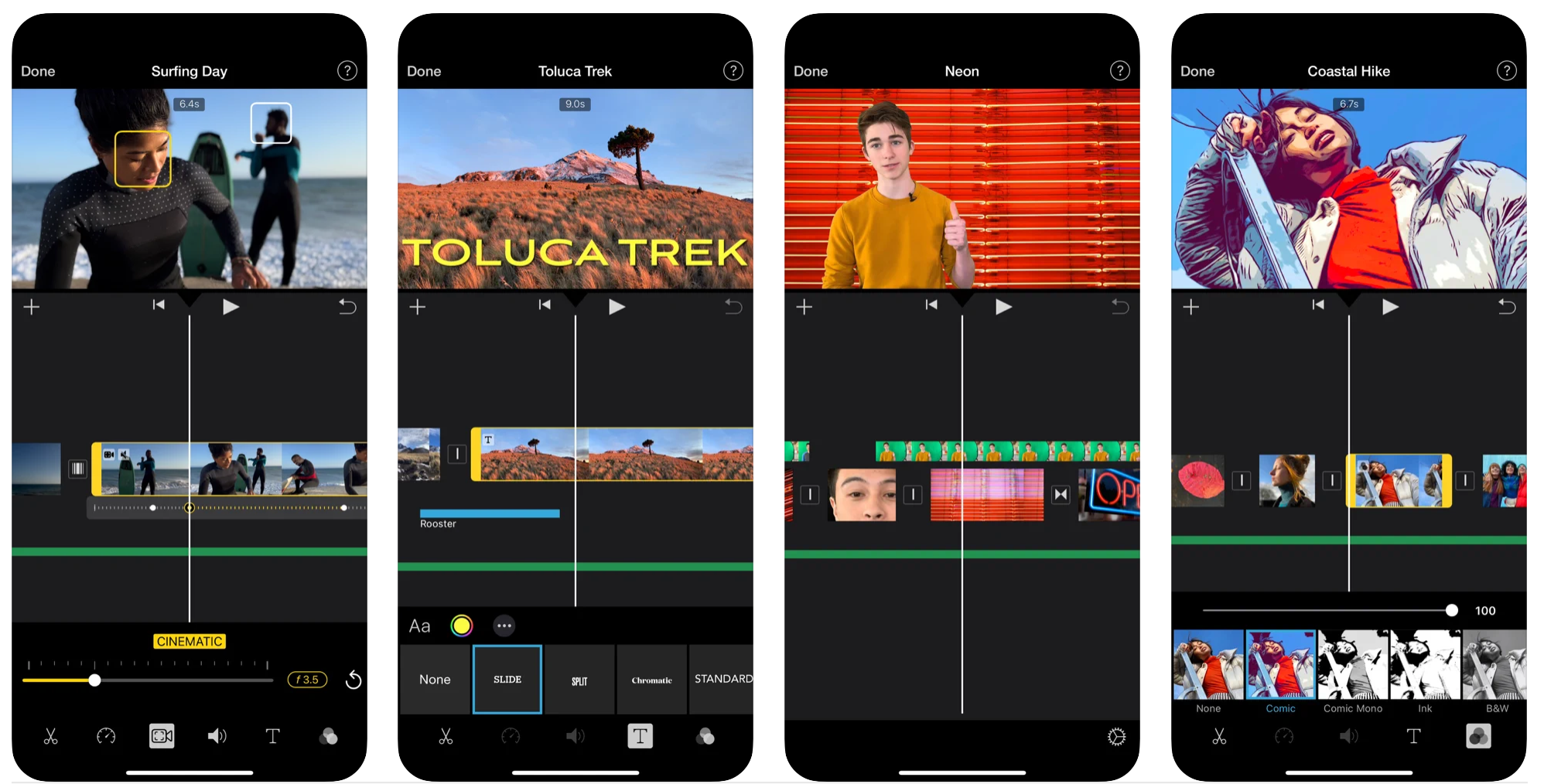 [Descargar iMovie para iOS]
The iMovie application could not be missing, I have left it for last because it is only for iOS, if you want one app to make videos with photos on android You have other alternatives like the first 7 and these other two:
Finally, the application may Gallery of your phone also allows you to create a video. The best thing is that you do a little research and discover what it is capable of doing, time to use the instructions! 😉 And if you're looking for something more professional, even if you have to scratch your pocket, check out the paid version of Adobe Premiere Rush available for Android and iOS.
So far today's article, I hope you have found it useful and that you have found the best app to make videos with photos, the ideal for you. And if so, do not shake your hand to share it. I will greatly appreciate it.
And if you have tried any or know of any others, we invite you to tell us about it in the comments ⬇️ ⬇️ ⬇️.
Thanks and until the next article.