If you are looking to buy a cheap drone with camera, You have come to the right place :). In this article I will try to collect the best camera droneswith a 4k camera, and even cheap drones for children.
Because it is clear that drone images have become increasingly common but no less impressive. The possibility of seeing images from the sky was something unthinkable a while ago, or only possible with a budget that was practically that of a great filmmaker 🙂
The democratization of drones is already a fact, you can find really cheap camera drones and get some spectacular photos. If you want to be part of this privileged way of seeing the world from a bird's eye view, keep reading because I bring you the best cheap drones with cameras. You sign up?
Inside this article you will find:
INSIDE THIS ARTICLE… 📖
If you are looking for a cheap drone with a camera, then I have prepared a good selection for you, but first I would like to quickly summarize the aspects that you should pay attention to when you are interested in one or another model of drone:
Basic aspects to consider when choosing a drone
Price: As in all photographic equipment that you want to acquire, propose a maximum price and move within the budget.NOTE: of course, the more you spend on a drone, in general, you will have better benefits. Now, would you buy a Ferrari or a Porsche when you just got your driver's license? Buying a cheap drone can be a good option as a first contact with these gadgets, which usually suffer blows, falls and even losses, which hurt less when you have not pawned a kidney to buy it 😉 .With or without camera: I know that if you are reading this article it is because you are looking for a drone with a camera, but know that there are also drones without 😉 .Number of rotors: the basic ones have 4 and as the models improve you can find 6 and even 8 rotors.Scope: is the operating radius of the drone in distance and height. The recommended minimum is 50m if you intend to fly it outdoors.Autonomy: the most common is to find an autonomy of 10 to 30 minutes. If you get a drone with little autonomy, the ideal is to have spare batteries.Stabilization: if you want to fly it outdoors, wind can be a problem on drones without a stabilizer.GPS: for more precise flights. Type of motor: Brushless or with brushes. The simplest models will have a brush motor.Drone control: the most common is to find two types of control. Through an application via Wi-Fi. Through remote control (greater range)Spare parts: It is interesting to know if the drone that we acquire (especially the less basic ones) has propellers and other types of spare parts to be able to change them in case of deterioration.
Best cheap drones with camera
After knowing some basic aspects to take into account when choosing a drone, we can now start with the selection 😉 . Here are some cheap camera drones with a good value for money:
1. Syma X5C-1
The Syma X5C-1 drone is an ideal drone to start with. It has four rotors, remote control, high definition HD camera, a weight of 630gr. and a range of up to 30m. You can buy this drone on Amazon where you will find it at a price of €76.95.
2.Potensic Mini Drone
This Potensic Minidrone incorporates a camera, remote control and three batteries, which give it a range of up to 18′, real-time viewing, and Wi-Fi connectivity. You can get it for a price of €50.99.
3. Tech rc Mini Drone
The Tech Rc Minidrone has very good reviews from users as a starter drone and is mini in size (fits in the palm of your hand) and ultra light in weight (358g). It comes with two batteries with a duration of about 10′ each, gravity sensor, emergency landing, FPV mode (you can see the live images on your smartphone), etc. You can buy it on Amazon at a price of €56.99.
4. Ryze Dji Tello
The Ryze Dji Tello is an entry-level camera drone ideal for photos and short videos. It works through its App directly from the mobile, with a battery life of about 10 ', ultra light, easy to use and stable.
You can get this drone at a price of €99.00.
5. Power T25
With the Potensic T25 we go a little further in terms of price and performance, although it is still a drone with a camera at a very good price.
This is a drone with GPS, wide-angle camera, HD recording, return option, a range of up to 300m, "follow me" mode, etc.
You can buy this mini drone on Amazon for €169.99.
Cheap drones with 4k cameras
If you are looking for a drone with a 4K camera, these are some of the cheap drones with 4k that you can find:
6. GoolRC RC Drone LS-XT6
GoolRC Drone RC LS-XT6 drone comes with 3 batteries, allows height hold, 12′ max flight time, speed control, altitude hold, gravity mode, etc. You can get this drone at a price of €61.99.
7. Obest Mini Drone
The Obest mini drone is a drone with 4K, altitude hold, range up to 100m, a weight of 284gr., trajectory control, command or App control, etc. You can buy it at a price of €68.99.
8. Tomzon D25 RC
The Tomzon D25 RC is a drone with a 4K camera, gesture control for video and photo, altitude hold, 24′ flight, remote control, image beautification filter, etc. You can get it for €99.99.
9. IDEA 32
This drone has a 4K camera, GPS, altitude hold, 235g weight, gesture control, 50x zoom, 500m range and GPS among other features. You can buy it for €239.99.
Raising the bar a bit in terms of performance and price, you can take a look at these two mini drones: the DJI Mini2, and the Hubsan Zino Mini SE. They are not cheap compared to the rest of the selection, but they go a step further if you are looking for something more serious. Bearing in mind that there are €3,000 drones, you may not see them as expensive 😉 .
10.DJI Mini2
The DJI Mini2 drone is an advanced drone at a good price with good autonomy, 12MP 4K camera, 4x zoom.
You can get this mini drone on Amazon, where you will find it at a price of €454.89.
11. Hubsan Zino Mini SE
The Hubsan Zino mini SE drone is a foldable mini drone that fits in the palm of your hand. It has a remote control, two batteries and a carrying bag. It has altitude hold function, 3D flip, gravity control, etc. You can buy it at a price of €472.00.
Cheap drones with camera for kids
If you were thinking of giving a mobile to a child or someone who is going to use it for a very beginner, here are a few recommendations for cheap drones with cameras for children:
12. ATOYX Mini Drone
The ATOYX Mini Drone is a starter drone or for kids. It has an FPV HD camera, it connects to the mobile correctly, from where you can see the images in real time, and it is very light and small. It costs €61.99 (€134.76 / 100g).
13.Neheme NH530
The NEHEME NH530 drone is also a starter or kids drone. It has voice control, remote control, two batteries, three speeds, altitude hold and up to 18 minutes of autonomy. Its price is €59.99.
14. Powerextra Mini Drone
The Powerextra Mini Drone is a small drone ideal for children. With 4 rotors, Wi-Fi connectivity or via controller, altitude hold mode and approximately 15′ of autonomy.
On Amazon where you will find it at a price of €45.99.
15.Sansisco
This Sansisco drone is a drone for beginners or for children, with gesture control, speed adjustment, gravity control and 360º rotation, among other features. Its price is €79.99.
Best drone quality price
Which is the best drone quality price? Well, it depends a lot on what exactly you are looking for, the budget you have and the use you intend to give it, but a good option of a cheap drone with a camera with good value for money could be the Syma X5C-1the first of our list 😉 :
Syma X5C-1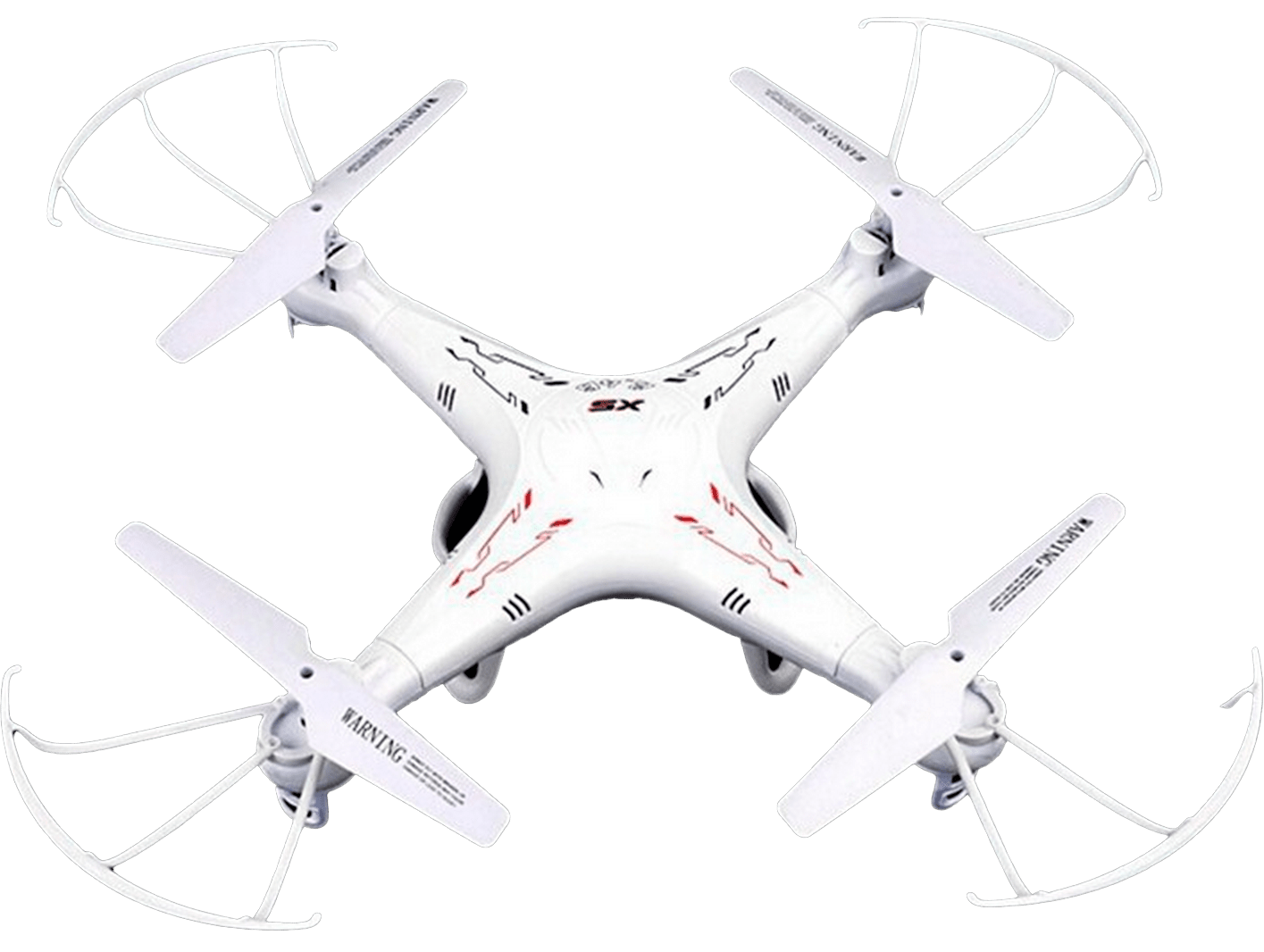 Syma X5C-1
You can buy this drone on Amazon where you will find it at a price of €76.95.
Do you already know which is the ideal drone for you? Well don't blow it without reading this first 🙂 .
And that said, let's enjoy (with caution) these unique points of view that drones give us 🙂 A while ago it was unthinkable to have a flying camera for such a low price, don't you think?
I hope this article has been useful to you, if so, you know, help us reach more people by sharing it on your social networks 🙂 Thank you and until next time.