This week, Valve announced the official launch date for its handheld, Steam Deck. Nevertheless, many are likely to wait longer for the device. You can find out about that and what else happened this week in this issue of the GIGA Headlines.
Release date for Valve's Steam Deck
At this point, we've talked more than once about Valve planning its own handheld. Now, after a short product postponement, a release date has finally been set.
Beginning February 25th, anyone who has already reserved the handheld will have the opportunity to officially order the Steam Deck. Shipping is scheduled to start on February 28th. This means that the release from the end of February was just kept to. If you haven't reserved a Steam Deck, you'll have to wait a little longer. Orders should be possible for everyone after the second quarter of 2022.
The Steam Deck will be released in three variants, which differ primarily in their memory equipment. It then runs its own SteamOS based on Arch Linux. The Steam Deck can also be connected to a monitor, keyboard and mouse via a USB-C dock and thus become a mobile gaming PC.
Samsung Galaxy S22 data leaked
Also in February we can look forward to the new smartphones from Samsung.
And as in previous years, we know pretty much all the details in advance, because WinFuture has published a putative data sheet. The most exciting details: If you rely on the new Snapdragon 8 Gen 1 in the USA, the new Exynos 2200, which has an RDNA-2-capable graphics unit from AMD , is apparently used in Europe. Some rumors in recent months are said to have pointed to production problems for the new chip.
The S22 Ultra is also said to have a quad camera with a 108 MP main sensor. The S22 Plus and S22 "only" rely on a triple camera with a 50 MP main sensor.
We will then find out concrete facts on February 9th, when the "Galaxy Unpacked" event is to take place this year, and the devices are expected to be available from February 25th.
Latest "iPhone SE 3" rumors
According to the latest statements from Apple insider Ross Young, the displays of the "iPhone 5G SE" should go into production this month, with the launch scheduled for April/May .
And what will the device look like?
If you believe the leaked CAD drawings that leaker David Kowalski cast in a rendering, then the new SE makes the leap from Touch to Face ID, Notch included.
Repairability index required
New smartphones are all well and good, but if you want longevity, you often run into the problem of a lack of spare parts.
Environment and consumer protection minister Steffi Lemke calls for a repairability index for electronic devices. In this way, one should be able to tell when purchasing whether a device can be repaired at all or whether a new purchase is due after a few years of use.
Prices and availability of spare parts should also be part of the index. A similar project was launched in France last year.
Windows 11: Android apps are coming soon!
As Microsoft announced on the official Windows blog, some new features are to come to Windows 11 in the coming month. These include taskbar improvements, a redesigned Notepad and also a preview of how Android apps can be made usable on Windows 11.
Survey: Germans hardly order from food delivery services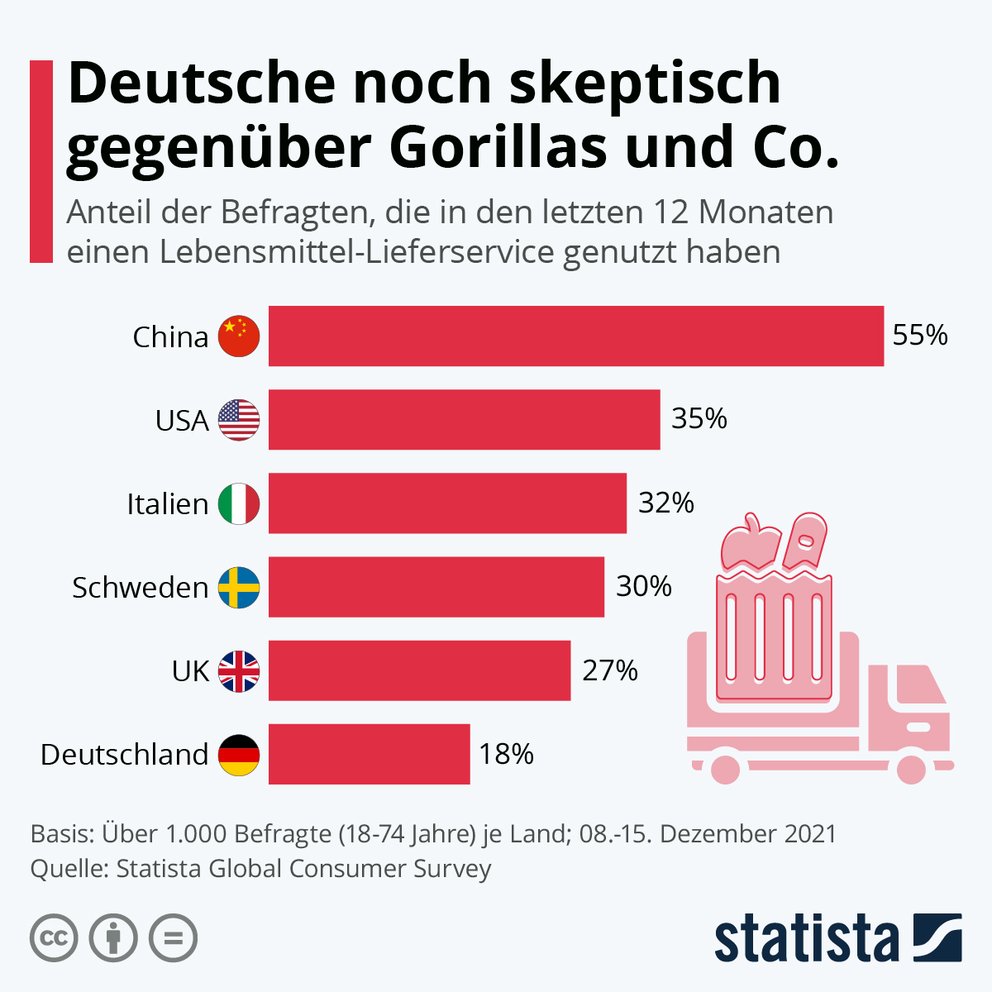 How do you get your groceries? According to a Statista survey, delivery services for groceries such as those from REWE, Amazon or fast suppliers such as Gorillas or Flink are still greatly underrepresented in Germany. Just 18 percent of those surveyed in Germany have used one of these services in the last 12 months. In China it is 55 percent.