OLED televisions offer an incomparable viewing experience. The prices for such TVs are also very high – especially if you want a model with a large screen size. With the A1 series, LG also offers entry-level OLED televisions that are sold at lower prices. The largest model at 77 inches is now cheaper than ever.
Large OLED TV from LG is currently very cheap
Large OLED televisions are very trendy. You can build your own home cinema with it and get excellent picture quality. With the LG OLED77A19LA, Otto currently has just such a television on offer that could be used to do this. The screen diagonal measures 77 inches and the price is currently only 1,799 euros (on offer at Otto). With the shipping costs of 29.95 euros, you end up with 1,828.95 euros. Of course, Amazon can't offer that. There you go for the same price (to the offer at Amazon).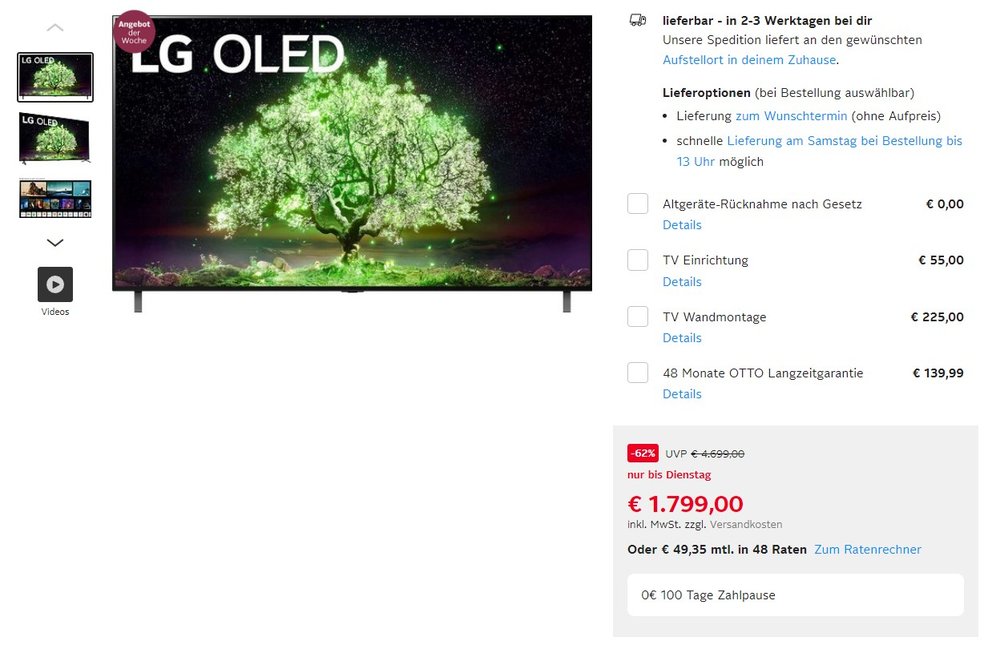 Incidentally, the next cheapest retailer charges more than 2,160 euros, so that you save more than 330 euros . This OLED television has never been cheaper in this size.
In the video we tell you what makes OLED TVs so much better:
What are the LG OLED TVs from the A1 series good for?
As written at the beginning, these are entry-level OLED televisions. So you get an OLED panel with the well-known advantages of displaying content, but you have to make some compromises when it comes to features. The A1 models "only" have a 60 Hz panel and completely do without HDMI 2.1 ports. Nvidia G-Sync or AMD FreeSync are also not included. So if you want to connect a next-gen console like the PS5 or Xbox Series X/S, you won't be able to use the full potential.
But even if the OLED televisions of the A1 series only provide the basic equipment, they still offer a great picture, which can be seen in the reviews. In addition, the price is much lower compared to models of the better categories. So if you only want an OLED television for watching TV or series , you've come to the right place and can save a lot of money. Otherwise, you should rather choose a model from the B or C series, which are much more expensive in size.