Magic the Gathering has always been expensive fun, but thanks to MTG Arena you can now play the trading card game for free. The following codes provide you with additional, free boosters. You can also secure experience points for cosmetic content such as card styles anyway.
Free-to-play players who do not want to spend real money on their card collection in MTG Arena are occasionally given the opportunity to receive additional boosters and other rewards through codes. Typically, these codes are posted on Twitch streams or distributed on Twitter. However, if you don't regularly look for such codes on these channels, you can easily miss them. This is particularly annoying when the code is only valid for a limited time. For this reason I regularly collect all current codes for you here .
All codes at a glance:
Codes for free booster codes for experience points Codes for card styles and card backs Where can I get more codes? Codes no longer valid
How to redeem a code in the MTG Arena
Opens MTG Arena. Select the Store tab in the main menu. Click in the Redeem Code window in the upper right corner. Enter the code. Confirm your entry with Enter.

If you play the mobile version of MTG Arena, you can alternatively redeem the codes via the account website.
Codes for free boosters
With the following codes you can get some free boosters for the sets Theros Beyond Death, Ikoria Lair of Behemoths, Core Set 2022, Zendikar Rising, Kaldheim and Strixhaven School of Mages .
Code You get the validity period PlayTheros 3 Booster Theros Beyond Death unknown PlayIkoria 3 Booster Ikoria Lair of Behemoths unknown PlayM21 3 Booster Core Set 2022 unknown PlayZendikar 3 Booster Zendikar Rising unknown PlayKaldheim 3 Booster Kaldheim unknown PlayStrixhaven 3 Booster Strixhaven School of Mages unknown PlayDND 3 Booster Strixhaven School of Mages unknown PlayDND the Forgotten Realms unknown PlayMID 3 Booster Innistrad: Midnight Hunt unknown PlayVOW 3 Booster Innistrad: Crimson Vow unknown
Codes for experience points
MTG Arena has had a Mastery System since the Core Set 2020. Won games and completed quests grant experience points. For 1,000 experience points you increase in level , which is rewarded with boosters and other rewards. The following codes give you a unique but significant bonus.
Code You get validity level LevelUp 2,000 experience points unknown Courierbat 2,000 experience points, 2,000 gold, cards & cosmetics unknown
Codes for cosmetic card styles and card backs
If you not only like to win matches in the MTG Arena, but also want to look good at the same time, you can use so-called card styles to visually individualize your own deck. While most styles are unlocked as part of the Mastery system or are available in the in-game store, you can only get a number of styles with the correct code.
Raising your rank quickly: These are the best standard decks in MTG Arena. Code You will get validity period RockJocks Lorehold card back unknown DebateDuelists Silverquill card back unknown MathWihizzes Quandrix card back unknown SwampPunks Witherbloom card back unknown ArtClub Prismari card back unknown FNMATHOME two random card styles unknown ParallaxPotion 2023 Revitalize January 1st, 2023 January 1st, ForyFungus January 1st, 2023 Thallid January 1, 2023 ShinyGoblinPirate Fanatical Firebrand January 1, 2023 SparkleDruid Druid of the Cowl January 1, 2023 OverTheMoon Arlinn, Voice of the Pack January 1, 2023 INNERDEMON Ob Nixilis, the Hate-Twisted January 1, 2023 SHIELDSUP Teyo, the Shieldmage 1 January 1, 2023 WRITTENINSTONE Nahiri, Storm of Stone January 1, 2023 ENLIGHTENME Narset, Parter of Veils January 1, 2023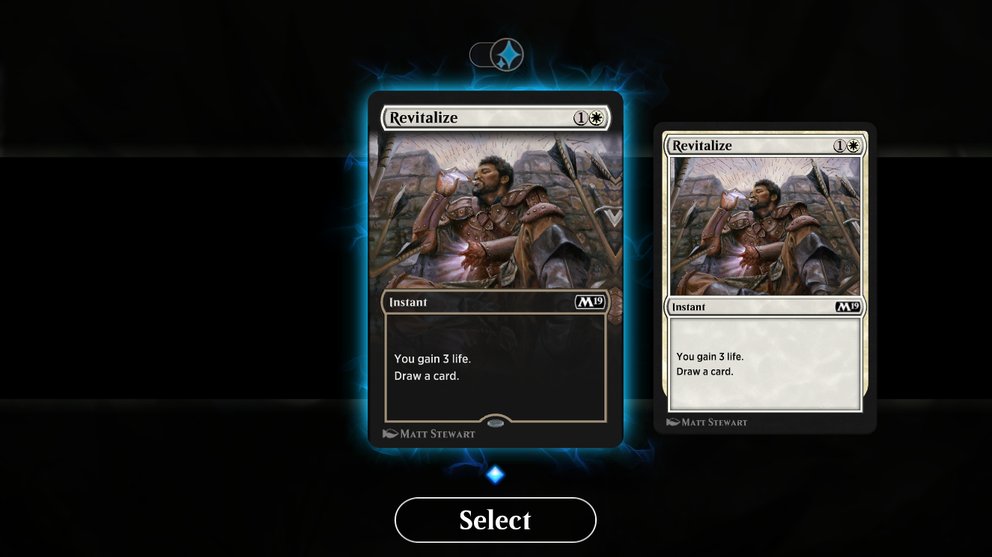 Where can I get more codes from?
To get more codes for MTG Arena you can attend a pre-release tournament that always takes place on the weekend before the release of the upcoming set.
Each pre-release pack contains a code that enables you to participate in a draft or sealed tournament in MTG Arena or gives you a number of card packages. Only one code can be activated per account .
You can get more codes from the official Planeswalker decks . Each deck contains a code that adds the same deck to your MTG Arena collection. In this case, too, each deck can only be redeemed once per account.
Codes no longer valid
Unfortunately, most of the codes for MTG Arena are time-limited. The following codes have already expired.
Code You get validity period PlayRavnica 3 Booster Guilds of Ravnica July 1st, 2020 PlayAllegiance 3 Booster Ravnica Allegiance July 1st, 2020 PlayWarSpark 3 Booster War of the Spark July 1st, 2020 PLAYM20 3 Booster Core Set 2020 July 1st, 2020 PlayEldraine 3 Booster Throne of Eldraine July 1st, 2020 OneBillion 1 Booster War of the Spark expired STARTERSTYLES Embossed Arena Card back / various card styles expired BINGOIVMYTHICCHAMP 1 Booster Core Set 2020 expired FiveBonusLevels 5,000 experience points expired TisAScratch Oathsworn Knight Card style expired Clock kartenstyle expired