Luminar AI is an easy-to-use, very intuitive and complete non-destructive editor that can be used as a program in itself or as a plugin for Adobe Lightroom and Adobe Photoshop.
For those who are looking for a very complete, fast and very easy-to-use editing program, Luminar is a tool that could become essential.
INSIDE THIS ARTICLE… 📖
What is Luminar?
Skylum Luminar AI is a non-destructive quick editing program based on artificial intelligence. It can work as a plugin for Photoshop and Lightroom or as a stand-alone program.
Main Features of Luminar AI
Luminar AI Price
East editing program It has several purchase formats and different prices. Keep in mind that it is a single paymentnot like with other editors where you have to pay a subscription.
You can also choose between license for one computer or two. As I write these lines, the price of the Luminar A1 is €47 at the offer price. Without offer, the price would be €79.
Price Luminar A1 for a computerPrice*Luminar A147€Luminar A1+ Aurora HDR67€Luminar A1+ Aurora HDR+ Luminar Neo118€
Price Luminar A1 for two computersPrice*Luminar A159€Luminar A1+ Aurora HDR79€Luminar A1+ Aurora HDR+ Luminar Neo148€
*The prices correspond to the offer price that appears on the Skylum website, but may vary. Check them out here.
Download Luminar AI Free
you can download one trial version to test the product and later decide whether or not you want to buy Luminar AI. The trial version they offer right now is 7 days.
You can access this trial version from here.
First steps to learn to use Luminar
As a tool that allows you to test it through its trial version, I recommend that to finish convincing yourself, you download this version and mess around with it. You will see that it is very intuitive and easy to use.
Next, I show you the first steps to carry out with Luminar AI in your test version:
Install Luminar AI
To do so, simply click here and follow the usual download steps.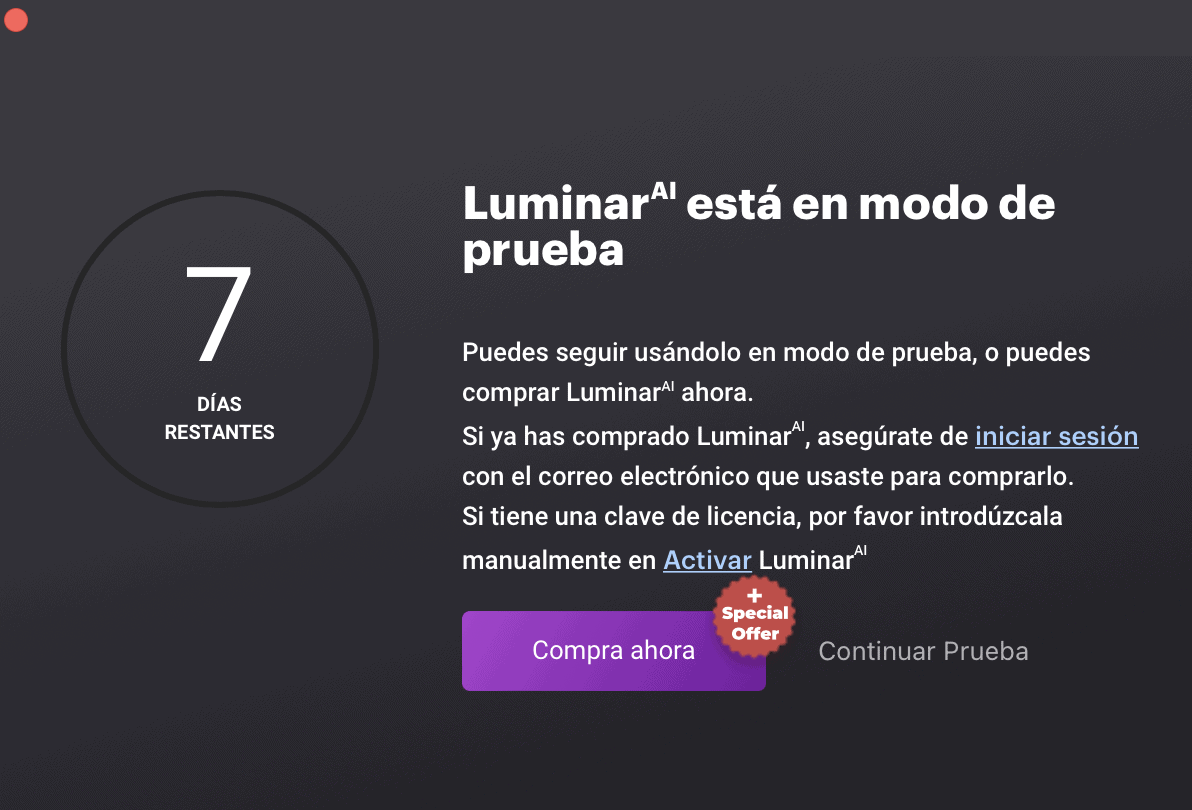 As you can see, you have 7 days to try it. When it gives you the option to buy, make sure you click on "Continue Trial", unless you want to buy it without trying.
Once installed, you already have access to the full Luminar Ai for seven days.
Now yes, you can open it and start messing with it by following the steps that I detail below.
1. Import
To do this, go to the top of the interface to the + symbol and look for the image you want to add by clicking on "Add image". If you prefer to create a folder before importing your photos, you can also do it from here (+Folder).

2. Edit
Luminar offers a lot of editing options and tools, it's worth spending some time messing around with all of them to realize their real possibilities.
To explore the tools, go to "Edit" located at the top, and all the tools will be displayed on the right side of the interface.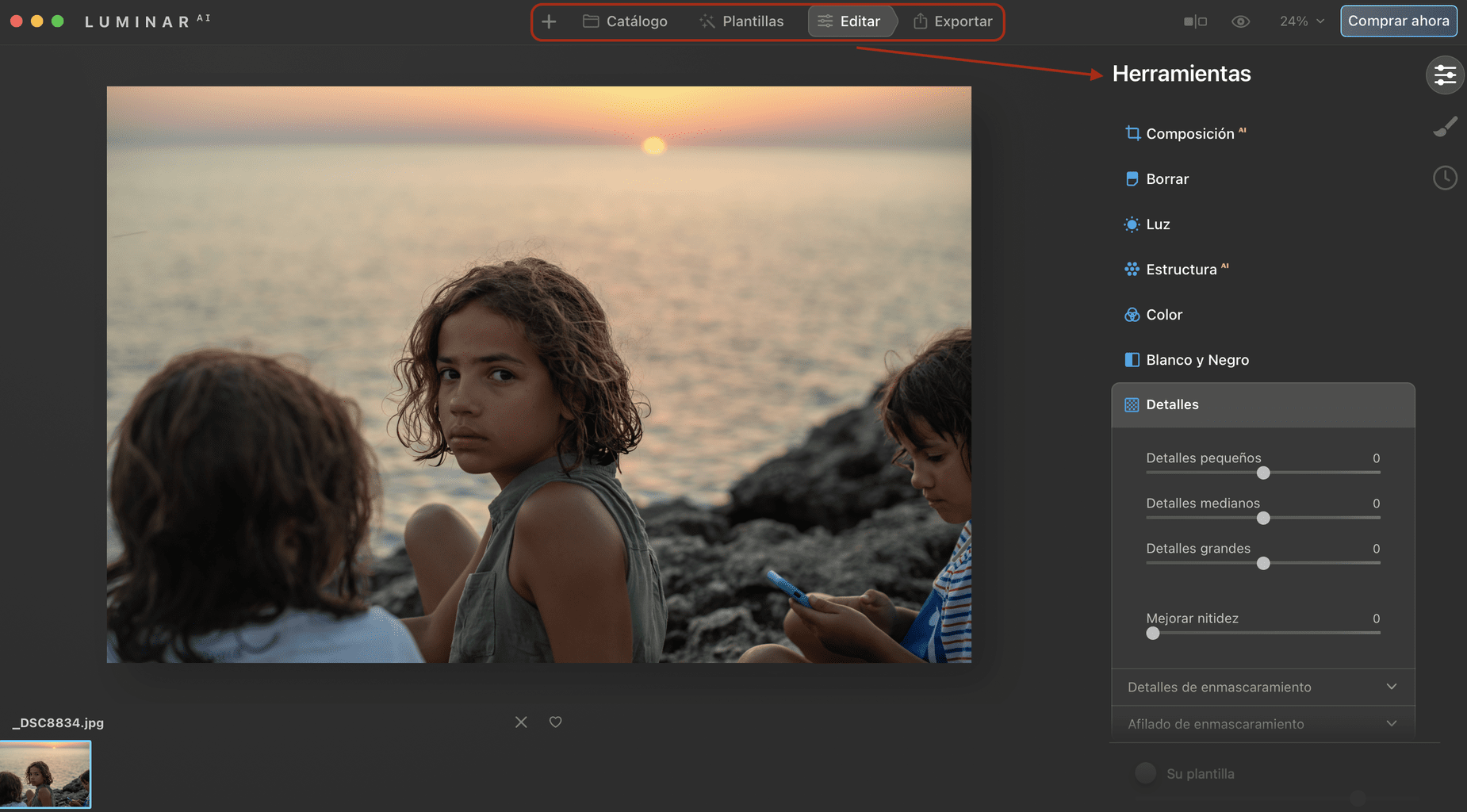 The tools are divided into different general themes, which, in turn, are divided within each one into several sections.
Essentials:
CompositionClearLightStructureColorBlack and whiteDetailsDenoiseLandscapeVignette
Creative:
Sky AiSky Augmented with AiAtmosphere AiSun RaysDramaticMoodToningMatteMysticGlossFilm Grain
Vertical:
Bokeh portrait AiFace AiSkin AiBody AiHigh key
Professional:
Optical Super Contrast Color Harmony Darken and Lighten Clone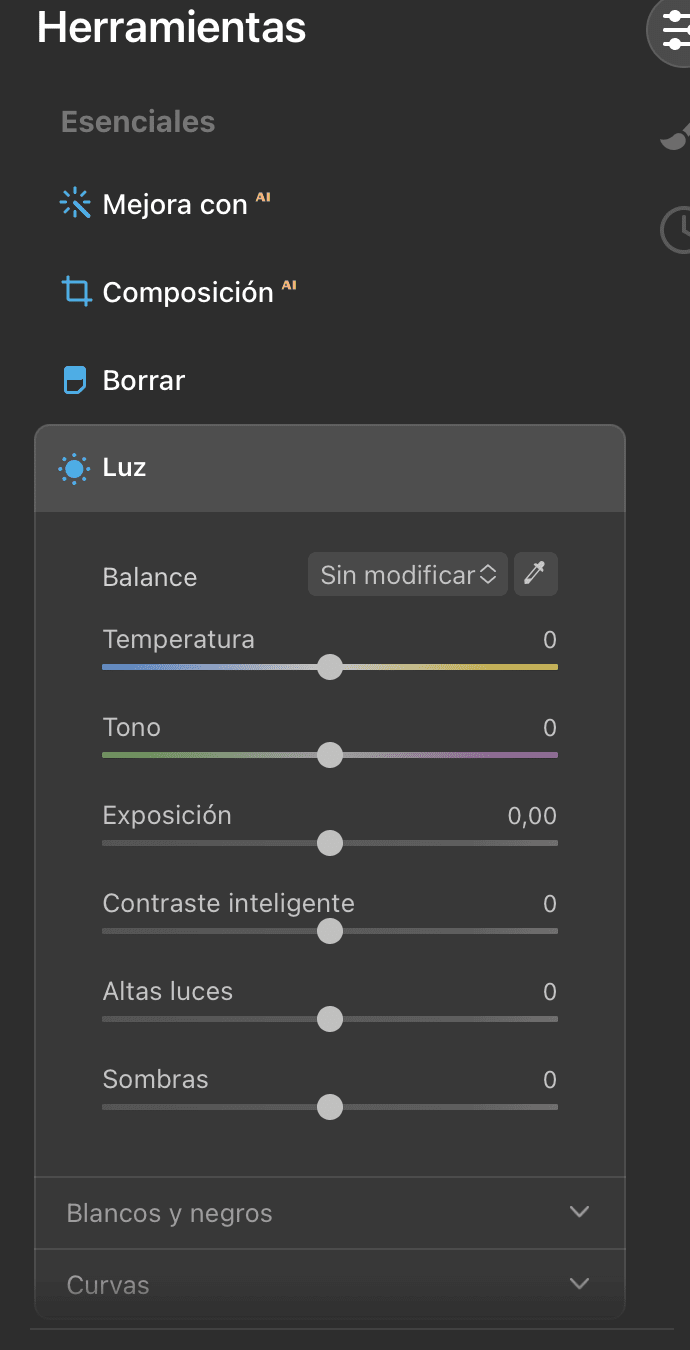 Each of these tools is displayed and allows you to select the amount of the effect and several more sub tools, depending on each one.
If you have the trial version, I recommend you import, for example, a portrait and a landscape with sky so you can see all the opportunities you have to correct the eyes, the skin, enlarge the eyes, for portrait; to refine the sky, add rays of light, a sun, clouds for landscapes; in addition to a very long and impressive etc.
In portraits and skies, you can see the effect created thanks to a small button that you can activate and deactivate to see the effect you are applying.

If you double-click on the slider for each of the settings, you return to the original setting.
Another way to see the results of the adjustments you are applying is by clicking on the before/after icon that appears at the top right of the screen. Luminar's interface.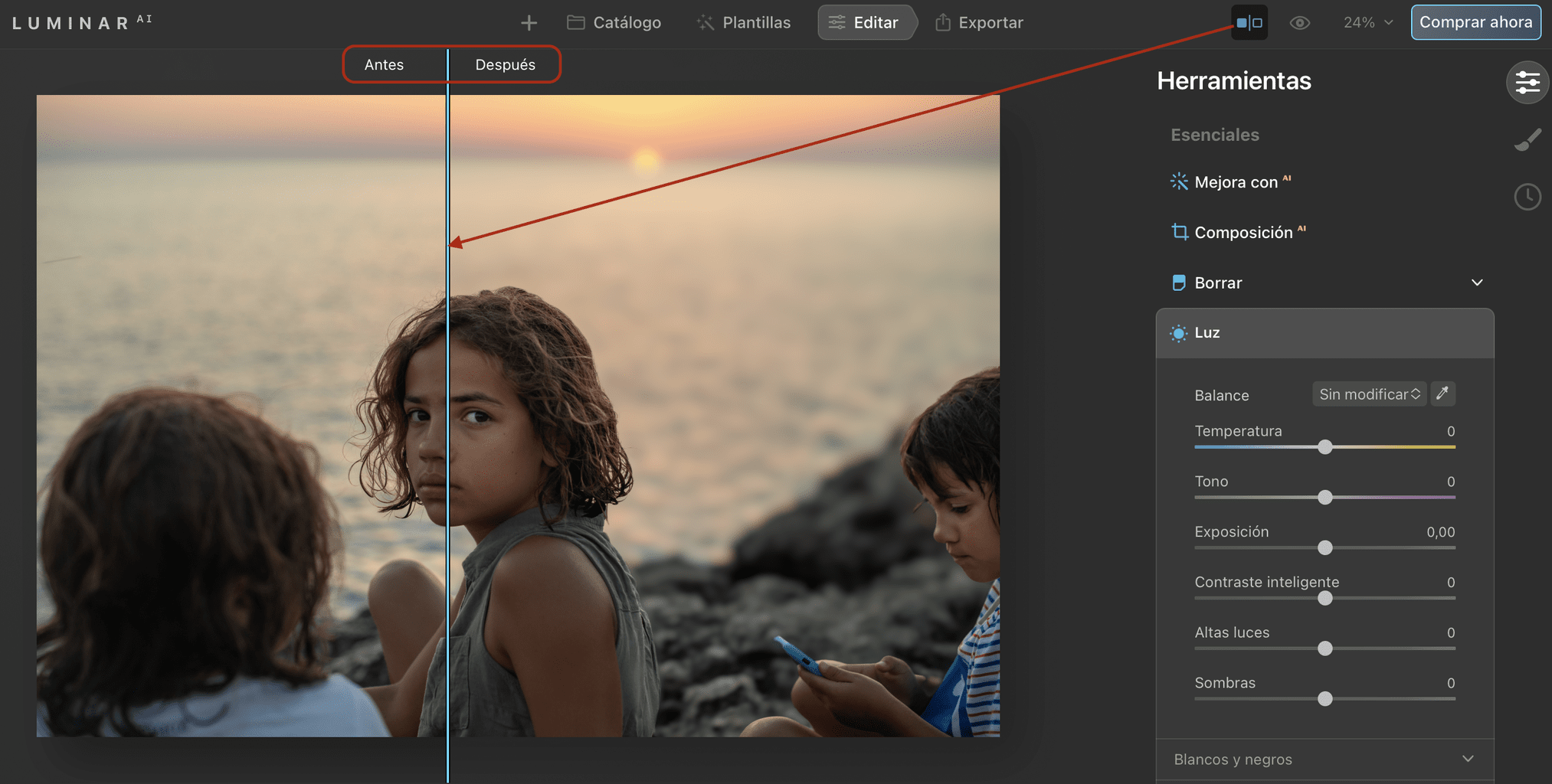 Luminar Templates
Within the tools you have a very interesting option and another of the strong points of this tool: the templates.
Templates are a series of default settings depending on the image we want to edit. The program itself detects the type of image we have and suggests one or the other depending on whether we have a portrait, a landscape, etc.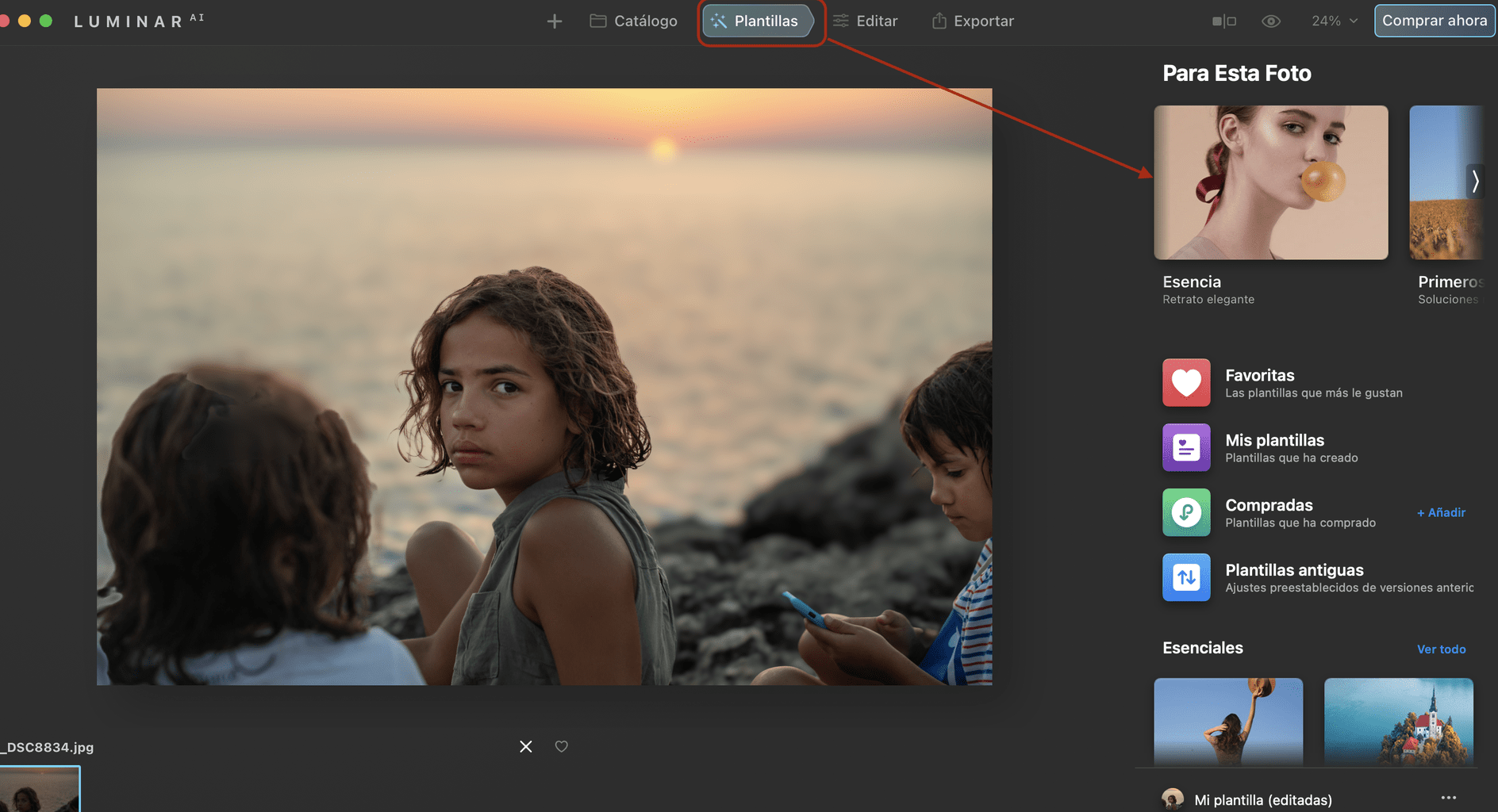 3. Export
Once you have the adjustments you need applied, simply export your photo to the folder or destination of your choice.
You will find the "Export" option at the top of the Luminar interface.
Opinions about Luminar AI
Luminar Ai is a complete and fast editing tool aimed at photographers looking for a fast and easy to use editorwith good results even with little or no notion of editing.
If you are looking for speed when editing your photos, as well as a complete tool, easy to use and with a creative touch, this editor may be what you are looking for.
It is also a great complement for those who want to take advantage of this program without giving up Lightroom or Photoshop since they can function as plugin of these, so you can edit in any of these editors and open Luminar to finish your edits there.
Here you can see curiosities of some of the tools that Luminar offers:
What did you think of this programme? It is undoubtedly a very interesting option for many photographers who need a very powerful plugin for editors such as Lightroom or Photoshop or for photographers who are looking for a fast, very complete and creative editor.
I wouldn't hesitate to take a look at its trial version, I think you'll love its possibilities 😉 .
I hope this article has been useful to you. If so, do not hesitate to share it with those who do not know this program and you think they will take advantage of it. Thank you very much, see you in the next article.