You don't need to be accompanied to have a good time with Diablo Immortal, but it will surely improve if you add some friends to your games, so don't miss the opportunity to do soThe instructions to be able to add friends to the battles of the action and adventure game are related to up to three tutorials that allow us to battle alongside our colleagues
It is undoubtedly one of the great video game releases of this year 2022, one of the most hyped. Many were those who were anxiously waiting to be able to enjoy such a proposal for massively multiplayer online action, and that explains why so many want to know the instructions to play Diablo Immortal with friends.
As you probably know if you have reached this article, we are in the presence of an adventure game, which takes place in dungeons, and forces players to enter the depths of the catacombs, where dangerous enemies await them, which must get rid of if they want to progress.
Of course, it is not essential to play with partners, but the truth is that the title is much more entertaining when we have the possibility to share our games with others, something that applies to other games. Even in the case of this cross-play ARPG for mobile and PC, we consider the cooperative multiplayer mode to be the most fun of Blizzard's latest product, and that pretty much says it all.
How to play Diablo Immortal with friends?
Adding friends or joining a clan
Devil Immortal has multiple ways to play co-op depending on how players prefer. We believe that the simplest is by adding friends, or joining a clan, as follows:
Go to the main menu of the game, and select Create clan clan in the upper right cornerUse the search bar to explore the different created clans availableSelect the clan you want to join, and press the Apply buttonAfter being accepted, you will be in the clan just like your friends, and they will be able to chat and form their groups easily
You can create a clan yourself from the Create clan function, remembering that you must meet certain conditions, such as having at least 100,000 gold for this option to be enabled, so accumulate as much as you can. Likewise, each clan can recruit up to 150 memberswhich we consider more than enough.
As the owner of the clan, with the Friends button in the menu you can add the friends you want to accompany you.
With warbands or war bands
Warbands work a little differently than clans in Diablo Immortal, but they work just the same. These groups are much smaller, holding no more than eight people, and are for teams that want to play together on a consistent basis.increased the rewards for that constancy.
From the main menu, select Warband near the bottom left of the list of optionsYou can either create a new Warband or join one that is already in actionIf you create a warband, fill in the details, such as the name of the warband, its goal, the time available, etc.; while if you join one that is already in action, you will have to adapt to the decisions of the creator
Logically, if the clans are to play with strangers, Warbands make more sense with acquaintances.
With Proximity Party
During the confinement as a result of the coronavirus pandemic, many applications added a function called party, or party by name in English, so that we share moments at a distance.
Diablo Immortal has a random matchmaking system, which allows people who are not within a clan or Warband, can still join together to fight in difficult areas and help others.
This system is very easy to use, but depends on there being other players nearby, and agreeing to cooperate. When you want to take advantage of it, you have to follow these steps to be able to activate it in just an instant:
Place yourself in an area, or inside the dungeon, wherever you want to partyOpen the menu and click the Party Finder button
Select Party Finder and wait for others to joinYou can also invite anyone you want to the party to lighten things up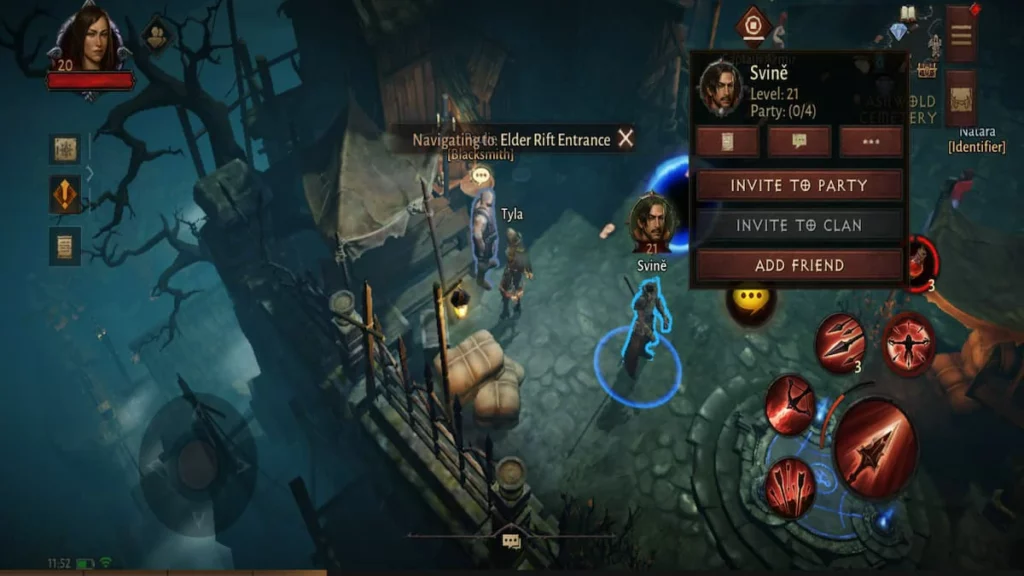 And that's it. You can now play Diablo Immortal with friends in an absolutely easy and fast way.