The operation of the machine is simple and self-explanatory – but has its price. Tristan Filges
In Germany there are 24 Bitcoin ATMs where you can buy Bitcoin and Ethereum with cash. The machines can be found at Rewe, Saturn and recently also at a Volksbank in Bavaria.
I bought cryptos for fifty euros from a bitcoin machine at a kiosk in Berlin. The process was simple, but quite expensive: the company Kurant, which sets up the machines, keeps 8.1 percent of the amount paid in as a transaction fee.
The seller in the kiosk explained to me that I wasn't the typical target group either: currently many Russians are sending money to Russia. Around 50,000 euros would be paid into his machine every week.
The small kiosk "Meinspätkauf.de" on Eberswalder Straße is actually a completely normal Berlin "Späti". Here you can get beer, a Fanta or a pack of cigarettes – but also cryptocurrencies like Bitcoin and Ethereum. In a corner right next to the entrance, between the cooling shelf filled with soft drinks and water and crates of beer, it is: the Bitcoin ATM, where I can buy cryptocurrencies with cash in an inconspicuous kiosk in the middle of Berlin.
There are now 24 of these machines in Germany. A Bitcoin ATM has been in a German bank for the first time since Monday. At the Volksbank Bayern Mitte, people can now buy Bitcoin with cash at the machine. The main purpose of these Bitcoin ATMs is to make it easy to buy cryptocurrencies, says the Austrian company Kurant, which set up the machines.
However, the machines are also set up in various electronics stores such as Media Markt and Saturn, in Rewe supermarkets or kiosks. I wanted to test one of these bitcoin ATMs. So I went to the Berliner Späti to find out if the system works and if it's a good way to buy cryptos.
Uneasy feeling buying cryptocurrencies in a kiosk
However, before you head to one of the vending machine locations, you should register with Kurant on the website well in advance, because checking the data takes a few hours. Basically, however, registration is the same as with any other financial service provider: register with your email address, cell phone number and personal data, identify yourself via video and wait until you are activated.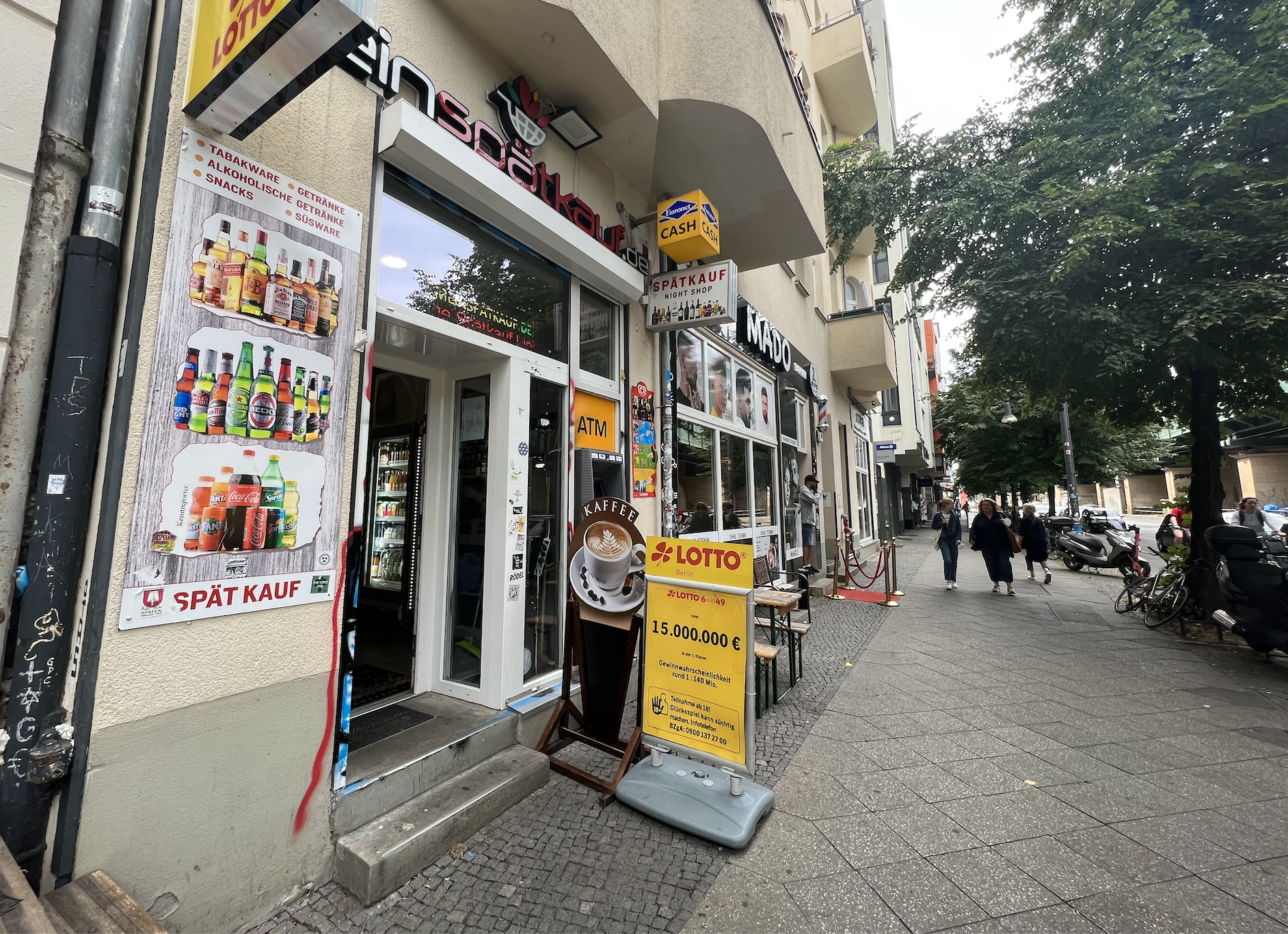 Not recognizable from the outside: Cryptos can be bought with cash in this "Späti". Tristan Filges
Once you have cleared this hurdle, you will receive a notification that you can now buy cryptos at all machines. The bitcoin machine I chose was in a kiosk in Berlin.
read too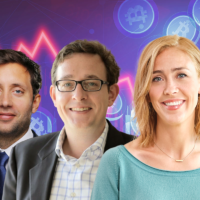 The Bitcoin course crashes – what happens next? We asked three crypto experts
A somewhat queasy feeling remained at the thought of simply pushing my money into this machine at a kiosk and receiving a cryptocurrency in return. At the inconspicuous machine, which stands on a somewhat wobbly stand, you enter your cell phone number at the beginning and then a one-time code is sent to your cell phone via SMS. As soon as you have entered this code, you are logged in.
Fifty euros minimum amount and eight percent transaction costs
In addition to the Kurant account, you also need your own crypto wallet to which the coins are to be transferred. If you don't have one, the machine will help by using a QR code to direct you to a free wallet provider in the app store. However, you do not need a complex registration for a wallet, but can get started immediately after installing the app. A small camera on the machine scans the address QR code of your own wallet on your cell phone and the machine knows where to transfer the coins to.
read too
You shouldn't have cryptocurrencies other than Bitcoin and Ethereum in your portfolio, says one expert
Then you choose whether you want to buy Bitcoin or Ether. The minimum amount for both coins is fifty euros. I chose bitcoin and introduced fifty euros in bills. With each new note, the machine calculates how much Bitcoin or Ether you would get. If you press buy, the process is also complete. Within a few minutes, 0.002 Bitcoin was on my wallet.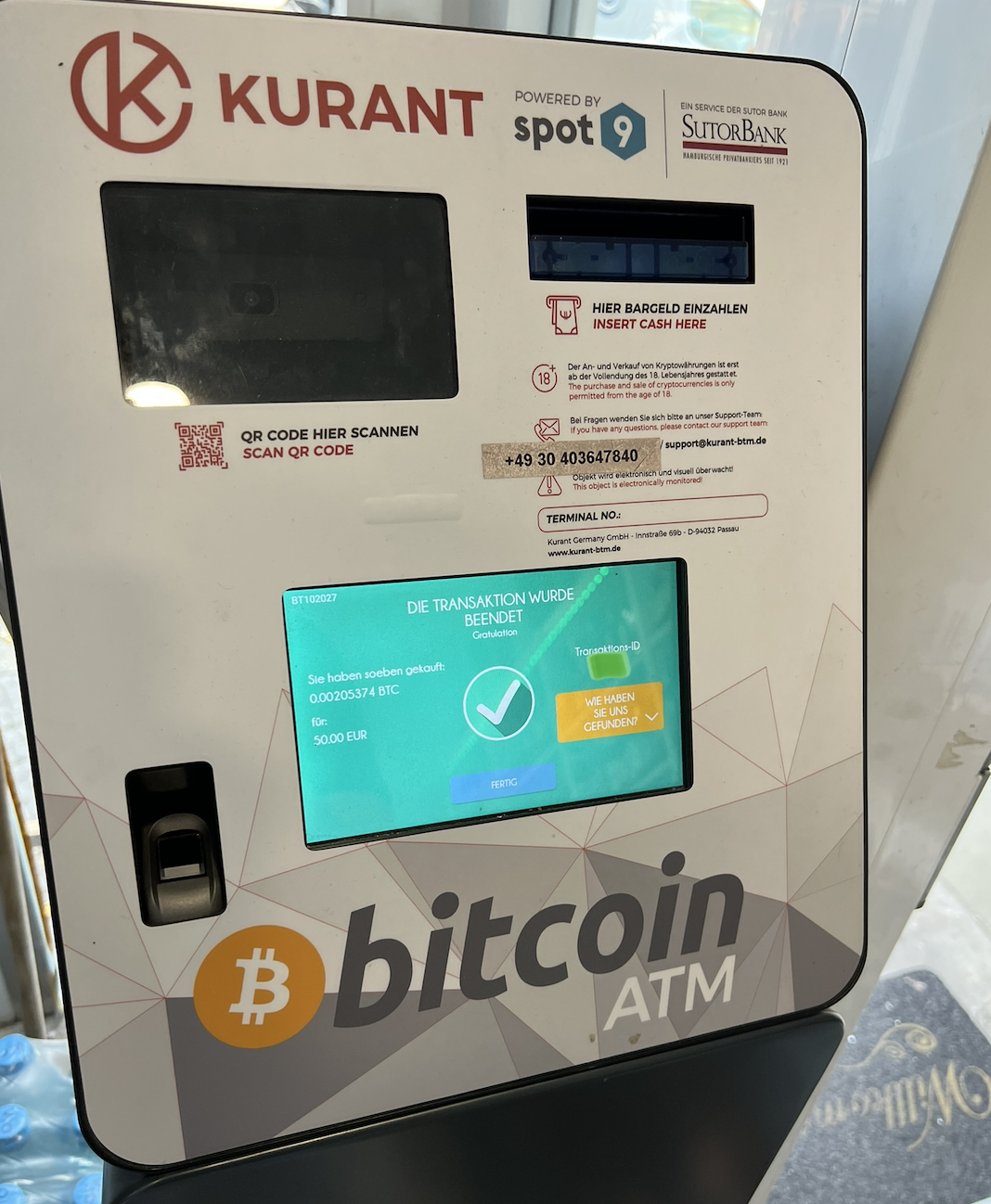 After a few minutes I had 0.002 Bitcoin in my wallet. Tristan Filges
The whole procedure took a little less than five minutes and is actually pretty self-explanatory. But the simplicity has a price: 8.0 percent transaction fee. In fact, I paid four euros for the transfer and only bought Bitcoin for 46 euros. If you were to make the purchase online, you would only pay a small so-called "miner fee", which usually costs a few cents.
ATMs are used intensively – also to transfer money to other countries
So why pay several euros in fees? If you bought cryptos for 1000 euros, you would pay a fee of at least 80 euros. When asked, the kiosk seller explains that the machine is actually used very frequently.
Every day someone would actually always come to buy cryptos at the machine, on some days even up to 15 people would come. Sales also appear to be huge. Around 50,000 euros would be paid into the machine every week.
And who uses the machines? Currently, a particularly large number of Russians or Germans with Russian roots, if you believe the kiosk seller. They would currently be able to send money to relatives and friends in Russia. After all, the machine doesn't care which wallet QR code you scan.
read too
A new cryptocurrency is supposed to reflect the euro exchange rate – but why it is of no use to European investors