If online dating services have been showing a clear increase in their activity, with the coronavirus pandemic and confinement they have finished positioning themselves as indispensable in citiesIt is worth thinking then, at least for a moment, about how these new technologies will affect the world of dating, and what we can expect in the coming years when it comes to flirting on the Internet.
Some of the innovations that we are witnessing lately have come with the idea of ​​affecting every aspect of our lives. In the end, developments like AI and the metaverse aim to change everything on a day-to-day basis, but how will new technologies affect the world of online dating and meeting?
This is precisely the question that many are asking in a very special context, in which dating apps and websites have worked extraordinarily well over the last decade, being one of the most proliferating industries within the Internet spectrum, and moving thousands of million dollars each year, with sustained growth.
Of course, all this supported in recent months by the coronavirus pandemic, confinement, and the need to manage to meet people in times when we couldn't even leave home.
What technologies could change the world of online dating?
Well, the point is that things have really changed in recent times, and the world is no longer what it was when we were 20 years old. Much less the one when our parents were 20 years old and organized a date.
It is still surprising, for a huge number of people, the possibility of connecting to a platform, and having available there an extensive catalog of candidates and candidates who are willing to choose themselves in that way.
Artificial Intelligence Algorithms
Those who are wondering about the relationship between new technologies and dating, and have been using dating apps for the last few years, will be aware of how the accuracy of the results shown by these services has been improving. We owe such precision to Artificial Intelligence algorithms and how they have been refined, of course.
These machine learning systems are acknowledging our behaviors and decisionsrelying on them to suggest new partners, and it is becoming easier for us to be attracted to those people who are introducing us, which is mainly due to the fact that they consider several more data than in the past.
Virtual Reality Technologies
Speaking of new technologies around the dating world, we cannot lose sight of how Virtual Reality will gradually shape these meetings, having an absolute impact on online dating, opening the doors to a much more immersive remote social interaction. Even when we're thousands of miles away.
The idea of ​​Virtual Reality applied to this area is that meetings are much more enjoyable between users. Virtual Reality has already shown that it can generate unthinkable scenarios in virtual environments with potential partners. AND will contribute to greater confidence, shortening the distances with others.
Metaverses
If we talk about new technologies and appointments, it will be impossible not to attend to what happens next with the metaverse. At the moment it still sounds more like science fiction to us, and that is indisputable, but little by little that will change..
The metaverse is what's next when it comes to social interaction, and that applies even more when it comes to dating and flirting. Combining Artificial Intelligence, Virtual Reality and the metaverse, and the multi-sensory experience will be satisfying. We will be able to share a virtual environment with that special man or woman, without leaving home.
Once these systems are established, that rejection of online dating that a large part of the public still has will disappear. Because most will feel that they are really sharing something, somewhere, with someone.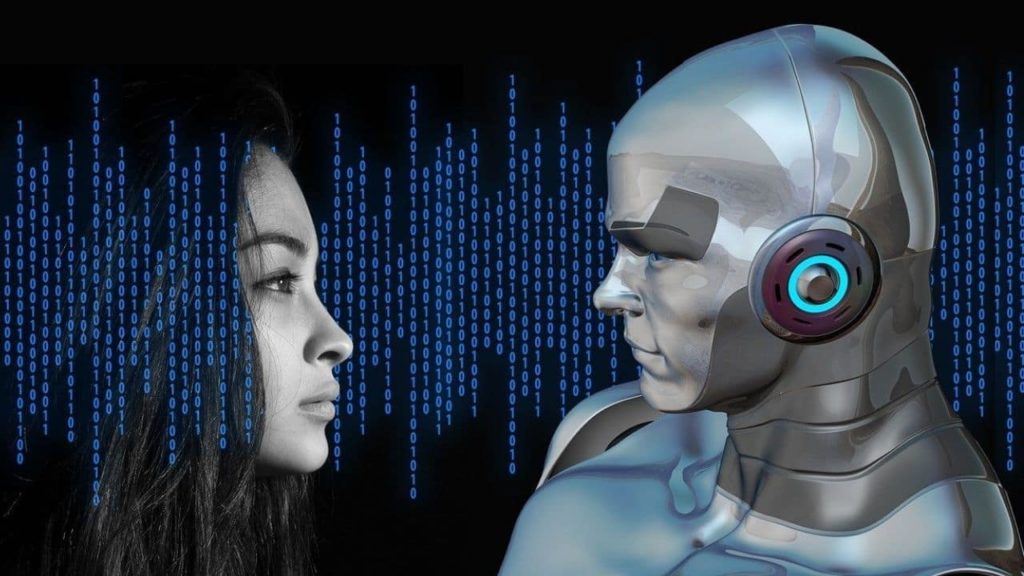 The competitive race in the digital age
Dating sites that don't consider the importance of implementing new technologies to provide users with a state-of-the-art dating experience will slowly fade into oblivion. That is why they will adopt them.
Digital dating has skyrocketed with the popularity of smartphones. And not making dating sites accessible through these devices means users would go elsewhere to find a better vibe. This leaves dating sites locked in a highly competitive race in the digital age.
If we add the capacity of Artificial Intelligence and other technologies to the matter, its scope is still unknown. Precisely because of this competitiveness, Virtual Reality appointments for 2030 should not surprise usamong other advances and innovations that, we already anticipated, will be the way in which our children and grandchildren flirt.
Matching algorithms are getting smarter
One thing we have noticed about dating sites is how smart their matching algorithms have become. Gone are the days when dating sites had dozens of filters to find partners.
Just look at the example of Tinder, which assigns scores to users as a kind of indicator of compatibility. Likewise, all use information of location, hobbies, and aspects that you have indicated yourself.
The most interesting thing is that, both in the world of dating in particular and in the universe of consumption in general, many people do not know what they want in detail. There are these platforms to tell them.
In any case, it is undeniable that modern dating is far from how grandparents used to find a partner. We can leave part of the effort on the Internet with the certainty that, increasingly, its results are excellent.. If you don't believe us, you can re-download some dating apps and tell us how it went.
Share it with your friends!