Being browsing, and suddenly one of the tabs that we have open starts emitting audio, is one of the most annoying things that can happen to us while we are on the computerFortunately, those who use Chrome as their browser on their computer have the possibility to enable a simple but useful function, such as the new tab audio mute.
As the years have passed, our relationship with browsers has gotten smarter. Currently, many of them include functions that were previously only available in other sections of the PC. For example, it is advisable to learn how to enable tab audio mute in chrome. By discovering how to do it, you will be able to better control your browsing and not waste so much time in silencing him.
Also, you have to be honest and recognize that listening to sound that comes out of nowhere is a very annoying thing. Generally, if we have several tabs open, it will be difficult to immediately discover where it comes from. Based on this problem, Google developers have created the Tab Audio Muting function, which is what allows us to mute tabs. It is a very superior solution to the one we knew previously, which consisted of right-clicking on the tab, and «Mute website».
So, this article will guide you on how you can enable Tab Audio Muting in Google Chrome in seconds.
But what does the silence of the tab consist of?
Tab Mute Audio or Tab Mute Audio UI Control allows users to instantly mute a tab where audio can be heard. Whenever a website plays audio, you see a speaker icon in the tab.
This feature allows you to quickly mute or re-enable a tab by clicking the speaker icon directly on the tab instead of right-clicking the tab and selecting an option.
How to enable tab audio muting in Google Chrome?
Open Chrome as you always doIn the address bar, paste "chrome://flags/#enable-tab-audio-muting"In the menu that will open, you have to activate the function with Enable, as seen in the previous imageClose Chrome, and voila
Now, open YouTube in Chrome, for example, and play some audio, to see if the icon appears. Usually, you will see the sound icon and, by clicking on it, its audio should be heard or not.
Use extensions, the other alternative
The other way to access silence in Chrome tabs right out of the box is with extensions and plugins. Chrome browser add-ons increase productivity and help us to be safe and smart, but surely the best thing about them is that there are as many extensions as we have needs.
For example, if you want to disable individual tabs instead of entire portals, you have to download an extension like Tab Muter, available from this link, which will allow you to customize your navigation in Chrome. Thanks to it, you have at hand a function for automatically detect which tab to mute, and which not.
SmartMute, on the other hand, has a feature and that is that mute all tabs except the active onewhich means that you can finally watch videos without being bothered by those random pop-up ads on the other ones.
You can download it from this link, and it also has other features, such as disabling all the tabs with a single click, establishing sound deny lists, a silent mode, and others that you will be evaluating.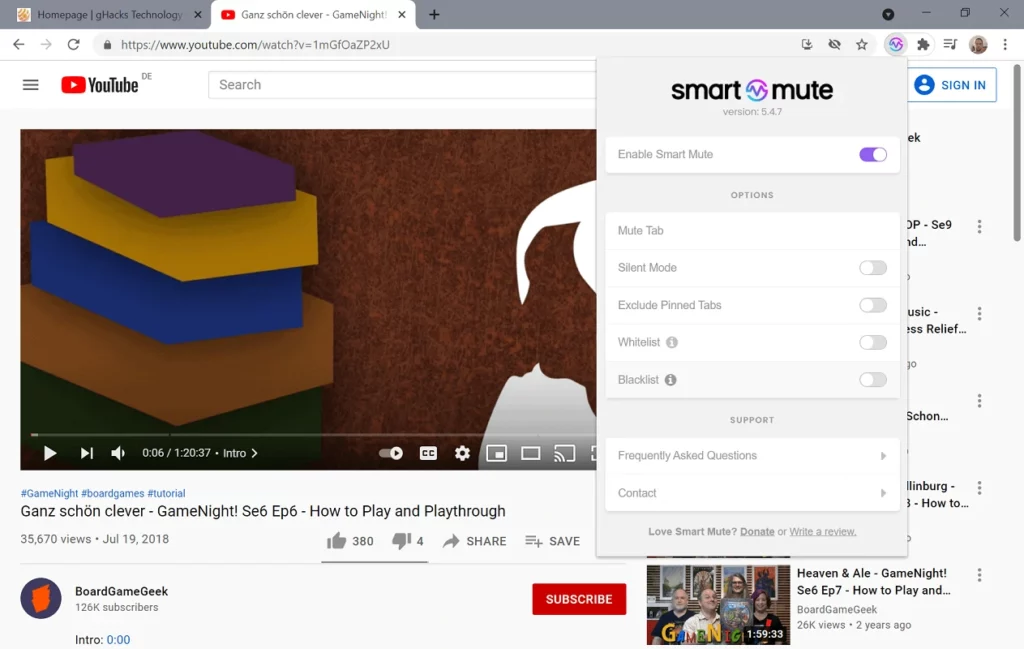 Other frequently asked questions
How do I control audio playback for individual sites?
Since we do not have the same relationship with each page we visit, maybe you want to silence only some.
Open Chrome as usual Click on the three-dot icon at the top right, and go to Settings Find the Privacy and security section on the left Select settings for individual sites
How can I reduce the volume of tabs in Chrome?
If what really interests you is reduce overall volume of tabs in chromeyou have to use a particular extension which is Volume Master, via the blue icon next to the address bar.
Once you have installed it, you need to press and hold and drag the volume button down or up.
In any case, there are several options to control the sounds that are played in the browser, and we can use one of these extensions or activate the audio mute tab for a simple on and off function, making sure that the background audio of the browser is not going to bother us in any case.