In our pocket we always carry a camera. Our mobile device! Although it is also good for doing a bit of editing, especially when it comes to simple things like trim videos on android. We may not have all the options that tools for Windows or Mac offer us. But for simple things, you don't even need to download an app.
Crop videos on Android with Google Photos
Luckily, Google Photos comes pre-installed on most mobile devices. Although if we do not have it installed, we can do it in a matter of seconds from the Play Store. Once we have the application, we are going to have to open it and choose the video that we want to trim or cut.
We will press the video so that the controls appear and we will press the Edit icon.
Now we are going to see visualizing a timeline that has some lines at its ends. We're just going to have to drag these handles in order to adjust the length of the video. One thing to keep in mind is that Google Photos does not support removing middle parts of the video.

Once we have everything ready, the only thing left to do is press "Save Copy" for the changes to take effect.
The original video will remain unedited, Google Photos saves our edited video in the same folder where the original is.
on Samsung Galaxy
In the case of Samsung devices, they come with an application called "Gallery" that has some pretty interesting options. We will be able to find the app in the application box.

Once we have it open, we are going to have to find the video that we want to edit and then we are going to select it.
Now, we go to the bottom of the screen and click on the pencil icon.
We will see a timeline with all the video at the top, at each end it will have a strip. If we hold down that strip and drag, we can adjust the duration of the video. Samsung Galaxy does not allow to remove parts of the middle of the video.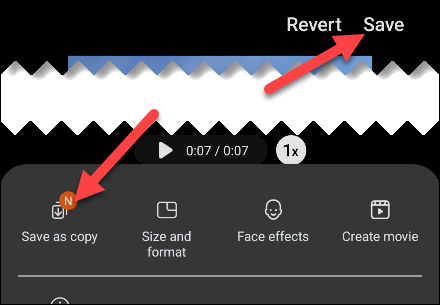 When we finish editing it, we will press "Save" in the upper right part to overwrite the original video or select "Save as a copy". We recommend this last option to keep the original video intact.