(18-3-2022). The bars can be great sources of energy, since they usually provide the three macronutrients: carbohydrates, proteins and fats. Alimmenta's Dietitian-Nutritionist, Marisa Burgos, offers us several recommendations and proposes several options to prepare them.
Nutritional supplements for athletes such as isotonics, gels and gummies are designed to provide the different sugars and electrolytes that athletes need at a certain time during training or competition. All these supplements have cariogenic power and athletes must pay special attention to oral care, explains Alimmenta's Dietician-Nutritionist, Marisa Burgos.
As for the bars, they not only provide sugars and mineral salts, but they can also provide complex carbohydrates, proteins and fats, so it is convenient that their ingredients are healthy, since the bars are a type of product that the athlete can not only use during training or competition, but also as part of their regular diet, it adds.
Benefits of the bars
The specialist affirms that the bars can be great sources of energy, since they usually provide the three macronutrients: carbohydrates, proteins and fats.
In addition, they are easy to transport, do not leak and are ideal for long-term sports such as mountain racing, trail running, alpine skiing. Of course, we must bear in mind that if the bar has a lot of nuts and dried fruits, it will be rich in fiber and that fiber can accelerate our intestinal transit and become a real problem if we are competing.
Keys to be healthy
Marisa Burgos clarifies that "there are very few healthy bars on the market. If we make them homemade, as soon as we add syrups, honey or coconut oil, the bar cannot be compared in quality with a simple handful of nuts or dried fruits".
Therefore, if the priority is to improve sports performance, we must think about what substrates the athlete needs, depending on whether they are competing or not, since in some cases we will need a bar rich in sugars, in other cases a bar rich in proteins or we simply want a bar made from healthy caloric foods.
"Of course," he adds, "what can happen in some cases is that the consistency of that bar is more like a sponge cake than a traditional bar, but the important thing is to know what we want to contribute with the bar."
Proposals
The Dietician-Nutritionist proposes us to prepare the following energy bars made by ourselves:
A–BANANA AND OATS BAR
Ingredients: 200 g of banana, 50 g of oat flakes, 40 g of dried figs, 20 g of assorted nuts
Preparation: With a fork mash the bananas and mix them with the oatmeal in a bowl. Add the figs and dried fruit (previously chopped into very small pieces). Distribute the mixture in a rectangular mold, so that the mixture occupies the entire container and the thickness is as thin as possible. Bake at 180º for 15 minutes. Let rest for at least a couple of hours and they will be ready
B–BAR RICH IN SUGARS
Ingredients: 100 grams of dates, 30 grams of raisins, 40 grams of almonds, 1 tablespoon of sesame seeds, 3 tablespoons of oat flakes, 3 tablespoons of honey or agave syrup.
Preparation: Crush or finely chop the dates, the raisins, and the almonds. In a bowl place all the ingredients and stir until you achieve a malleable dough. Place the dough on baking paper and cover with another paper to be able to flatten with your fingers or a rolling pin until the dough is half a cm high. Take the preparation to the fridge for two hours and then cut your bars.
C–HYPERPROTEIN BAR OR CAKE
Ingredients: 60 grams of oatmeal, 20 grams of defatted peanut flour, 1 sachet of yeast, 120 grams of egg whites, 100 grams of grated carrot, 20 ml of milk or vegetable drink, 1 tablespoon of cinnamon and a pinch of vanilla essence.
Preparation: In a large bowl, place the flour, yeast and cinnamon. Stir well and add the vegetable drink, the egg whites, the grated carrot and the vanilla essence. We crush everything, place the mixture in a rectangular container and take it to the microwave for 4 minutes.
D-VEGAN PROTEIN BAR
Ingredients: One small ripe banana, 100g of oat flakes, 15g of defatted peanut powder, 20g of pea protein powder, 1 teaspoon of crushed flax seeds, 1 teaspoon of chia seeds, 100 ml of vegetable drink.
Preparation: In a bowl, place all the ingredients and blend until you obtain a homogeneous mass. Let stand between 15 and 30 minutes and spread out on an ovenproof container, covered with parchment paper. Score the rectangles with a knife to make them easier to cut later. Bake in the oven, previously preheated to 180ºC for 25 minutes. Then let cool and finish cutting the bars.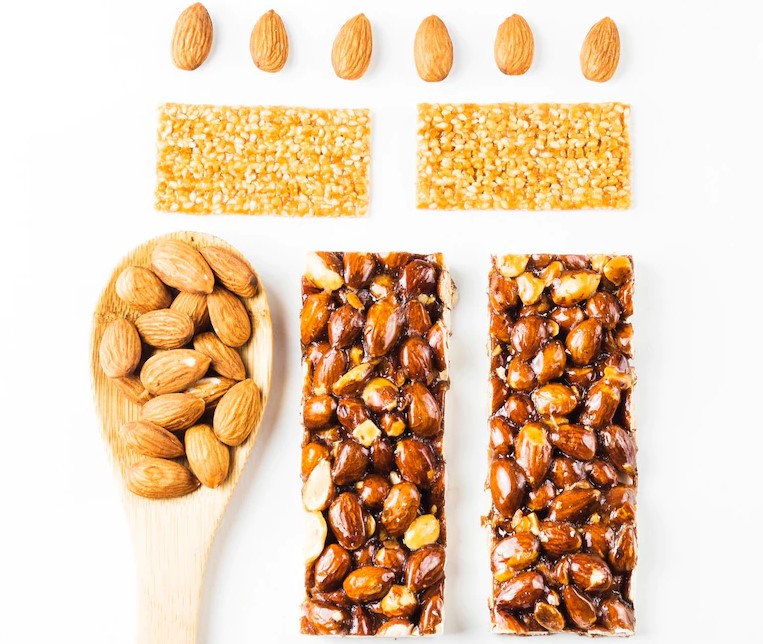 Final recommendations
The specialist advises that, "before buying a bar, it is necessary to read the list of ingredients, because it is likely that we will find a big surprise and that is that it contains the same ingredients as any other ultra-processed one."
"The bars", he adds, "are not essential to improve the performance of the athlete, there are many resources that can be adapted to the needs of the athlete, from isotonics, gels and jellies to sandwiches, biscuits or homemade shakes. Therefore, if we are going to make them at home, we must keep in mind if the priority is to provide fats, fiber, proteins, complex carbohydrates, sugars, otherwise all our culinary efforts can really go against our sporting goals.
The good thing is that, "if we hit the nail on the head in terms of composition, (and consulting with a nutritionist dietitian can help us here), we can make much more and freeze them for when we need them," he concludes.
---