If you cannot access the desktop client, the app or the official page of the Outlook service, you will still be able to open your MSG files that are included in the emails thanks to tricksSysTools online MSG file conversion tool and MSG viewer are the first alternatives that come to mind when opening items like these easily
If you are an Outlook user, you may sooner or later come across a recurring problem for others. We are talking about the impossibility of accessing elements with MSG format without using their original program. Justly, the inconvenience is due to this unusual extension is the one for Microsoft mail message files, but how can I open a MSG without using Outlook because I don't have that available?
Well, no matter what the circumstances are that you can't access Outlook, but there are solutions, at least two, that will allow you to still open your files, to view them so that you can use them at home or in the office.
These tricks that we are going to teach you work in both Windows 10 and Windows 11, and allow you to definitively do without Outlook to open your message files, without the web app or the official page of the service, which are usually the first two options that are they come to mind if we don't have the desktop client.
Open MSG files without using Outlook
With online MSG file conversion tool
The first method that you can take advantage of to open MSG files without using Outlook is to convert the file. Basically, we're telling you that you don't need the Outlook desktop client and its other charms. As long as you can transform a MSG element to another format, you will be able to see its content.
Zamzar is a tool that has been specially designed to help you convert MSG file to PDF so that you can see almost everything written in the email, with the limitation that you will not have the attachments. Generally this should not be a serious inconvenience, but it is important that you do not forget it.
Among the information yes you will be able to observe without problems is the subject, the name of the sender, the date and time, the entire body of the email, etc. But again, no attachments or images or possible answers.
To convert MSG file to PDF using Zamzar, just follow these steps:
Open the Zamzar portal from this linkClick on Choose files to select the MSGOnce you have selected them, wait for them to loadClick on the Convert button and select PDF, confirming with Convert NowOnce the original MSG files have been converted to PDF, you just have to Download
You can then open the resulting elements with a PDF reader, or even your favorite browser.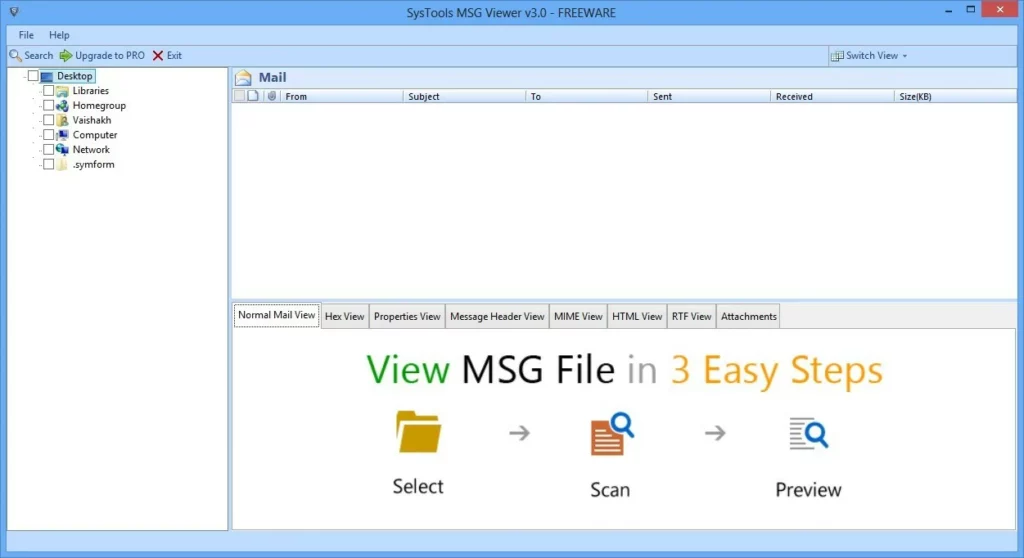 With SysTools MSG Viewer
Also, SysTools MSG Viewer is a free program for Windows that allows us to open MSG files on PC Surely its biggest advantage over Zamzar is that we will also have the attached files at hand.
We also add that you will not have to be connected to a WiFi network or mobile data to open MSG files with this mechanism, and that it works without major setbacks in Windows 10 as in Windows 11.
To get started, download the free version of SysTools MSG Viewer from their site, via this link. Next, you must navigate to the path of the MSG file, in any storage wherever you are
The next thing is to do click on that same file to open it and, if you wish, see the Attachments.
Conclusions
The easiest way to open MSG files is through the Outlook email client, and that's a no-brainer. However, if you don't have the Outlook app on your PC, you can use the solutions mentioned above. It is possible to open MSG file by converting it to PDF or with SysTools MSG Viewer on your Windows 10/11 PC.