today i will teach you how to make a collage with photos to obtain spectacular results in a super simple way. Because thanks to the fact that design programs are becoming more and more intuitive, making a collage is very easy, fast and effective.
Making a collage or mosaic of photos can be a good idea as a gift, to put in a frame and give life to your photos, as a profile picture, for your social networks, even to print your own passport photo at home, etc.
Make collage with photos
INSIDE THIS ARTICLE… 📖
What is a photo collage?
A Photo collage It is a set of images placed on a support (digital or physical) with the intention of creating a single image through the set of different photographs.
Tools to make a collage with photos
These are some of the tools to make a collage with photos that we recommend the most because they are free (most require creating a user), intuitive and complete:
Photo CollagePicMonkeyCanvaFotorPicsartMoldivPixlrGoogle Photos
photo-collage
Photo Collage is a very simple online tool where you only have to drag or upload the images to the application and there, in a very simple and intuitive way, you can change the frames, turn the photos into black and white, change the background, or the layout of the pictures. In a minute you have a most interesting collage.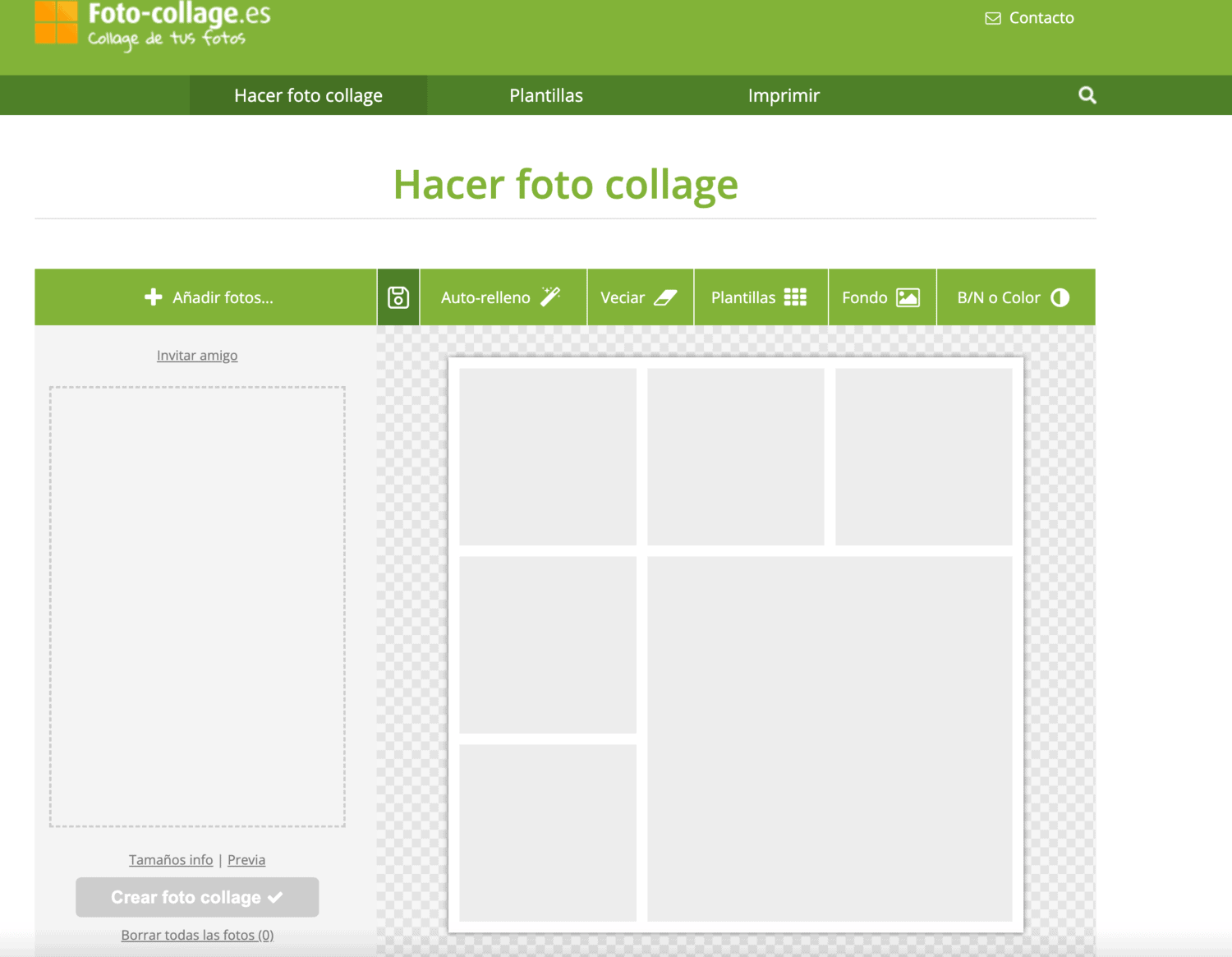 photo collage
Pic Monkey
In Pic Monkey you will find many options to customize your collages. To use it you must register with an email. It is probably one of the most complete programs to create collages that you will find.
PicMonkey
Canvas
Canva is a very complete design tool that is free to use (upgradeable to Premium with a few more features). Among its many options, you have the possibility of creating a collage through predetermined templates.
Canvas
photographer
Another interesting app for making photo mosaics is Fotor. It allows you to choose different formats and is very intuitive and easy to use. You can change the background, the frames, the number of photos, round the edges, etc.
photographer
picsart
In Picsart you can easily create collages through its numerous default templates that you can customize very easily. It has many formats of all kinds, for social networks, and all kinds of content (poster, dina4, etc).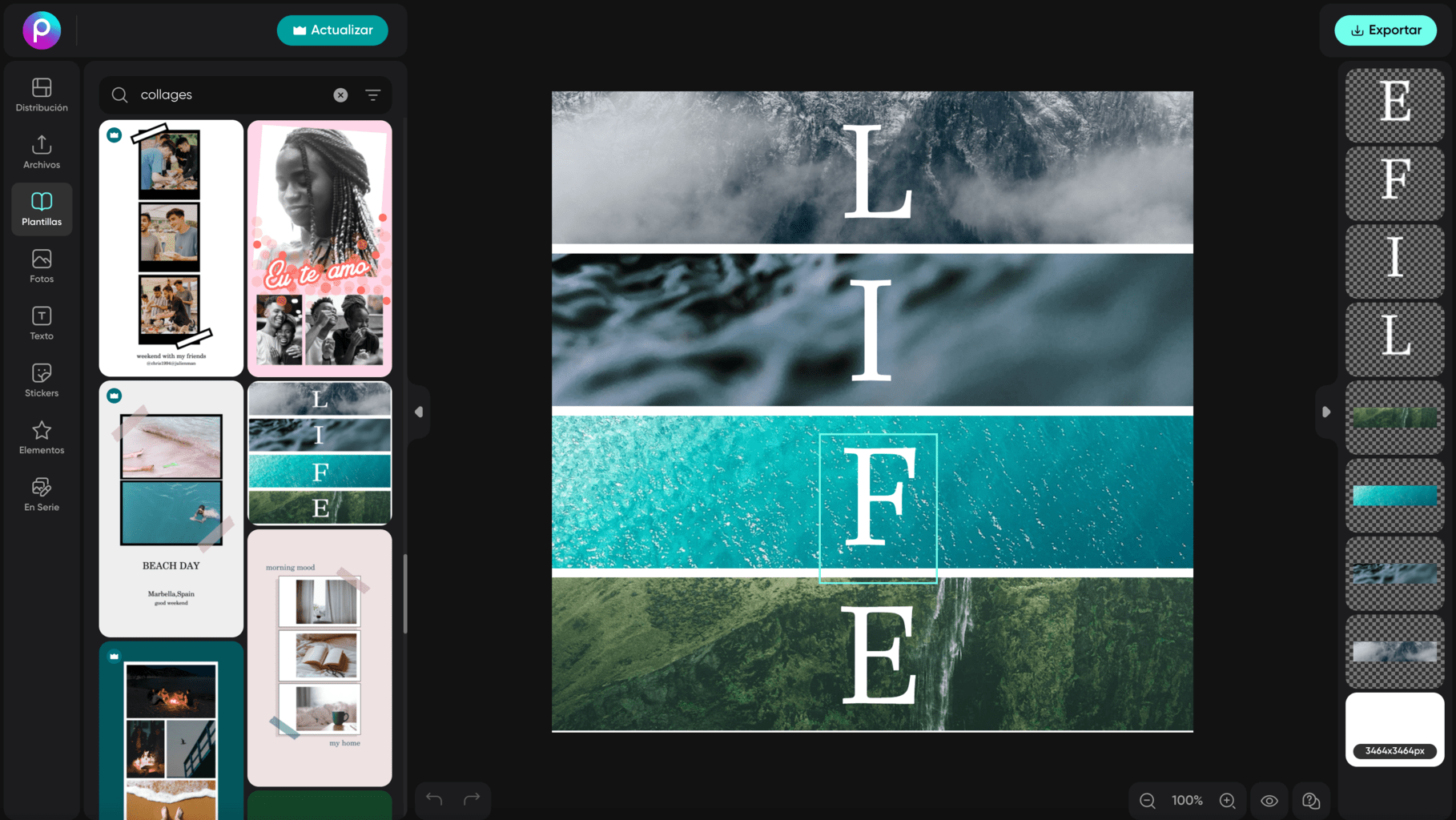 picsart
Moldiv
Moldiv is another application to make collage. You have it for Android and iOS. In this video you can see all the possibilities of this editor:
Moldiv
pixlr
In Pixlr you have different templates to create collages with different numbers of photos, formats that you can use in a very simple and intuitive way.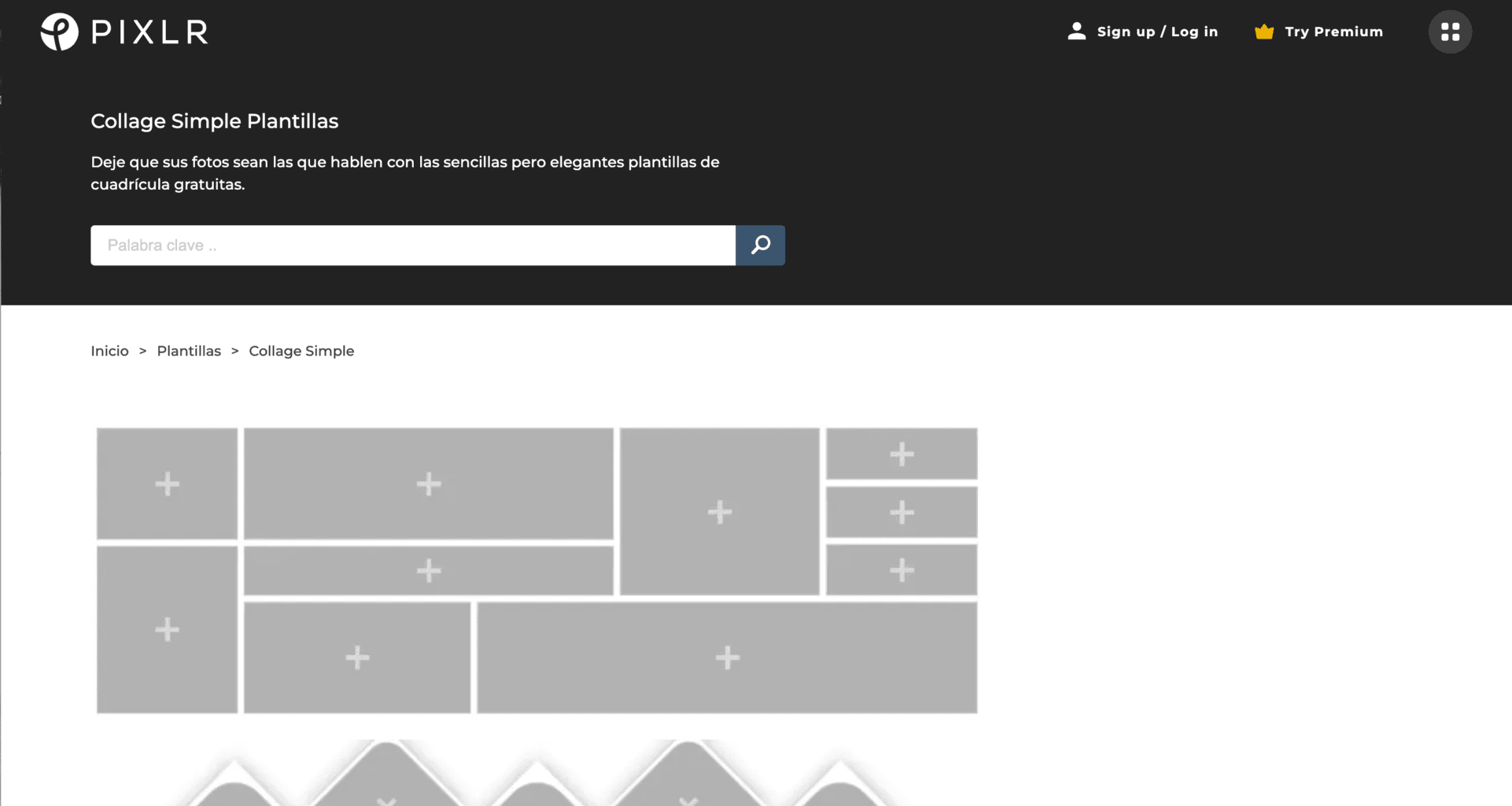 pixlr
google photos
If you use Google Photos as a cloud storage system, you don't need to go anywhere to make your collages. With Google Photos you can do it easily by simply selecting the images you want to add to your collages.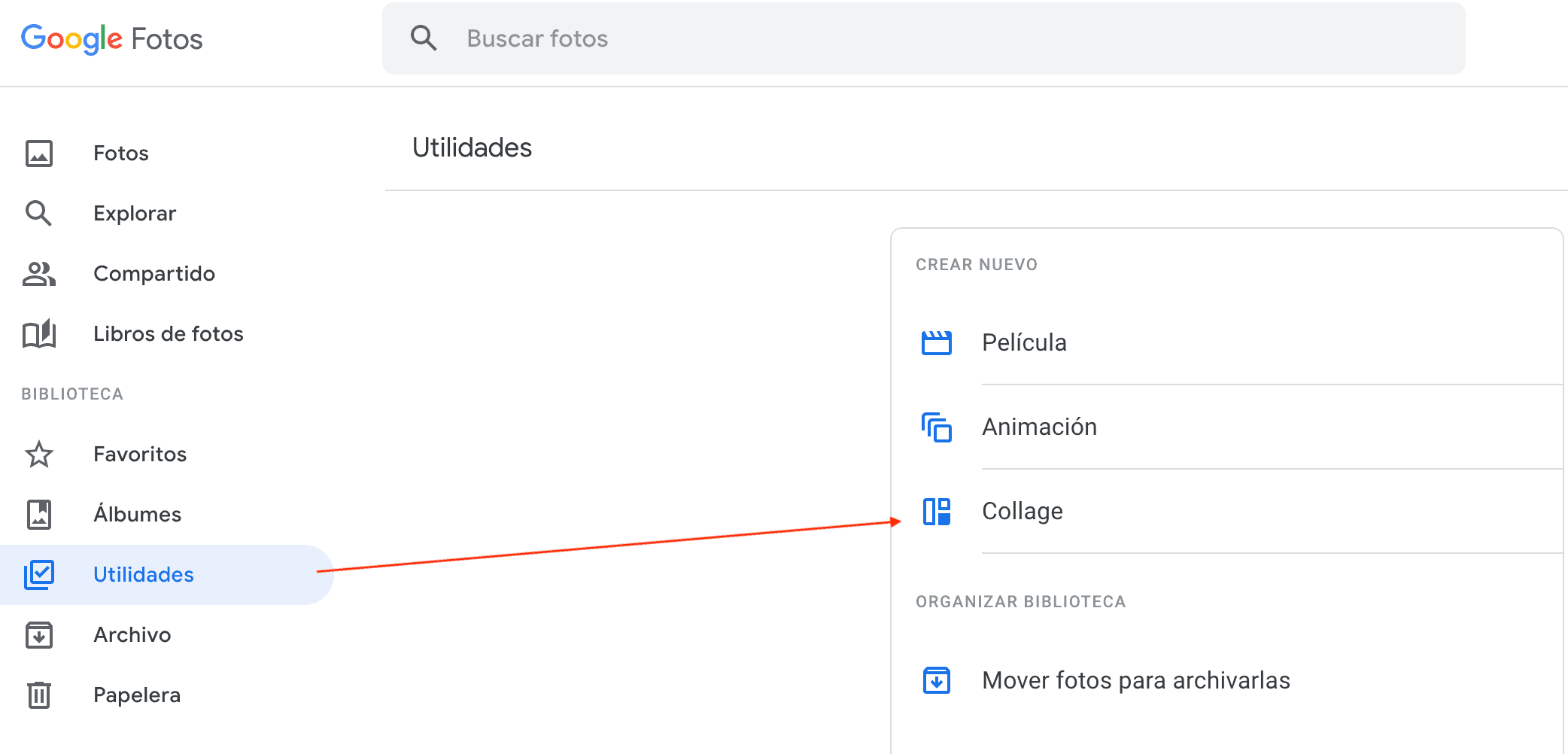 google photos
How to make a photo collage step by step (Canva)
For make a collage with photos step by step, The first thing I recommend is that you choose well the photos you are going to use.
If they have a similar style, for example, all the aesthetic photos, or all in black and white, it will help you maintain a visual thread and, therefore, a better result when making a photo collage.
To illustrate this article, I have chosen Canva, but most programs look similar and are very intuitive.
1. Choose your photos: as I have already mentioned, if they have a similar visual thread, much better.
2. Play with the programs or applications to make collage that I recommend above.
3. Open the program. In my case I am going to use Canva.
4. After registering with your email and password, you will have access to all non-premium content (which is very extensive).
5. Then go to Home > (…) More > Photo Collage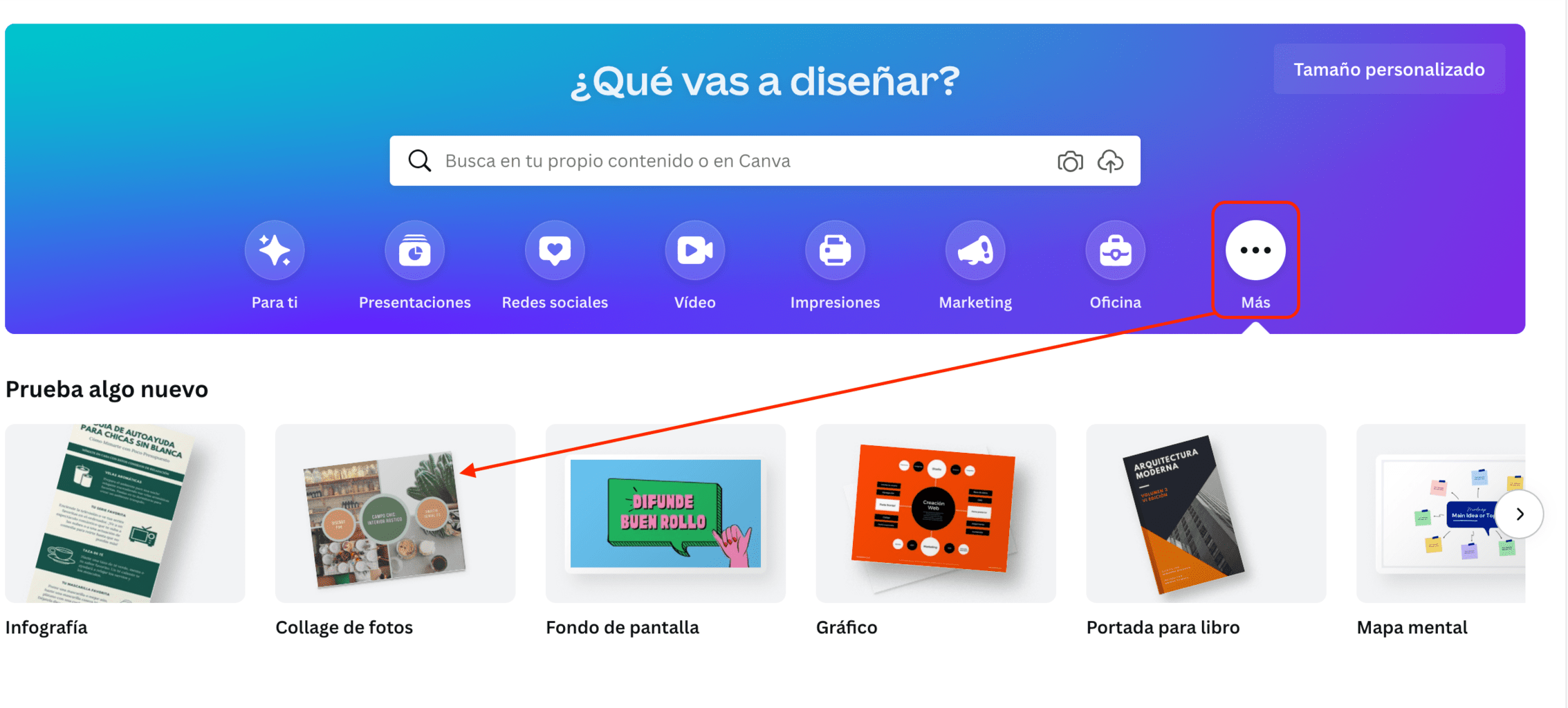 Collage with Canva
6. Choose a default template from the left side of the browser. You will see that it offers sample images appropriate to the tone of the background or the borders, and with the same style.
In many of these templates, it suggests shades that link with the template in question. If you don't have much idea about design or combining colors, etc., this can be a good way to solve it 😉 .
canva collage templates
You will find numerous templates with different themes: fashion, travel, birthdays, pets, school, sports, babies, heart-shaped, etc.
7. Click on the template and drag it to the blank page on the right.
8. Upload the photos you have selected through Uploads > Upload Files and select the photos that will be part of your collage.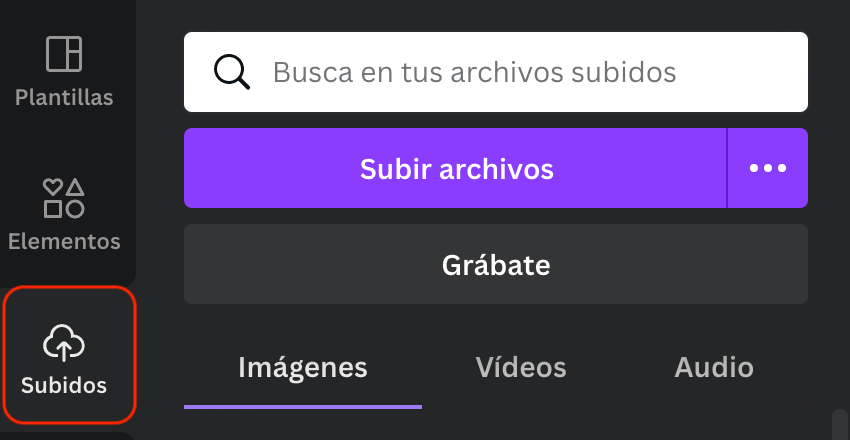 Upload photos in Canva
9. Next, drag each photo onto the place on the carousel where you want to place it. You can change the color, size, font, etc. The templates are a great base to start from, but everything is modifiable.
Just changing the photos and a bit of text, I already have a collage of my vacations 🙂 .
original template

Modified template
10. When you have your collage to your liking, go to export, in the upper right part identified with the icon of an arrow pointing down.
Download File
11. In File Type you can choose the download format: JPEG, PNG, PDF, GIF, SVG, etc.
12. You already have your carousel ready to use wherever you want 🙂 .
How to make a collage with photos on mobile
To do a digital collage With mobile photos, you have several options, the ideal is to download an application compatible with your operating system.
These are some of the collage maker apps that might interest you:
Once downloaded, its use is usually intuitive, once you give it access to your photos you only have to select which photos you want to be part of your collage. Then, you just have to select from its templates, colors and other customizable options.
Play with a couple of options, see if they are applications that have a lot of advertising, if they are easy to use, if you like their designs, etc., and choose only one, it is useless to have a mobile full of applications that we do not use.
Here's a quick example of how to easily create a digital photo collage with Google Photos:
How to make a collage on your mobile phone
Making a collage with photos, today, is very simple and also a great way to give prominence to your images, to tell a story, to gather your best memories, to show the evolution of a baby and a long etcetera of applications possible.
I encourage you to create a collage with photos to send to your loved ones, hang on the wall, on your bedside table, or put in the background on your computer, because photography does not end when we press the shutter of your camera but goes much further 😉 .
I hope this article has been interesting for you. If so, share it to reach the maximum number of people who may be interested in it. Thank you very much and until next time.