Constantly repeating the same steps can get overwhelming after a while, and Photoshop developers know that amateur and professional photographers hate wasting timeThis is how Photoshop actions were born, a very interesting trick to save effort, focusing on specific changes that require attention, and not on general modifications
Although it is true that it may be a task that we do with great pleasure, it is possible that after retouching hundreds of images, the work will bore you too much. That's why, If you are already tired of repeating processes when editing images, you should bear in mind that downloading and installing Photoshop actions will allow you to automate part of the taskdedicating the time you save to the most specific touch-ups, or to other tasks, of course.
For those who have never read or heard about them, we must say that Photoshop actions are nothing more than the recording of a series of automated steps, focused on the most common editing tricks, which are intended to give the user an ally to the time to work on the files, so that it is not so repetitive.
In fact, Photoshop Actions can make your job a lot easier, because if you have multiple images that require the same thing to be done to them, you can use this tool to record the steps, automating them. But first you will have to go through the trouble of downloading and installing the Photoshop actions on your computer.
Downloading and installing Photoshop actions will allow you to automate part of the task
Find, download, install and save Photoshop actions
Find and download Photoshop actions
If you're just taking your first steps in Photoshop, you'll probably find others' actions more useful. You can search for actions online for your projects, although For security reasons, we must recommend that you be extremely careful about the sources from which you obtain those actions..
A good way to detect malicious files is to pay attention to their format, since actions are usually downloaded in ZIP compressed format. Whenever they are in another format, we advise you to doubt them.
On the other hand, remember that the format of these actions is ATN, so if it is another, discard that file.
Install Photoshop Action Files
Once you have downloaded the action files to your PC, you need to prepare them before you can use them. You can find a Photoshop actions folder on your PC, which should be at the following link:
C:\Program Files\Adobe\Adobe Photoshop(xx bits)\Presets\Actions
Of course, you can also navigate within the folder until you find that location. Then nothing else you must drop the ATN files inside that folder and restart Photoshop for the downloaded and installed actions to appear in the menufrom the Action Panel on the right side.
Alternatively, you can upload those files from the Action Panelthree line button and Upload.
Once they are loaded with one of these methods, you will be able to launch the actions from there with no problem.
Save Photoshop Action Files
As we have already mentioned, you can save your Action files by clicking Set (Folder). Then click on the button with three lines and select Save actions, so as not to lose them in the future.
With the Save dialog you can even give the action a name, customizing your experience.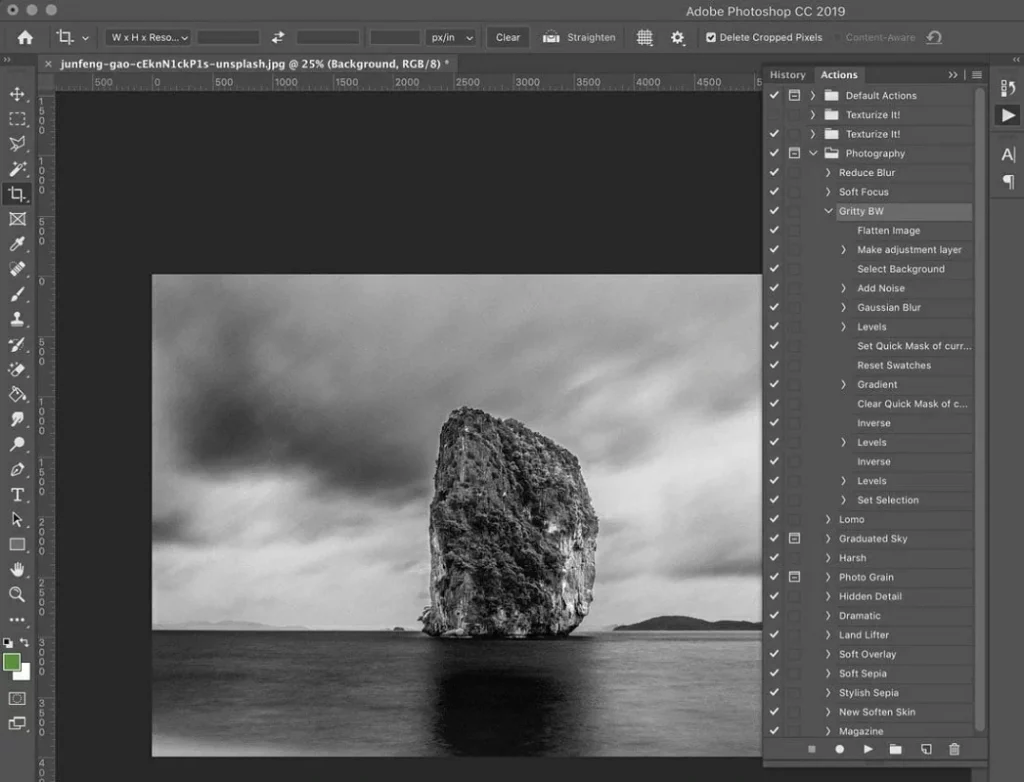 The automated processes of Photoshop are shown in this section that has the name of Actions
Other frequently asked questions
Why should I download Photoshop Actions?
Downloading a Photoshop action is a simpler and more efficient solution than doing the work yourself. You will be able to find enough actions for all the projects you have, and you will save a lot of valuable time.
You can even get double the benefits of these Photoshop actions, by following the how-to's to learn how to achieve certain results you care about, for learning that would otherwise take time.
Can I save and share my Photoshop actions?
Beyond the aforementioned, you can also save and/or share your Photoshop actions, by performing a backup to avoid losing them and be able to load them again in case your PC has problems.