On certain occasions, the time it takes our phone to switch from the main camera to the front camera can make us lose some good photos that, unfortunately, will not return.No matter how fast your mobile processor is, the only way to ensure that you will achieve unique captures before they disappear is by adding a shortcut icon to the front camera
It doesn't matter if you are a photographer or a content creator, we are sure that knowing how to create a shortcut to selfies on Android mobiles can help you create content or ensure unrepeatable captures. After all, we are used to direct access to the main camera, but between opening it and going to the front camera, valuable seconds are lost for certain photographs.
As we said, by default in Android the camera icon on the home screen of our phone takes us directly to the Camera applicationwhich is usually set to take pictures with the rear lens.
But, What if we want to quickly take a selfie or record a video without going through the rear camera? Here's how to add a front-facing camera shortcut to your smartphone's home.
Create a shortcut to the front camera in Android?
The good news we have about it is that it is really easy to add shortcuts to some additional or secondary functions of the Camera app on Android, which will help you customize your experience.
Another advantage is that this icon can coexist with the usual Camera icon, without getting in the way. Having made these clarifications, let's see what are the steps to follow for your direct access to the front camera.
On your Android, press and hold on the Camera icon on the home screen After a few seconds, an additional menu will open with various shortcuts to functions Look specifically for the selfie or front camera function, and drag the icon to a space on the screenA front camera or selfies icon will be added to the Home screen automaticallyYou can leave it there, or move it until its location suits you
Now that you know how to have an icon with direct access to the front camera, let us also tell you that you can use the same trick to add other features of the phone's camera to the Start screen. We're talking about also adding access to macro lenses or zoom lenses. Even to specific modes, eventually portrait mode or night mode, saving a lot of time in each action.
Note that these options vary by computer manufacturer and camera features.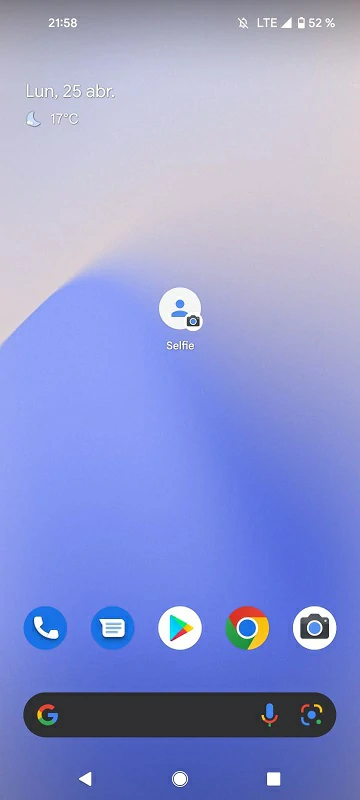 And how to remove those shortcuts if I no longer use them?
If what you want is to remove the icon from the home screen, you can do it in the same way as with the others. You just have to drag it towards the top of the screen, taking it to the Remove or Delete option. Alternatively, you can get rid of it by holding down, and then selecting Delete.
In short, this little-known trick is a great way to access secondary camera features. It is available on most modern devices and does not require downloads or use extra RAM.
Have you been able to create a shortcut to selfies on your Android mobile with this step by step?
Share it with your friends!