At some point we all have a hectic lifestyle, moved in every way. At this time is when having control of schedules and responsibilities becomes essential, so that it does not become chaos, we have to be organized. Fortunately, our iPhone can help us in this regard by create a reminderto be able to stay organized throughout the day.
It is ideal on many occasions, if we know that it is possible that we forget a commitment or that next week we have very important things to do, the best thing is to create a reminder on our iPhone and that's it, the device will take care of reminding us that we have to do one thing or another.
Create a reminder on iPhone
The first thing we will have to do is open the "Reminders" application on our iPhone or iPad and then click on the "+" sign to create a new reminder.
Next, we need to enter the text for the reminder; for example, taking a medication, etc. We can add a slightly broader note just in case we need it in the box below.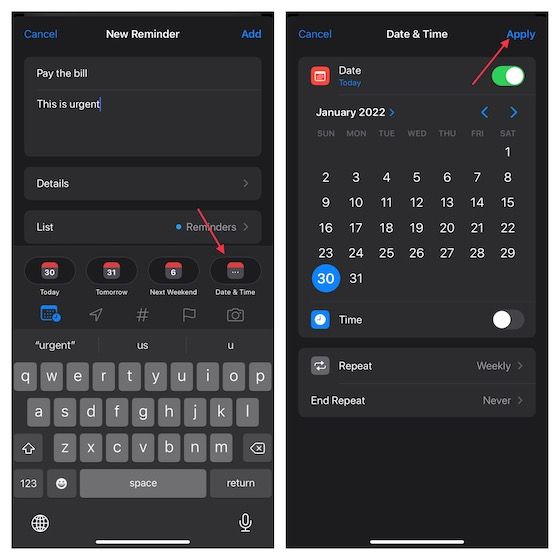 Now we are going to click on the calendar icon. After that, we will have the option to set the reminder for today, tomorrow or next weekend. We click on "Date and time" and we can add a reminder for the preferred date and time.
After this, we will have to choose the desired date. We activate the switch next to Time and configure the alert or notification. After this, we click on "Repeat" and then select the frequency we want for the reminder, click Apply.
Depending on our needs, we will have to press the flag icon to mark the reminder as important.
It is also feasible to attach a photo or a document. For this we click on the camera icon, after this we can select a new photo or choose an image that we already have saved in the photo library. In iOS 15 with Live Text, we also have the option to scan a text.
The next thing will be to click on "List" and add the reminder to an existing list. Once we have customized our reminder, we will click on "Add" in the upper right corner of the screen.
Share it with your friends!