One of the obvious uses of MetaMask on our computers is on the BNB Chain, the latest version of the old Binance Smart Chain, which includes many of the decentralized appsSynchronizing both products is not complicated at all, and it will only take a few minutes if you have the essential data to be able to connect MetaMask to BNB Chain in your browser.
If we are talking about browser extensions, without a doubt one of the most interesting that we have access to right now is MetaMask, especially in order to interact with cryptocurrency assets that use the Ethereum network. Of course, We can link this service with many platforms, but since this is the evolution of the old Binance Smart Chain, you should know how to connect MetaMask to the BNB Chain network..
Indeed, MetaMask has proven to be a very effective wallet when it comes to controlling different decentralized finance applications, or DeFi, especially those that use the BNB chain.
But what is a crypto wallet?
A cryptocurrency wallet is used as a storage method for your crypto coins or tokens. Wallets allow users to keep safe custody of their crypto without using a centralized entity. The good thing about wallets is that they are controlled only with a password or key phrase, which has extensions of 12 or 24 elements depending on the case, allowing us to access it from wherever we want to do it.
Needless to say that it is essential to remember the access key because if you forget it, or someone else obtains it, you will basically lose your assets in cryptocurrencies, so be extremely careful.
Connect MetaMask to BNB Chain step by step
Open MetaMask from your PC or smartphone, as usualOpen a wallet or import one, making sure to keep your passwordGo to the Settings section and, within it, enter the Networks sectionSelect the Add network button and then type the following information of BNB Chain:
‍Network name: BSC Mainnet

New RPC URL: https://bsc-dataseed1.binance.org/ or https://bsc-dataseed2.binance.org/

ChainID: 56, or 0x38 if 56 doesn't work

Symbol: BNB

Block scanner URL: https://bscscan.com/
‍Once the information is entered, select the newly added BSC Mainnet network and connect to itLoad your wallet with enough BNB to pay any transaction fees that may arise from thereConnect and use the wallet thanks to the built-in Web3 integration
And that's it, with that you will have finished the tutorial and you will have connected MetaMask to BNB Chain without problems.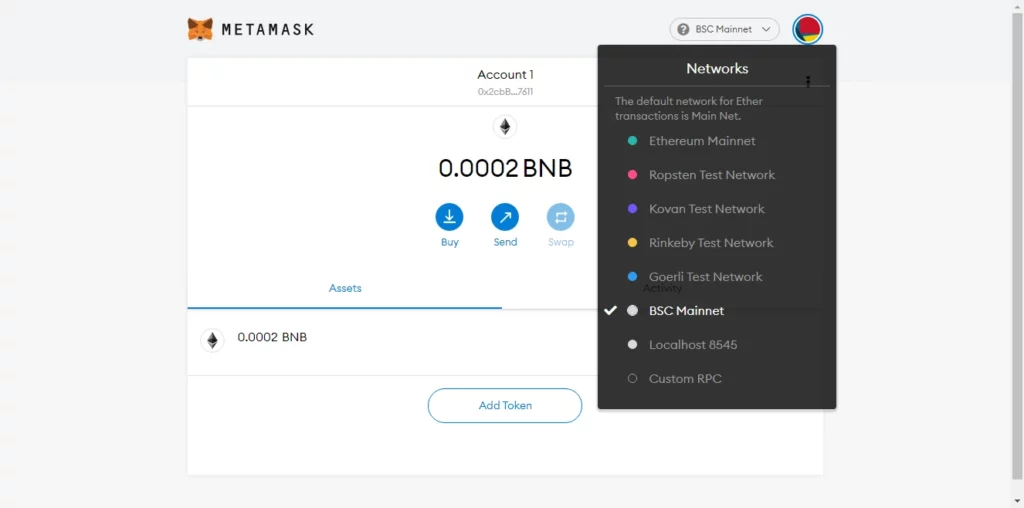 What to do after setup?
Once you have followed these steps detailed above, you will be able to access most of the DApps that work within the BNB chain, since the wallet is compatible with all crypto assets on the BSC. Whenever you notice that some wallet is not included, you should check the specific token contract address.
Although MetaMask is obviously not the only wallet available for BSC users, its main advantage has to do with the fact that it is one of the few with support for the best DApps, thus being excellent for everyone.
Even this wallet is compatible with Ethereumselecting the default "Ethereum Mainnet".