With so many things that the social network has to offer, it is very easy to get lost and get carried away day after day, the fun has no limits, but the app cache does. Therefore, it is imperative that, from time to time, we should clear snapchat cache. Although it serves to speed up the application, when it becomes saturated it can cause it to slow down, different errors to appear, etc. Precisely for this reason, it is important, from time to time, to clean the cache.
Clear Snapchat cache on iPhone
The first thing we will do is open the Snapchat app on iOS. Next, we will click on our bitmoji in the upper left to access our profile.
Now we will press on the gear-shaped icon that is in the upper right corner of the screen to be able to enter the Settings.
We scroll down, until we reach the "Account actions" section. Here we will have to choose "Clear cache".
We will have the possibility to choose which cache we want to delete. For example, we can delete the camera cache by clicking on the relevant option. Once we choose what to clear, we will see a message that says "All your caches will be cleared. Your Memories backup will not be deleted." So we simply confirm by pressing "Confirm".
If we want to delete everything, all we have to do is click on the "Clear all cache" option.
From an Android device
We start the Snapchat application and click on our profile icon, which is located in the upper left corner of the screen.
Next, we go to the upper right corner to click on Settings, which is a gear-shaped icon.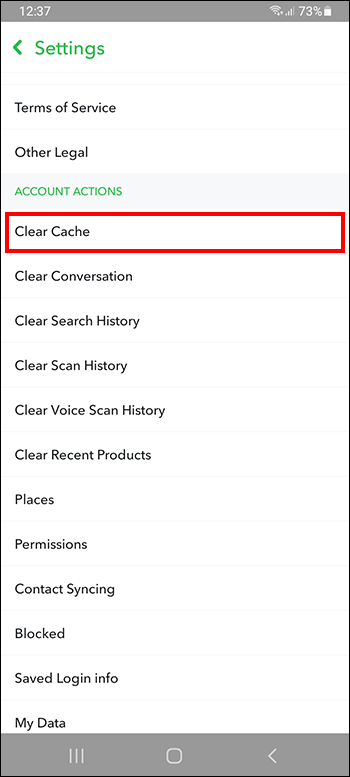 Once here, we scroll down until we find the Account Actions section and we will click on Clear cache.
We will have the possibility of deleting several caches, when we select a specific one, we will have to confirm the selection by pressing Continue. We will see a message that will say "Cache cleared successfully".
What does the Snapchat cache store?
A cache would be a kind of storage space that is used to save the files that we use frequently, the idea is to be able to access them locally, which speeds up the loading process.
When we open the application again, the files that are in the cache (that is, those saved on the device) will load considerably faster, which will make the same app work faster.
The problem is that from time to time, when too many files accumulate in the cache, this can lead to some other problem or errors. So it is advisable to delete them, even once every two weeks, depending on how we use the app.