When we enter Instagram, by default we see a combination of followed and recommended accounts that do not seem to have a specific order; this is because the social network uses an algorithm to recommend publications to us. However, it is possible change Instagram feed from algorithmic to chronological, this option was recently added. In this way, we will have more control over what kind of content we want to see and which posts have priority for us.
How to see the feeds of followers and favorites
To change our Instagram feed from algorithmic to chronological, we will have to open the application and click on the Instagram logo that is located in the upper left corner of the screen. A small menu will appear that will have two options; "Following" and "Favorites". We will have to choose one of these to order the feed in question.
Following and favorite feeds
While the following feed and the favorites feed display content in chronological order, the two serve different purposes. The "Following" is a chronological feed that shows content from the accounts we follow and nothing else. This means that at no time will we see suggested posts or anything similar.
In the "Favorites" we will see the accounts that have been marked as favorites; This is extremely useful because it allows us to keep up with posts from specific people. The list of favorites is private, which means that the user will not be notified when we add it to the list; in the same way that happens when we block a person, they are not notified.
How to add accounts to the favorites feed
From the page of our Instagram profile, we will have to press on the menu with the three horizontal lines in the upper right corner. Here we will choose "Favorites" near the bottom of the menu; We will have to choose the accounts that we want to add to this list, we can also write the name of the person we want to add.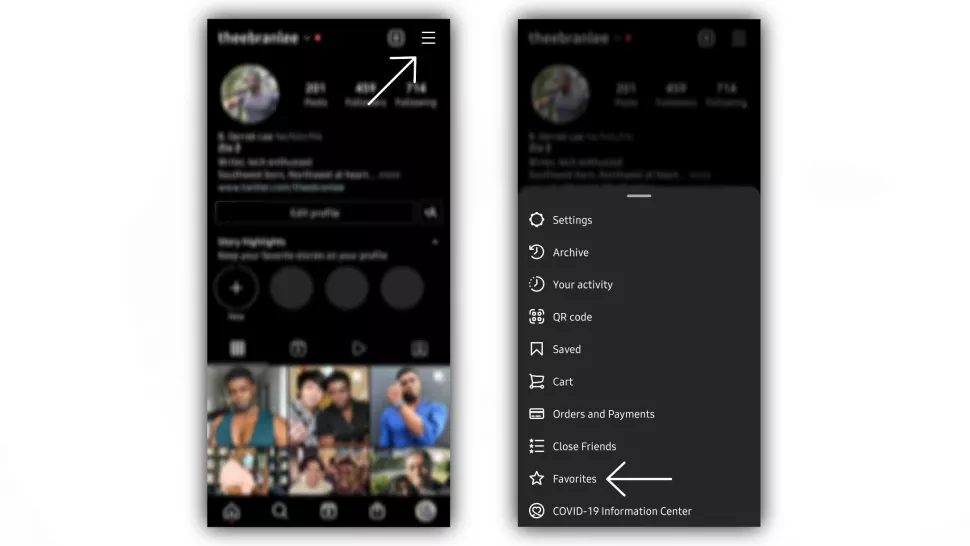 Another option is to visit the profile of the person that we want to mark as a favorite (it can also be a page of some website, etc.). Next, we are going to press the "Follow" button and select "Add to favorites" in the menu that appears. appear. If we already follow the account, it is not necessary to stop following the person, by pressing the button we will see the options.
To manage your favorites from the favorites feed, we will have to click on the icon that has three horizontal lines that is in the upper right corner. Here we can add or remove favorites.