Like any other OTT of the many that exist today, Apple TV + allows us to cancel a membership, a process that takes effect from the next period that we should be chargedThis procedure will change according to whether we are about to finish the free trial week or if we have been customers of the service for a long time, so we will address what are the steps to follow
Apple TV + is just one of the many on-demand multimedia content platforms that we currently have access to, and that means that thousands of users use the service every month, regardless of how much they like it. Precisely for that, If you are not convinced by the content that the people of Apple have in their service, or if the free week is about to end, you should know how to cancel an Apple TV + membership.
The point is that Apple TV + subscription costs 4.99 euros per month And while that's not a lot of money, you may not want to pay after the seven-day free trial. Or that you are paying and do not want to continue.
Luckily, you can cancel your subscription to the streaming service with which Apple intends to compete with Netflix, Disney+, Amazon Prime Video or HBO Spain, and which features The Morning Show, Truth Be Told, etc..
How to cancel Apple TV+ after the trial period
When Apple launched its Apple TV+ service on November 1, 2019, it offered two different trial periods. First we had to buy a product, such as an iPhone, iPad, iPod touch, Mac or Apple TV, to be able to enjoy its content free for three monthssomething that millions of users took advantage of.
In the second instance, we may well have a week free of charge if it is the first time we are going to register. But we will have to put all our financial data and, if we miss the week, they will charge us. On that basis, you should cancel your Apple TV+ account 24 hours before that date.
How to cancel Apple TV+ after the trial period on an iPhone or iPad
Open Settings on your iPhone or iPadTap on the section with your nameNow tap on iTunes Store and App StoreThen tap on your Apple ID at the top and select the option to show your Apple IDSwipe down to see the option Subscriptions and tap on it Now, tap on any of the subscriptions you want to cancel, in this case Apple TV + On the next screen, tap on Cancel subscription
How to cancel Apple TV+ after the trial period on a Mac
Open the App StoreClick on your Apple ID at the bottom leftNow, click on View info and sign in if necessarySwipe down to see the Manage section and click on the Manage linkClick on the Edit option that you will find next to Apple TV+Finally, click Cancel Subscription
How to cancel Apple TV+ after the trial period on Apple TV
Open Settings on your Apple TV Select the Users & Accounts option Now click Subscriptions Then select Apple TV+ Finally click Cancel Subscription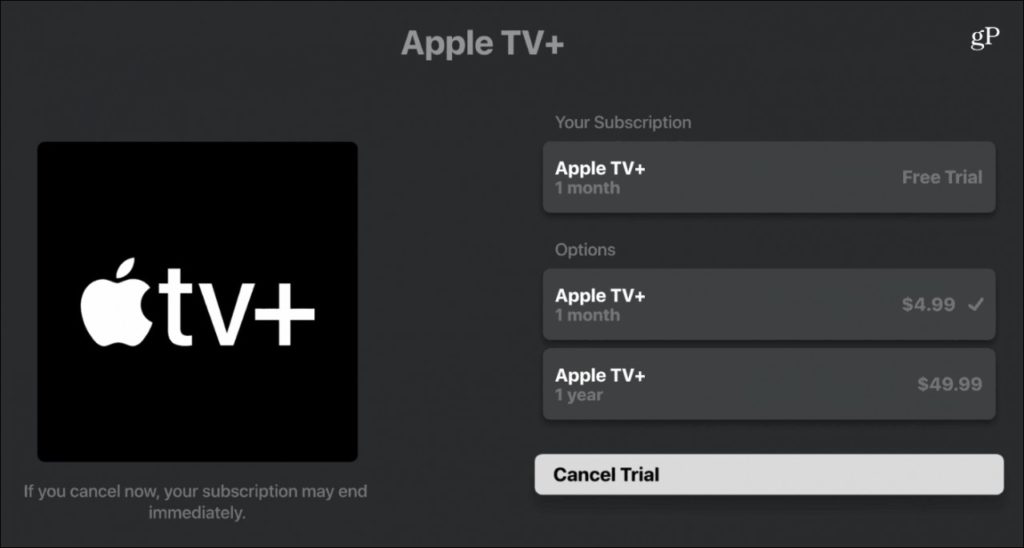 How to cancel the subscription to Apple TV + if you are a user for a long time
In case you have already paid your first installments as part of your Apple TV + subscription, you must follow the same steps that we have indicated. However, there is some extra information you should keep in mind.
Unlike other services like Apple Music, when you cancel your Apple TV+ subscription you will no longer have access to its content immediately, even if your subscription was due to renew in several days. Therefore, since you are going to pay until the last day as a subscriber, it is better that you wait until then to cancel Apple TV + because, otherwise, you will only be giving money to Apple.
Of course, if you forget, you will have to pay another 4.99 eurosand reconsider the option to unsubscribe.
Share it with your friends!