Homeopathy app has become one of the most popular and demanded forms of medicine, and there are plenty of persons who are moving towards Homeopathy for natural treatment and cure. You always might have wanted to carry your remedy with you where ever you go, but you were not able to do it. Now you can easily take your cure with you wherever you go in your Android device. There are plenty of apps for your Android devices, which will help you to get your remedy quickly. In Google Play, there are many free Homeopathy apps which will help you a lot, and you have to install the apps and get the benefit. We are going to review some of the apps so that it will be easy for you to select one for yourself.
Homeopathy apps for Android in 2020
01. Homeo Guide
Homeo Guide is one of the most popular and demanded app in Google play; in this guide, the main homeopathy and homeopathic medicines for different diseases or minor ailments that could be treated with this medicine. You have your treatment for cold, cough, flu, allergies, fever, and gastroenteritis; you can also search the homeopathic remedy, which corresponds to a disease or find information on homeopathic granule. Homeo Guide will help you to treat all minor injuries of the family, no toxic effect on the body, and this medicine is perfect for babies and children who refuse the taste of medicine. To know more about Homeo Guide or to download it check the link provided below.
Download Homeo Guide for free.
2. Homeopathy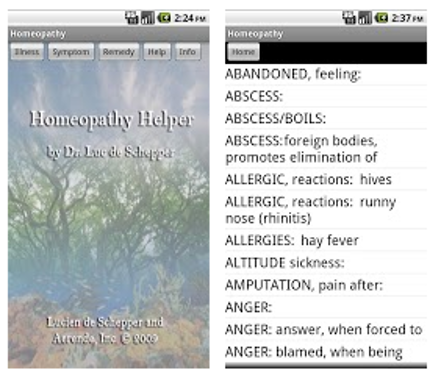 Homeopathy is an excellent app for Android users; it is one of the apps that will benefit a lot. This app treats the patient with medicines using the Law of Similars, and orthodox medicine uses the Law of Opposites e.g., antibiotics, anti-inflammatory, anticonvulsants, antihypertensive, anti-depressants, and anti-psychotics. Homeopathic theories are based on fixed principles of the Laws of Nature which do not change and unlike therapeutic methods which are continually evolving. Homeopathy is evidence-based, experimental medicine, and it is evidence-based empirical medicine. To know more about Homeopathy or to download, it checks the link provided below.
03. Materia Medica Lite
Materia Medica Lite is one of the most delightful apps for Homeopathy cure, and this is one of the apps which enables you to carry "homeopathic materia medica" wherever you go. There is no need for connecting to the internet. This application gives you the option to browse through the homeopathic remedies in two way i.e., Browse by Remedies or Browse by Materia Medica. Some additional features of this app are you can search for medications by keywords, Organon 6th edition, Video Lectures, and Facts about homeopathy. To know more about Materia Medica Lite or to download, it checks the link provided below.
Download Materia Medica Lite For Free.
04. Homeopathy
Homeopathy app is based on Dr. Luc's bestselling book named "The People' Repertory," and Homeopathy Helper is designed for ease of use. Homeopathy Helper contains over 520 of the most common symptoms, and Homeopathy Helper provides over 110 remedies with a detailed description to help you. You can choose the most effective treatment for a sign. To know more about Homeopathy or to download, it checks the link provided below.
You Searched for
Homeopathy apps, free homeopathic software for android, homeopathic materia medica in Hindi free download, homeopathy in Hindi free download, homeopathic apps for android, homeopathy treatment in Hindi, homeopathic medicine guide in Hindi, Homoeo app, Homeopathy Hindi apps, homeopathy software in Hindi