Free Video Converters for Windows: Video conversion has not only gained widespread popularity in recent years but has also become a requirement due to the need for converting videos like ytmp3 for numerous devices, including handhelds like Android and iPhone. In this post, we will provide you with a list of 5 best video encoding applications, which can convert videos between numerous formats, including MP3, MP4, AVI, MKV, VOB, 3GP, and many more. Using these applications, you can easily convert your videos to virtually any format to view them on smartphones, Apple TV, DVD/ Blu-ray Disc players, Xbox, PlayStation (consoles), and the like.
01. Free Studio
Free Studio is a complete multimedia conversion utility, which comes with eight sections to bundle all free multimedia applications provided by DVDVideoSoft. Using this application suite, you can easily convert videos of any format to DVD format and burn them to a DVD. Furthermore, it provides conversion options to convert video and audio files between iPod, PSP, iPhone, BlackBerry, Android, Nokia, and several other popular mobile phone formats. It also comes with a YouTube video downloader, Facebook uploader, Mp3 converter, image editor, 3D image video make, as well as DVD and audio CD ripper. You can check out the complete review of Free Studio, along with the link to download this great application from the link given below.
Free Studio works on the following Windows operating systems:
Windows XP
Windows 10
Windows 8
02. Encode HD
Encode HD is another free video converter, which supports video conversion for many mobile and home media player formats. The list of supported formats is listed below.
Home Media Formats:
Apple TV
Apple TV 2
Western Digital TV
Mobile Formats:
BlackBerry: (8100) Pearl,
BlackBerry (8200) Kickstart
BlackBerry (8300) Curve
BlackBerry (8700) Electron
BlackBerry (8800) Indigo
BlackBerry (8900) Javelin
BlackBerry (9000) Bold
BlackBerry (9500) Storm
HTC Desire
HTC EVO 4G
iPad
iPhone
iPhone 11
iPod 5G
iPod Classic
iPod Nano
iPod Touch
Nexus One
Nokia E71
Nokia N900
T-Mobile G1
Gaming Console Formats
Playstation 3
PSP
X-Box 360
Miscellaneous
encoded works on the following operating systems:
Windows 8
Windows 10
Windows 7
03. Freemake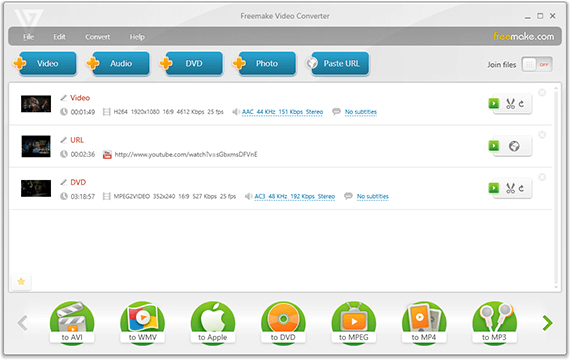 Freemake is a feature-rich multimedia software that comes with an integrated HD media player, a Torrent downloader, podcast client, website browser, video converter, multimedia file organizer, and much more. Its video conversion utility supports several mobile formats including, iPad, iPhone, iPod hold II, Epic, Cliq/DEXT, G2, Galaxy tab, Hero, Magic, One Plus 7, and many more.
You can check out the complete review and download Freemake by going to the link given below.
Freemake works on
Windows 10
Windows 8
Windows XP
04. Hamster Free Video Converter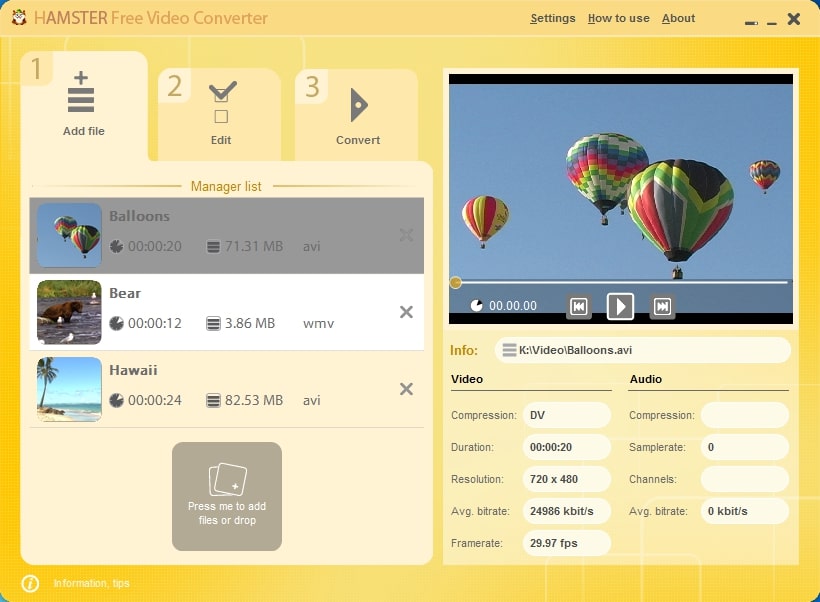 Hamster Free Video Converter is a tool for converting videos between 200 plus device formats, including support for iPod, iPad, iPhone 11, PS4, PSP,Xbox, Zune, Apple TV, iRiver and many other devices. A great feature of this application is that it simplifies the selection of a conversion format by providing a list of both methods and format types to convert videos. Clicking on a brand name e.g., Samsung displays the complete list of supported devices from the selected manufacturer (such as Samsung Galaxy S11).
Some of the main features of Hamster Free Video Converter are as follows:
It converts videos to 3GP, MP3, MP4, AVI, MPG, M2TS, WMV, MPEG, FLV, HD, DVD, and many other formats.
It comes with an integrated video player.
It supports drag and drop.
You can change codec, System type, and De-interlace your videos.
It supports batch video conversion.
It allows adjusting audio/ video bitrate, frame rate.
It supports 40 languages, including English, French, Spanish, Chinese, Arabic, Korean, German, Japan, Russian, Portuguese, etc.
Hamster Free Video Converter works on:
Windows 7
Windows 8
Windows 10
05. Any Video Converter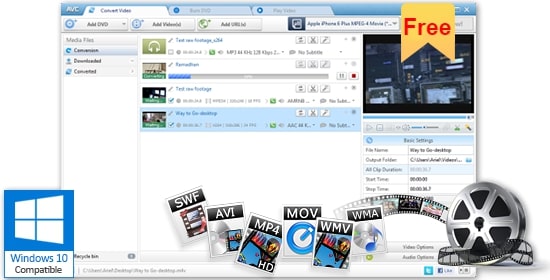 Any Video Converter is a cross-platform video converter for Windows and Mac OS X to encode videos between various formats, including AVI, MP4, WMV, MKV, MPEG, WebM, MP3, FLV, SWF, 3GP, DVD, etc. The supported conversion formats can be selected to convert videos across many devices, including smartphones, gaming consoles, and Tablets. Any Video Converter also provides the option to burn videos to a DVD.
It is an all-in-one multimedia package with eight sections to bundle all free multimedia applications that have been developed by DVDVideoSoft. These sections provide many robust features like video transcoding, photo editing, video downloading, and 3D photo/video making options.
With this free software, you can convert video and audio files between different formats, including iPod, PSP, iPhone, BlackBerry, Nokia, VOB, and many more. You can even directly encode videos from any form to DVD (VOB) format and burn them to a DVD. The list of available features in this application given below.
Audio, CD-DVD-BD, DVD & Video
Free Audio Converter
Free Audio to Flash Converter
Free WebM Video converter
Free DVD Video Burner
Free Disc Burner
Free Audio CD Burner
Free Audio CD to MP3 Converter
YouTube
Free YouTube Download
Free YouTube to MP3 Converter
Free YouTube to iPod and PSP Converter
Free YouTube to iPhone Converter
Free YouTube to DVD Converter
Free YouTube Uploader
Free Uploader for Facebook
Photo&Images
Free Image Convert and Resize
Free Video To JPG
Free 3D Photo Maker
Free Screen Video Recorder
Mobiles
Free Video to Android
Free Video to Blackberry
Free Video to HTC Phones
Free Video to Motorola
Free Video to Nokia Phones
free Video to Samsung
Free Video to LG Phones
Free Video to Sony PSP
Free Video to Xbox
Free Video to Nintendo
Free Video to PS3
Free Video to Sony Ericsson
Apple Devices
Free Video to iPod
Free Video to iPad
Free Video to iPhone
Free Video to Apple TV
3D
Free 3D Photo Maker
Free 3D Video Maker
The process of converting videos is simple; just select a source file, destination folder, and video quality (where applicable). Before turning the video, you can optionally change video priority and set the video to burn to a CD/DVD.
Click Continue to start the conversion process.
Similarly, you can download YouTube videos, edit images, create 3D videos, and photos. You can either download the complete Free Studio suite (which is only 32 MB in size) or download only individual applications (e.g., YouTube downloader) from the developer's website link given below. Free Studio works on the following Windows operating systems:
Windows XP
Windows Vista
Windows 7