A decade back the word social networking would have sounded quite alien. Even more strange would have been the word "social media". However social networking has now become an integral part of our lives, which in turn has given rise to social media. It is difficult to describe social media as compared to social networking. This is because while the latter entails websites such as Facebook, Twitter, Google Plus, etc, the former includes a more wide variety of platforms such as YouTube, Instagram, Wikipedia (as it enables people from all over the world to write and edit articles) and the like.
On the whole, it is safe to say that while social networking includes those platforms that enable us to connect with friends, family, and random users, social media consists of social networking, social bookmarking, social news, photo and video sharing, and Wikis. Since social media has become a necessary part of our daily lives, there is no reason for us to deprive our Android devices of social media magic. Below is a compilation of 10 useful social media apps that are likely to help you keep your Android device social.
Top 10 most popular social media platforms in 2020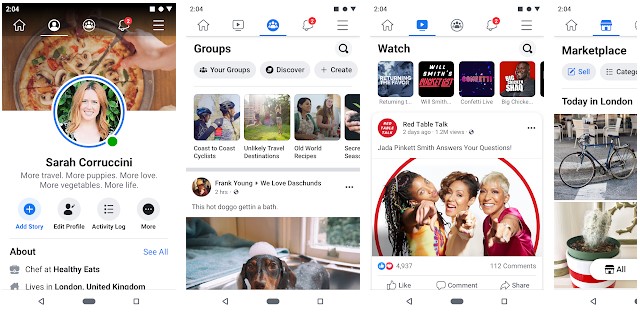 Some would argue, "what's life without Facebook" and so it's only fair that we start off with the Facebook for Android app. As you might have guessed, this is an official application for Facebook that enables you to fully access all Facebook features in a mobile interface. It allows you to check your friend's feed and notifications, share items, respond to messages, post a status update, look up a phone number and more. Moreover, you can instantly take a snap and upload it to your Facebook account in no time. While some may argue that most (if not all) of the features offered by this app can be performed by visiting Facebook via a browser, however, it is worth pointing out that unlike a browser an application provides more real estate. Furthermore, it is easier to launch and access your Facebook account by a single tap, rather than having to continually login via a browser.
Perhaps the best website that defines the word social media is Twitter. It is not only a platform for people to connect and share content but is also a rich source of news, ideas, and trends. While the official Twitter application for Android caters for all the basic needs of an avid Twitter user, TweetCaster for Twitter is a better choice. As one would expect, TweetCaster provides all the rudimentary options to post and keep track of tweets, check messages and mentions, etc. But is not just the common Twitter features that make this app useful. The Tweetcaster innovative are really handy for any Twitter enthusiast. These features include the Search Party option (which allows you to search a user's timeline, mentions and favorites), Smart Lists enables grouping people according to lists, Speak Tweets option provides speech to text functionality, Zip It removes unwanted tweets from your timeline without unfollowing a user, Smart Filters utility enable better filtering of your timeline and the Photo Effects feature provides image enhancements. Furthermore, Tweetcaster also enables users to schedule tweets and to simultaneously post an item to Facebook and Twitter.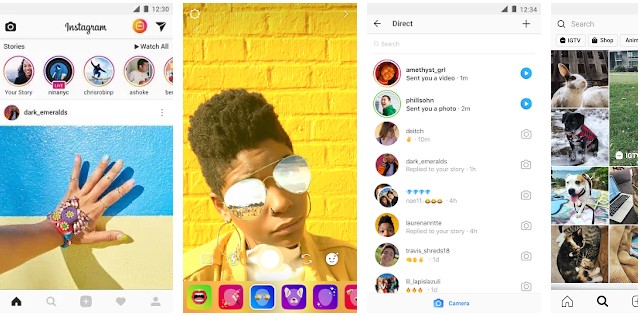 In the wake of the rising importance of social media. It can be argued that Instagram's attempt of creating a cross between Twitter and Facebook hasn't been as successful as they might have hoped, however it is still one of the largest social networking platforms. If you are an avid Instagram user or simply like increasing your followers to promote your shared links in Google search (by gathering followers), then Instagram is the right Android app for you.
The functionality of the Instagram app is pretty basic and it offers all the necessary options of adding people to circles, sharing items, checking your stream, starting mobile hangouts, along with instant messaging utility. I must add that there is nothing extraordinary about this app, but unfortunately, it is perhaps the only reasonable Instagram application out there right now.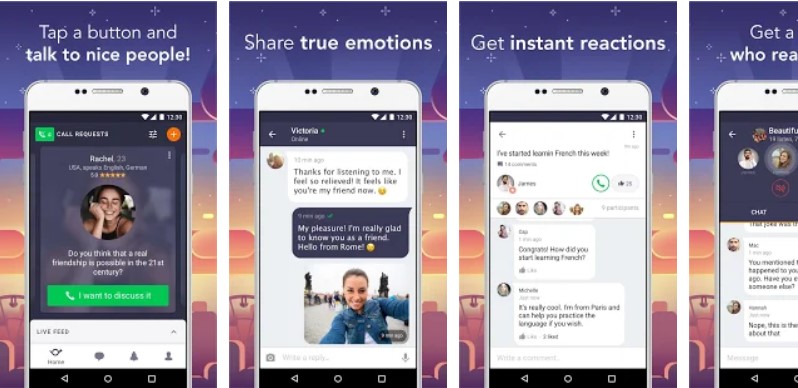 If you are tired of conventional social media apps and wish to join the social media mob in an entertaining fashion, then try Wakie Social. This app provides everything that a social media attention seeker can ask for. You can start off by creating a profile or remaining anonymous, after which you can meet new people, post voice and videos, use the integrated instant messenger to chat with people, add items to favorites, visit themed chat rooms, download free apps or games, search for interesting member profiles and more. Since it is unlikely that you will currently be finding a lot of friends on Wakie, at the moment it serves as a community of people who come together to chat, share and socialize. Wakie can perhaps best be described as a cross between Reddit, ICQ, and Instagram. Some of the options of this app may appear difficult to locate, so don't forget to use the Menu button to bring up the various options that are not displayed on the application's main interface.
Feedster is an application that displays social media feeds on your mobile phone when it is docked or idle. In other words, it is a kind of social media screensaver that displays news, posts, and images from feeds of your social networking accounts. The supported websites include Facebook, Twitter, YouTube, Flickr, Panoramio, PicPlz, Hacker News, eBay, and others. The Feedster display appears in an attractive 3D scrolling mode, with the option to search for content across supported websites.
Social Media Feedster has basically been inspired from the AppleTV Screensaver and is meant to enable users to see a scroll from social media feeds when their device is idle. You can stop and open a scrolling post, picture or video, by tapping on it. Other than supported services, the slideshow can also display RSS feeds, local and camera images, your location via Google Maps, images fetched from the internet, and icons of installed applications.
If you want a one-way ticket to all the great features of YouTube, then the best Android app is the official one. This app caters to all the needs of a YouTube enthusiast such as the option to search and watch videos, get video information, read and post comments, see related videos, as well as to manage your uploads, favorites, and activities.
I have also written how you can Increase YouTube Views Organically In 2020, check this out
It is worth mentioning here that while this official YouTube app provides basic YouTube navigation functionality, it does not offer any additional features. This is quite unfortunate as some standalone Android apps offer some great features such as previewing YouTube videos, auto-playback, and better search options. However, if you are looking for an application that can bring YouTube to your Android device, then this is the best app among the lot. We certainly hope that official apps can borrow some ideas from third-party developers to provide more unconventional "official" applications with more advanced features.
Multipost, as the name suggests is an all in one package for people looking to submit a single post across multiple social media platforms. This may include common users who simply hate reposting status messages across numerous online accounts or professional social media experts/users such as bloggers who might be looking to promote their blogs.
Multipost is not meant to be as comprehensive as My Social Media and instead provides the simple functionality of posting a single message across major social media websites. Multipost by default does not have any listed websites and requires the user to add installed apps to a list. For example, you can add a Twitter, LinkedIn, Facebook and Google+ app to Multipost, after which your typed messages can be posted to numerous social media websites via the added apps. It is worth mentioning here that the developer has specified that the official Facebook app currently does not work with Mulipost, however other Facebook apps can be used instead.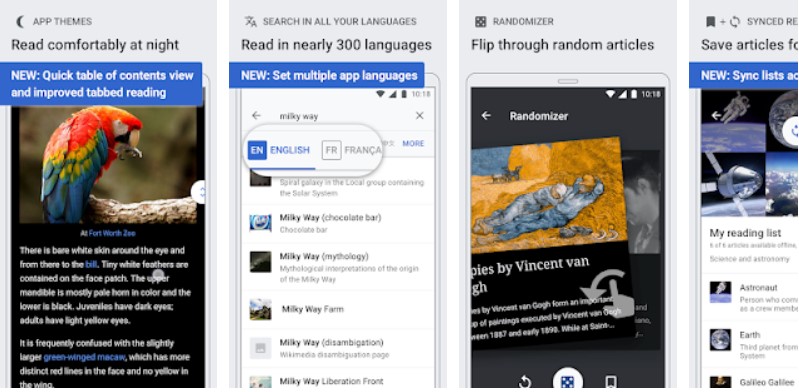 When it comes to social media, we cannot forget the importance of the world's largest encyclopedia, created by the toil of millions of users. The Wiki Encyclopedia & News app provides access to not just Wikipedia but also from other online encyclopedias. Furthermore, you can also save content for later (offline) reading, read the news, as well as change language and text size. The application can also be switched between Wikipedia.org, Wiki Travel site and references from other encyclopedia sources.
The app has two tabs at the top i.e. the Wiki Encyclopedia and Newspapers. The former provides access to Wikipedia articles, whereas the latter gives access to a number of news sources such as BBC, Google News, AFX News, Daily Express, Daily Mail, The Guardian, Financial Times, Reuters, and many others. You can also add new newspapers to the list by entering its website URL. You can also switch between the mobile and desktop versions of Wikipedia. The latter can be handy for contributing to Wikipedia. The application also has an ads-free PRO version which costs $1.32.
10. Droidin
LinkedIn is the most robust global platform for professional users including entrepreneurs, head hunters, and job seekers. This makes LinkedIn a one of a kind service that brings a unique package that combines elements of casual social networking, job hunting, and business networking. Droidin is a feature-rich Android app for LinkedIn users that have been made from the LinkedIn Open API. One of the best features of this app is to allow users to perform a job search that is relevant to their current location. This option can be used by adjusting your location settings in the app. Moreover, you can sync your LinkedIn contacts to your mobile phone to keep in touch with people from your professional circle.
Droidin provides access to all LinkedIn features you can think of, along with some extra options that add value for the end-user. For example, you can not only check your network stream but also mute unwanted updates, as well as use the "Send by" option to post updates to LinkedIn. Droidin has both a free and paid version; the Pro version costs $1.99.
There are many official apps for social media websites that can help you get the best out a specific service but the problem lies with the excess of apps available for the Android platform. We have tried to compile some of the best available apps to help our readers reduce clutter from Android devices.
There are chances, and rightly so, that we might have overlooked a social media-related free Android app that you think is amazing. If you are in a situation like this, then go ahead and update us in the comments section below.