In Dying Light 2: Stay Human you will find weapons on every corner, but they all have a limited durability. If this is used up, the weapon is irretrievably destroyed. So is there any way to repair your favorite weapons? In the guide we reveal whether and how this works.
Repair weapons in Dying Light 2: is that possible?
Each weapon in Dying Light 2 has a durability bar, which is also displayed in the inventory with a number directly below the damage value. If the durability is used up, the weapon is destroyed and disappears entirely from your inventory. There is then no way to repair them.
In general, there is no repair option for weapons in the game! Sooner or later, even your most valuable and rarest weapons will be destroyed through use. However, you can slow down this process and partially restore durability with mods!
Restore weapon durability with mods
Logically, in order to increase the lifespan of weapons via mods , the corresponding weapon must have mod slots. You can see this in the weapon icon by the small circles in the upper right corner. Note that particularly weak weapons have no mod slots at the beginning of the game. But you shouldn't waste any mods on them anyway.
In the inventory, press the mod button for the respective weapon and select a corresponding mod to equip. In the preview screen on the right you can already see how much durability is restored by the modification.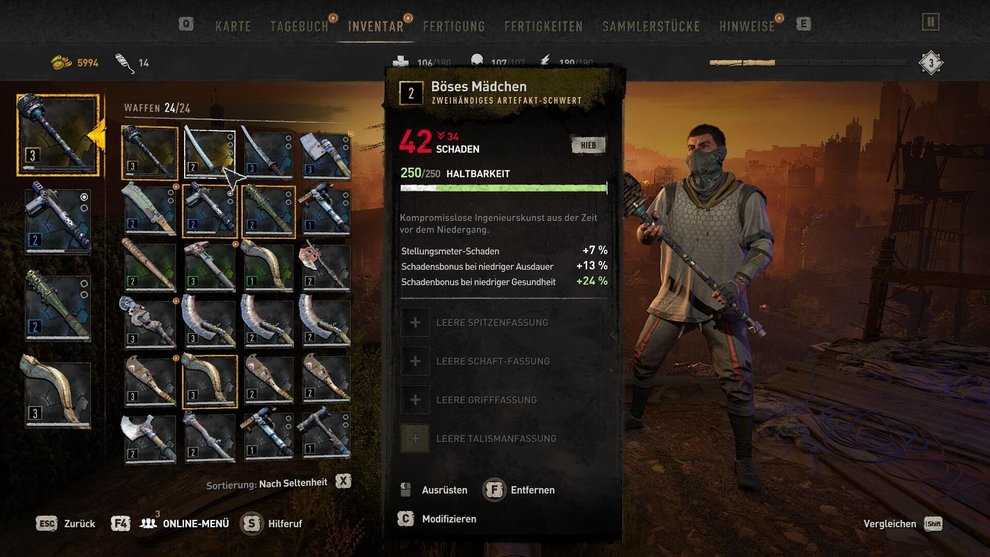 You can also make mods yourself if you get the appropriate recipes from master craftsmen. Since they are quite expensive to produce, you should save the mods for your favorite weapons. Also note that an attached mod cannot be removed or exchanged.
Weapon repair tips
To maximize a weapon's durability, first use it for a while until its durability is almost gone. Then just attach one mod and use it again for a while before attaching more mods. This way you get the maximum durability. Especially the rare artifact weapons later in the game have several mod slots where you should use this tactic. There are also special grip mods in the game that will make you lose less durability with each hit. This also increases the service life. So it's best to mount them on your favorite weapons first. You can also upgrade these and other mods up to 8 times at master crafters!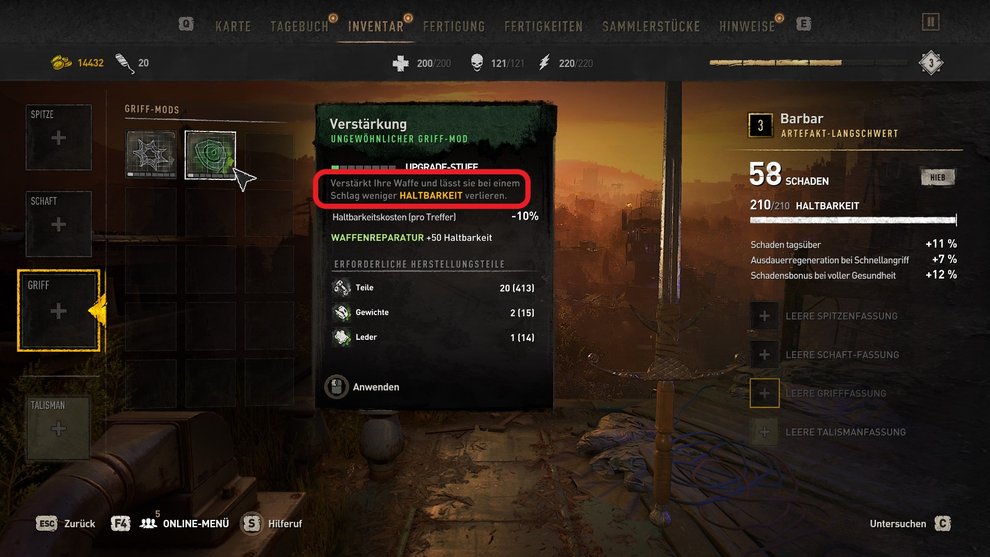 Save your mods for endgame weapons. Until then, you'll be constantly finding new weapons anyway, for which the durability increase is not really worthwhile.
Still have questions about durability and weapon repair in Dying Light 2? Then tell us in the comments!