Anyone who works in a minimally creative profession will experience the need, sooner or later, to use the video format in their creative work.
At first you consider turning on the camera and recording yourself, but you soon realize the difficulties that this entails.
Fortunately, there are "shortcuts" with which you can download free videoswithout paying anything, or paying very little, thus accessing a kind of free bar of videos with which to improve your creative productions.
On a personal level, I have been trying different free video banks for a long time. Today I would like to introduce you to one of the stock video services most attractive there is at the moment.
In line with my usual articles, I am not going to give you a recommendation "just because". Instead, I think it might be interesting to first explain what this type of service consists of, what type of video content they allow us to download, which service I recommend in particular, and above all, why I recommend this one in particular. .
If you want to find out, grab yourself a drink and sit back. Go for it.
Where to download free / 4k videos
As I said before, fortunately or unfortunately I have had to explore several stock video banks. Let's say that over time I have become an advanced user with a medium-high level of demand.
Videvo is, today, one of the most complete video banks and one that best meets my exhaustive list of requirements, as you will see in a few moments.
In their huge bank they offer a large number of stock videos (small scenes recorded in advance, representing endless situations of everyday life, office, work, kitchen, hobbies, etc.).
One of the advantages that Videvo has is that it also offers video templates that, as the name suggests, are templates that we can download, open with a video editing program and edit/customize to our liking. The typical titles at the beginning of a video, effects, etc., you have everything ready to download and start using.
Imagine that you are editing a video: you already have the sequences you need downloaded and edited, you have the title, the effects, how beautiful everything is, but… wait a minute… We are missing the music!
Shhtt…. tranquility. Videvo also offers us music content, sounds, etc. to finish polishing our project 😉 .
Like I said, there are several reasons that make this particular service one of the best for anyone looking for a video bank.
Ideal type of user
This service is ideal for you if you belong to any of the following groups:
Professionals who are dedicated to advertising or any creative profession, in general, that relies on the video format. Initiation users, or amateurs, who want to learn to produce video content independently without having to hire a cameraman and a professional editor. People who have the need to create video with very limited resources.
Service features
When we access the Videvo website we find:
Over 500,000 creative assets (videos, templates, music, sounds…) at the time of writing this review, ready for immediate download. Pricing plans ranging from completely free to Pro which costs $24.99 at the time I'm writing this (more on that in a bit). It's one of the few video banks that offer a money-back guarantee. They have a 4.5 out of 5 rating on Trustpilot, which is no small feat.
License: videos without copyright?
Many people confuse the subject of the video with or without copyright and mix it with the license of use. First we are going to clarify this topic, and then we are going to explain how it works in the specific case of Videvo.
Copyright is a matter of authorship, and refers exclusively to the person or entity that owns the copyright of the work. So talk about "videos without copyright" doesn't really make much sense 😏.
When you search for a video to download, either paid or free, you don't actually need to become the author, or the copyright holder, of that video.
What you are interested in is downloading a video whose author (or the entity to whom he has delegated) allows you to use it according to a specific framework (what is called a "use license").
Therefore, instead of saying videos without copyright, we should actually talk about license of use.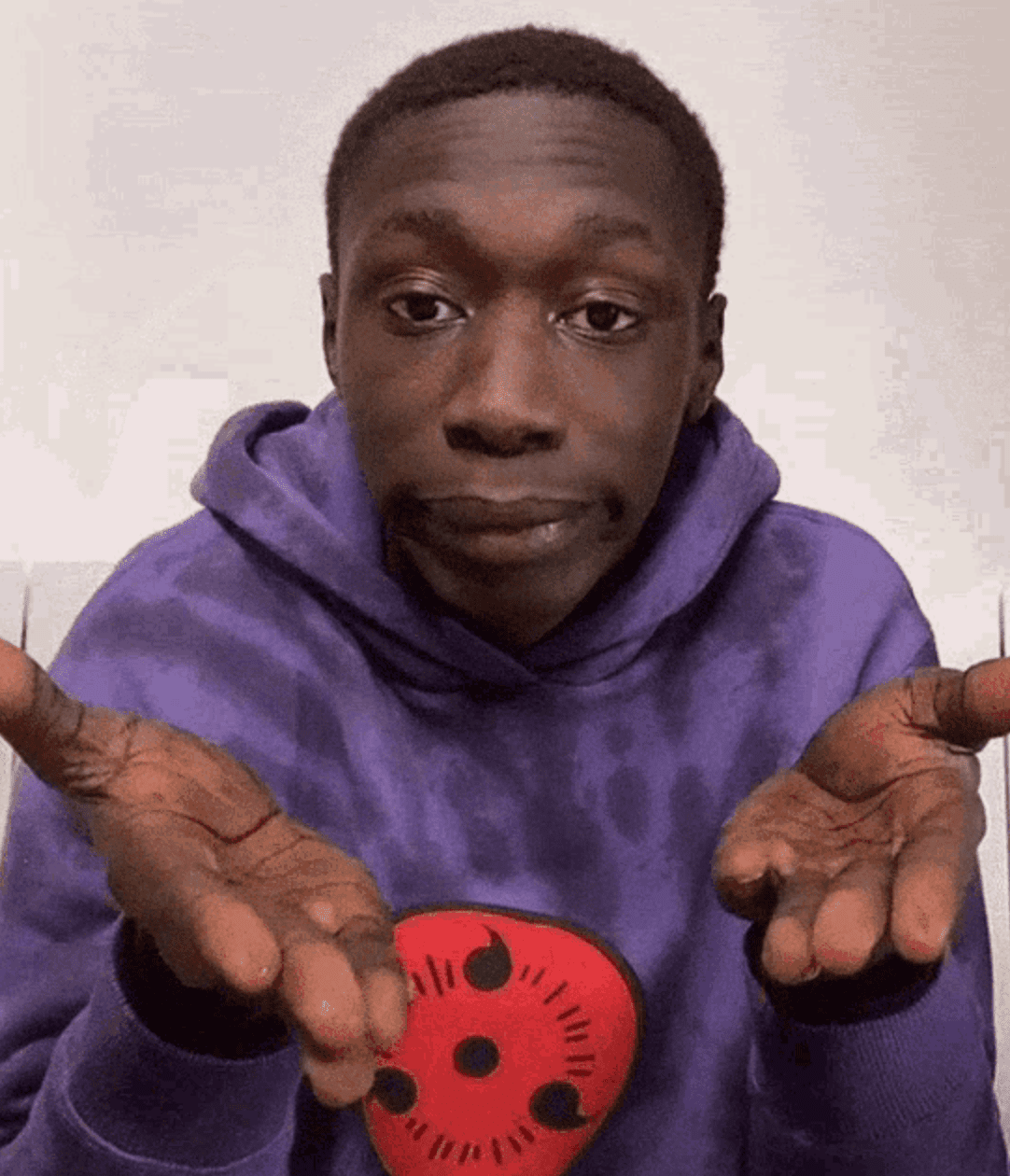 Clarified this, let's see what use license Videvo offers us.
This service allows us to download videos with 2 types of license mainly:
Royalty Free License: This license allows us to download the video, or content, and use it in as many projects as we want, both current and future.
With this license you can edit the video sequence you have downloaded as you please. You are not obliged to mention the author of the video sequence, you can publish the video in any country and on any medium, and at the level of use you cannot offer the video sequence for download on an alternative website. They let you download the video but for your own use, not to build your own content library and put it on the Internet for other users.
Video license: This license allows you to use the video as many times as you need in the future, for free, but in this case you MUST include a mention of the origin and author of the clip each time you use it.
This license is similar to the previous one, only in this one you must include the mention of the provider/author.
Creative Commons 3.0 Unported License (CC-BY): This license is exactly similar to the previous one, with the difference that in this case you CAN distribute the video sequence as it is, without editing.
Videvo offers 2 more types of licenses, NASA and Public Domain. They are less common so I'll let you read about them here.
Note: This license structure is the one in effect at the time I prepare this review. As this may change over time, I recommend you check it yourself on their website.
So, to the question of whether we can download Videos for free without rights, the answer is that Videvo is full of downloadable videos, many for free. They do not give us the copyright, because no video stock bank does, but they do allow us to use the videos depending on the type of license that accompanies each content.
Price
The stock video service we are reviewing here offers 3 subscription plans. Well, actually, they offer 4 if you look closely:
Lite is $4.99 per month. Plus is $14.99 per month. Pro is $24.99 per month.
You can see the differences between one plan and the other here, but the main difference is the number of "Premium" downloads allowed per month.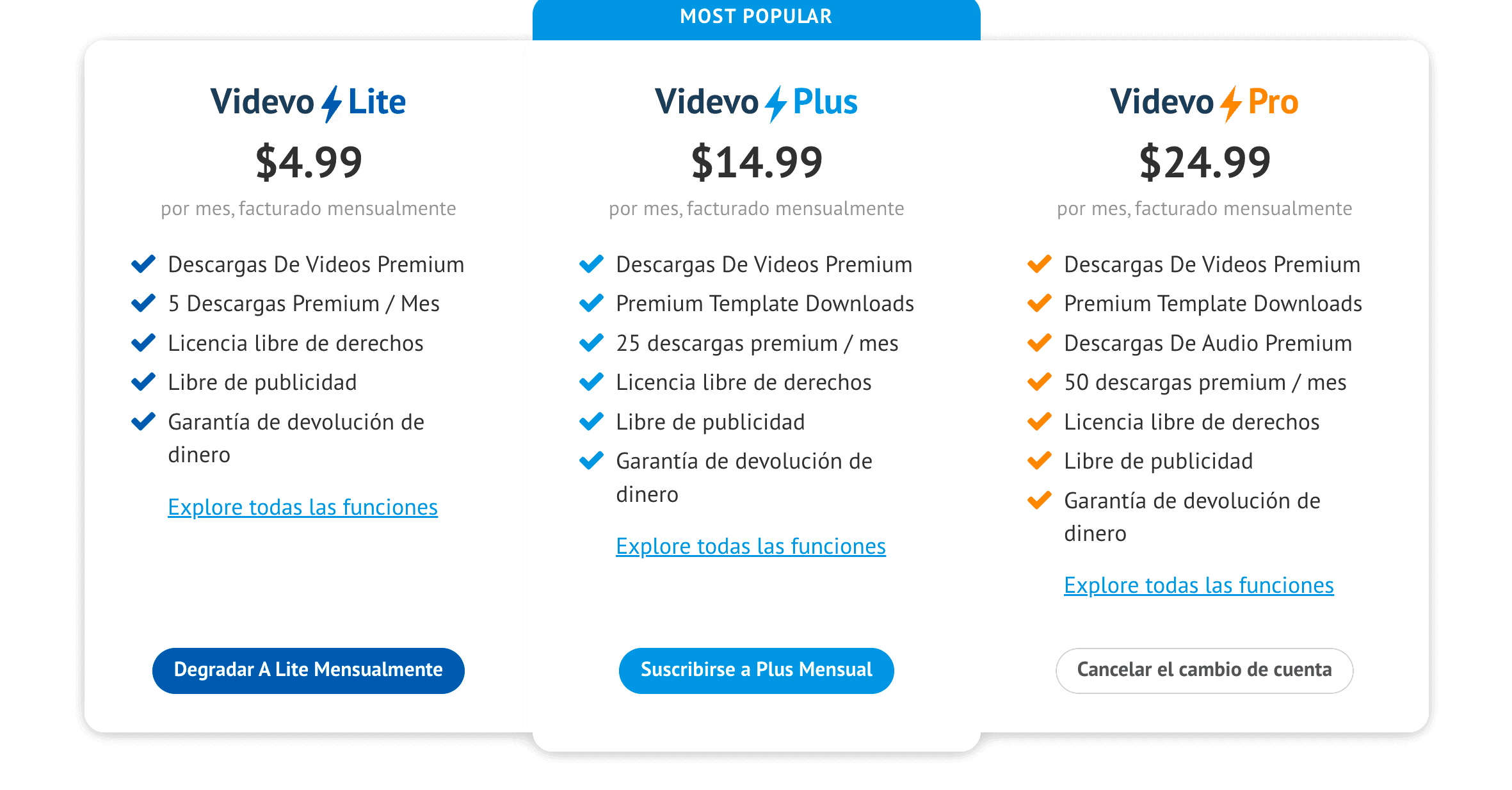 If you need to make 5 downloads per month at most, the Lite plan is more than enough.
If you need to download a lot of video footage, editable templates, music or effects, the Plus or Pro plans can be a good alternative.
I said there was a fourth plan right?
Yes: the free one 🤓.
Yes sir.
Videvo allows you to download video sequences to incorporate into your visual productions completely free of charge.
Obviously, we need to look at the type of license that accompanies the clip in question, to see if we have the right to use it in perpetuity and in future projects or not, if the author has to be mentioned, etc.
But the fact of being able to access a selection of videos and download them completely free of charge is something that not all video banks offer.
Strengths of this stock video service
I like several things about the Videvo download service, but I would highlight above all:
The possibility of downloading videos for free in a good part of its content, in some cases even in rigorous 4K quality. Catalog of video templates to use in your video editing program (Adobe Premier Pro, Final Cut Pro X, among others). others). Library of music and sound effects, to complement our project. A very powerful search filter that allows you to quickly find what you are looking for.
I hope you found this guide helpful in shedding some light on the subject of stock video banks.
I recommend that you access Videvo and explore it quietly. Even in its 100% free version, I think it can be useful to all of us who occasionally face the need to produce video on our own.