Crushed by the rise in bills and primary goods, entrepreneurs, artisans and citizens took to the streets on 20 September.
September 20, 2020: Soverato, Calabria. The event starts at 7:30 pm and they are already in the square hundreds of people surrounding Giovanni Sgrò, local entrepreneur who organized everything. Entrepreneurs, artisans, mayors, representatives of all institutions. Many families who have to choose whether to pay their bills or do the shopping.
The energy crisis here has already begun to hit hard because – like all crises – it affects primarily the weakest groups. Before me they take the microphone craftsmen e small business owners that have just had to close or that will be forced to do so in the coming weeks.
The stories of those who work hard
A fisherman, a baker, a pastry shop, an ice cream maker. They take turns pouring their anger into the microphone by rattling off the numbers bills crazy who have shattered their dreams. Who had opened a few months ago, who had been up for 20 years. And just as business was taking off, after the pandemic, the bills came and knocked everything down like skittles. Each story goes straight to the stomach like a punch.
Protesters listen to the testimonies of those who can't make it © LifeGate
The screams of pain and cheers of encouragement give way to the silence and the lost gaze of a courageous entrepreneur who has just closed the activity. She can't hold the audience, she gives up the microphone saying "I'm still dazed, I don't feel like saying anything, I didn't sleep at night anymore". Few words that excite. Because they make it clear what closing means feel defeated, take away the work of those two or three people who have entrusted themselves to you. Feeling of betraying their trust.
They speak the institutions, a few words of comfort arrive but we understand that a plan to resolve the situation is not yet there, not even on the horizon. Were that not enough, heavy speakers add worries to worries. It starts Pippo Callipo, historical tuna entrepreneur, over 400 employees. Large companies also suffer. They will close one day a week by reducing the hours to keep all the jobs.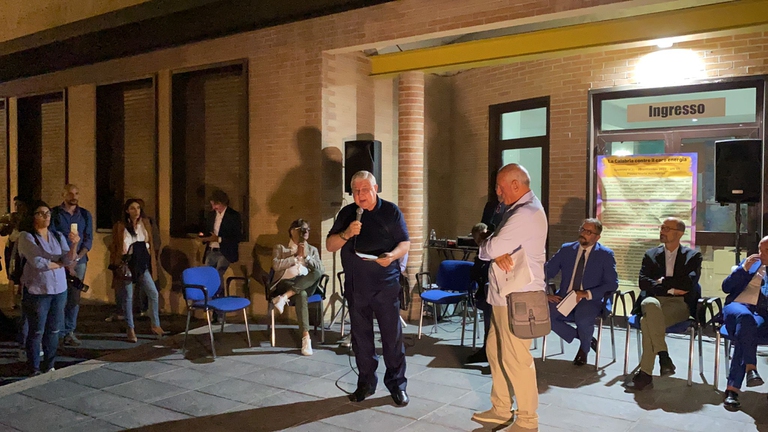 Don Giacomo Panizza during his speech © LifeGate
And then the bright eyes of a very great don Giacomo Panizzafounder of Community project south, under guard for his commitment to crime. Even the communities he founded suffer the expensive energy and the increase in the price of primary goods. Perhaps they suffer more than others because disabled, migrants e people fragile well represent the category of the weakest, those who have fewer weapons to fight and make their voices heard.
The specter of the 'Ndrangheta
And then Don Giacomo explains that in these lands the danger is double. Companies in crisis – if they are not helped immediately – can end up in the hands of the 'ndrangheta. These words, although softened by Don Giacomo's calm tone, resound in the square, making cold shivers run down the backs of all the participants. A veil is torn and I see the anxious eyes of entrepreneurs who asked me for advice in the hours before the event. "Optimizing production, reducing the number of references to reduce waste", I said, but now I realize that I didn't fully understand what was at stake for them, what pressure they feel on their shoulders.
What solutions?
They pass me the microphone and the expectations are very high. Despite being outdoors, in a square, a fly does not fly. As an expert in the world of energy, they would like me to explain what happened but above all to provide simple and very fast solutions. Explaining what happened is quite simple. We pay for 40 years of bad choices. We lived there energy crisis of 1973-74we have seen what it means to depend on abroad for one's energy and have not been able to learn the lesson, becoming even more linked to distant countries with us for values ​​and democracy. What's more, today's energy market is even more complicated and is based on rules that no longer work. In an era of great international tensions these rules lend themselves to financial speculation ignoble. Very few are making incredible profits and the rest of the world is on its knees.
The solutions? These rules must be changed immediately and companies and people who have committed prosecuted abuse or have taken advantage of it in an unscrupulous way. Then it goes bureaucracy unblocked and addressed with decision a national energy efficiency plan and dissemination of renewable. We can also discuss nuclear power, but it must be clear that this discussion does not resolve the energy and climate crisis either in the short or in the medium term: even starting today in this direction would not produce a single kilowatt hour before twenty years. It's a question of timing, and we don't have twenty years.
There are no insiders in the square but everyone understood: the structural solution to the problem will not be as quick as they would have liked.
The data of Calabria
It is a paradox that this frustration is experienced in a region, Calabria, which produces 3 volte one's energy requirements. On closer inspection it looks like a mockery: with his own wind turbines Calabria produces the 76 percent of your needs in clean way ed economicbut he pays his crazy bills like everyone else.
Time for courage and action
It comes to an end, Giovanni Sgrò closes the event by rearranging the river of words and emotions that have crossed the square. The event succeeded, the cry of pain has reached local institutions, the explanations clarified the situation. Small groups of people remain to talk, many come to thank and ask for clarification. Even a deputy comes to investigate. Despite being in the electoral campaign, neither she nor others have looked for the microphone to advertise and this already seems a miracle, a sign that perhaps they have really understood the extent of the problem.
It is colder than before but at least you feel less alone. It will be a coincidence, but I notice that it was also the last evening of summer, from tomorrow the astronomical autumn begins. The "economic" one in Calabria arrived a few weeks in advance.
Probably here, in the rich North, these dynamics will arrive a couple of months late because on average the shoulders of entrepreneurs are a little wider. But let's be under no illusions if the problem is not solved we are all in this together. The technical solutions exist, Providence has helped us with a country rich in sole e you vento, as well as brains and great entrepreneurs. It's time for courage andaction not to surrender to too dark scenarios.


This work is licensed under a Creative Commons Attribution – Non Commercial – No Derivative Works 4.0 International License.