The Canon Selphy CP1300 is a photo printer small format and wireless ideal for printing at home. It has an impressive value for money and very complete features.
If you are one of those who punishes your photos to the solitude of the computer's hard drive while you hate yourself for doing it, you don't trust online prints or you are lazy to go find a physical store where you can do it, I think a photo printer is what you are looking for 😉 .
INSIDE THIS ARTICLE… 📖
Ideal user of the Canon Selphy CP1300
The ideal user of this printer is an amateur photographer who enjoys autonomy when it comes to printing their photos, without having to go to a third party.
If you hate not enjoying them in physical format, but you never find the time to send them to print and you are not looking for large enlargements, but rather the classic 10×15 format (in which 90% of the copies are printed) without sacrificing image quality , this printer is an excellent option.
The size of the prints is ideal for making homemade albums, keeping in boxes, instant gifts, or mounting collages on the wall. In addition, its compact size makes it easy to store anywhere if you don't want to always have it in sight, and its wireless function allows you to obtain copies instantly from your smartphone or your computer.
The best of the Canon Selphy CP1300
As I have already told you, this printer stands out for having a value for money remarkable. It's a compact, wireless photo printer with WiFi connectivity, but it can also be connected via USB and SD cards. If you have a Canon camera with PicBridge, you can also send photos directly over WiFi to the printer.
Beyond connectivity, it has great image quality; Don't let its compact size fool you. In addition, it has a 3.2″ tiltable color LCD screen from which you can manage the prints.
Copies only take 47 seconds to print at postcard size (less for smaller sizes), and it makes collages, ID photos or photo booths very easy.
When it comes to printing, this printer allows you to do it individually and in batches, and in various finishes, as well as with or without borders.
Through the Canon Selfie application you will be able to modify the image before sending it to print: filters, cutouts, assemble collages with several photos, photo booth format, etc.
Another interesting aspect is that you can buy a battery (NB-CP2LI) and turn it into a totally portable printer to take it anywhere (children's parties, vacations, events…) and thus be able, for example, to give photos to your loved ones, friends , etc., at the moment.
The design is very careful and is available in three colors: white, pink and black.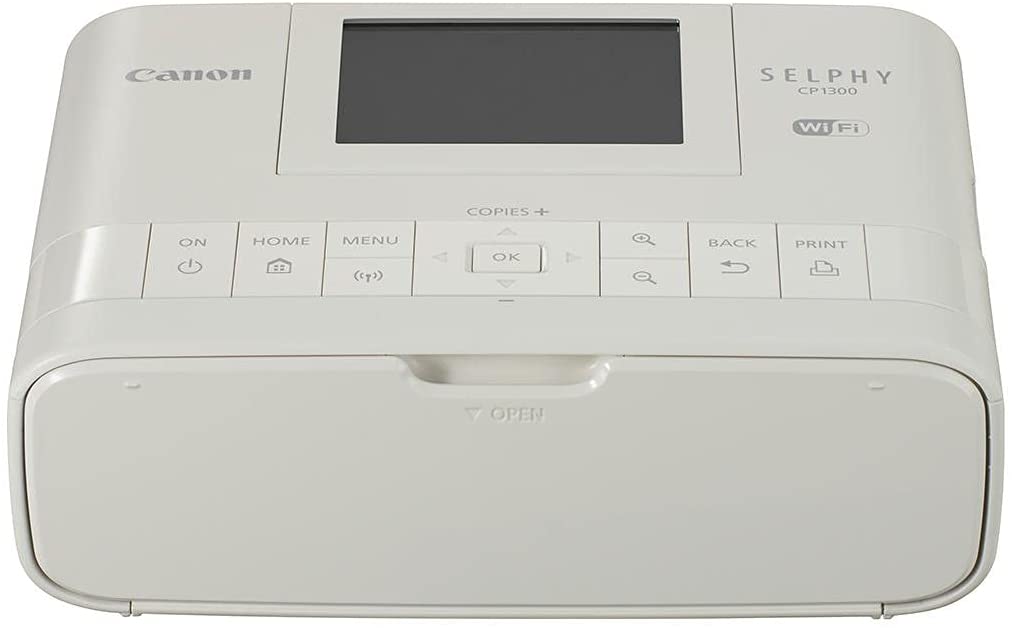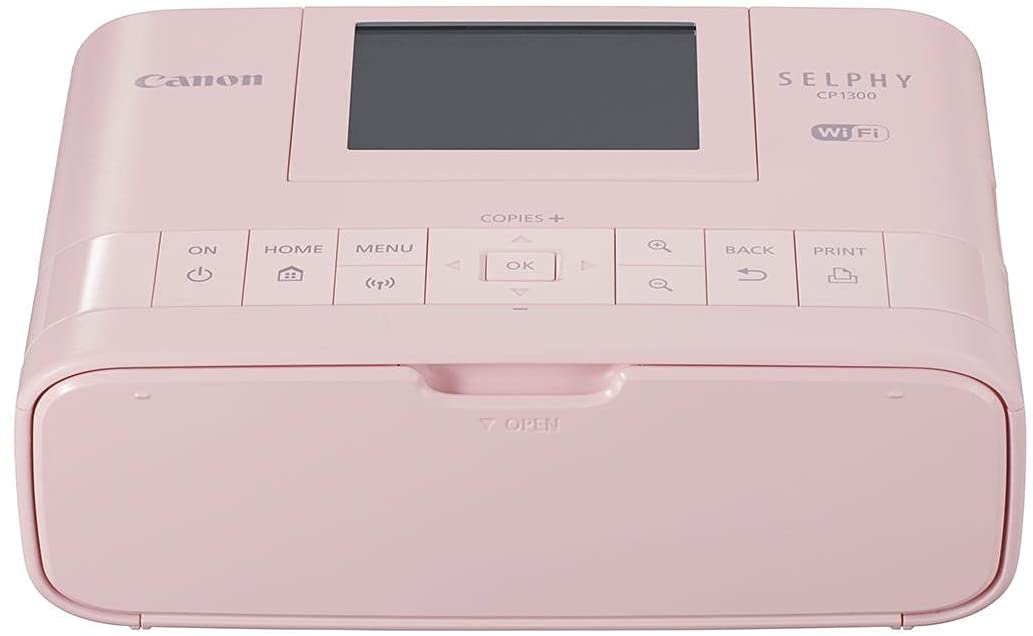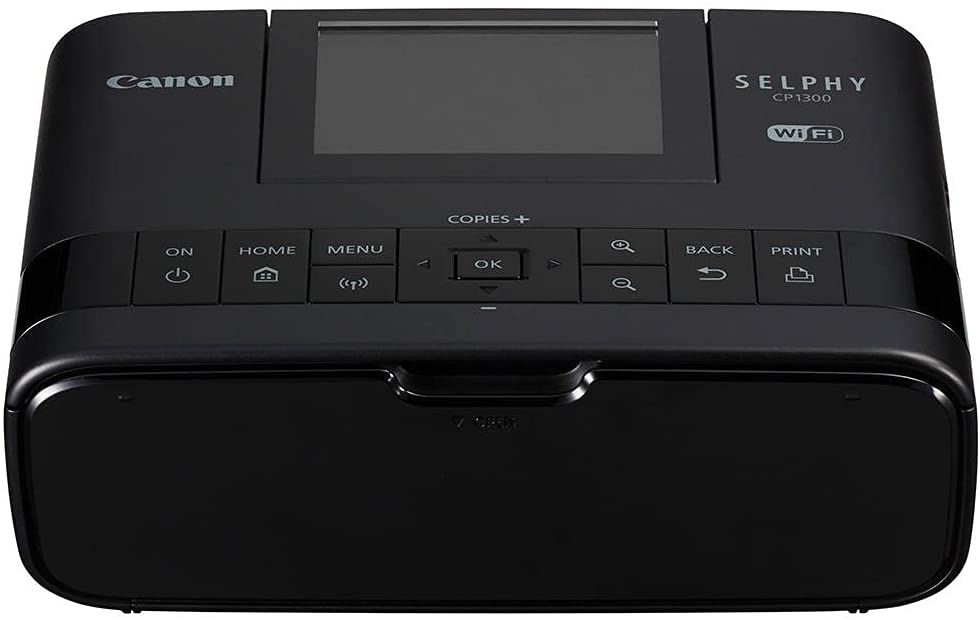 You can take a look at this Canon Mexico presentation video to see it in more detail:
Canon Selphy CP1300 Specifications
If you are looking for the complete specifications of this photo printer, stop in this section.
printing system
Color sublimation thermal transfer printing system Maximum resolution of 300 x 300 dpi Colors: 3-color inks (yellow, cyan and magenta) with protection coating, 256 levels per color (24-bit color depth)
Holders and cartridges
Post card size 148 x 100 mm Credit card size 86 x 54 mm Credit card size stickers 86 x 54 mm Square stickers 50 x 50 mm Mini stickers 22.0 x 17.3 mm (8 stickers on each sheet)
print speeds
Postcard size Approx. 47 seconds Credit card size Approx. 27 secondsCredit card size stickers Approx. 27 secondsMini stickers Approx. 27 seconds
Impression
Print Methods: Select and Print (selection of individual images and number of copies for batch printing), All Image Print (selection of all images and number of copies for batch printing), DPOF Image Print, Reprint, ID Photo Print (Standard/Custom/Dual) Print Settings: Print Finish: Glossy, Semi-Gloss (Pattern 1/ Pattern 2 / Pattern 3) Image Layout: Borders (Bordered / Borderless), Page Layout ( 1 / 2 / 4 / 8 images per page, 2 fixed size images per page (Background [Blanco / Negro] / Center), 2 x 6 photo strips, Index, Collage (8 / 20 images per page [es posible conectar varios dispositivos inteligentes a la impresora mediante la aplicación Canon PRINT] / Orientation [Paisaje / Retrato] / Background [Blanco / Negro])Image manipulation: Intelligent Face and Scene Detection via Image Enhancement, iContrast, Brightness (7 levels, -3 to +3), Color Adjustment (7 levels [C-R] x 7 levels [Y – B]), Soft Skin, My Colors (Vivid / Neutral / Positive Film / Sepia / Black & White / Off), Red-Eye Correction, Cropping Printer Settings: ID Photo Priority, Keep Print Settings, Reuse Prevention Points Paper Size, Date (Featured / Subtle / Off), Date Format, File Number (Featured / Subtle / Off)
Interface
Camera: USB: Via USB Type-A port built into the printer Wi-Fi: Via WLAN-compatible digital cameras Computer: USB: Mini-B port built into the printer Wi-Fi: (IEEE802.11 b/g) LCD Monitor: TFT screen 8.1 cm (3.2″) Color with Multi-Language UI and Tilt Mechanism(Languages: English, German, French, Italian, Spanish, Russian, Simplified Chinese, Traditional Chinese, Korean, Thai, Hindi , Vietnamese, Malay, Japanese, Portuguese, Turkish, Arabic)
Supported operating system
PC: Windows 10 / 8.1 / 8 / 7 SP1 Macintosh: Compatible with Apple OS via AirPrint
To see the full specifications, click here.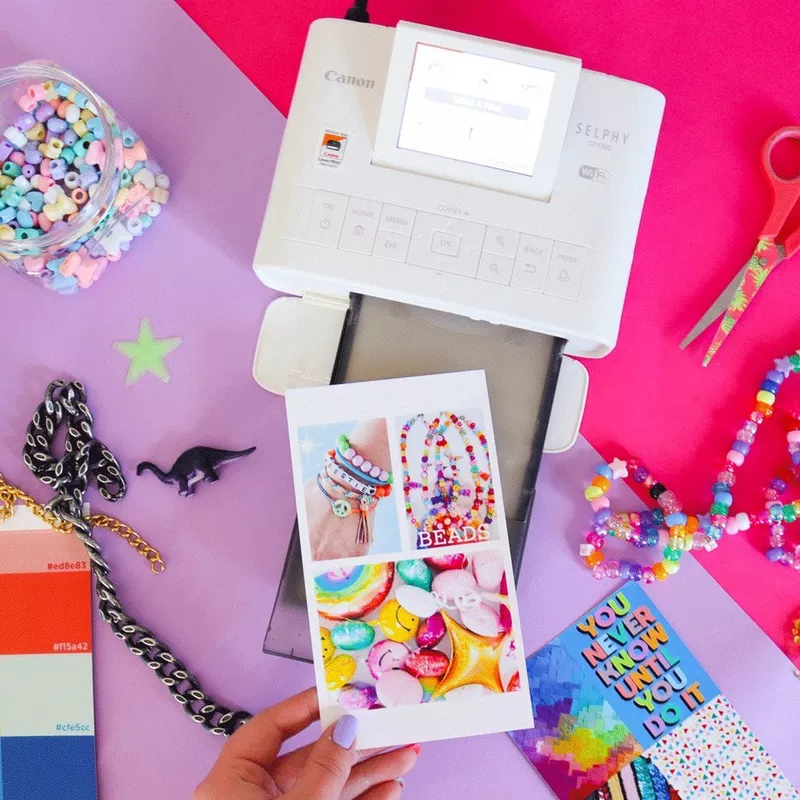 Canon Selphy CP1300 cartridges
Is photo printer It uses a thermal sublimation printing technology, which dries instantly, produces very durable prints (boast a durability of up to 100 years) and, in addition, has a great image quality.
You won't have any problems (like you do with instant cameras or other prints) if you touch the newly printed photo as it doesn't get damaged. There are packs of 108 and 36 printing papers.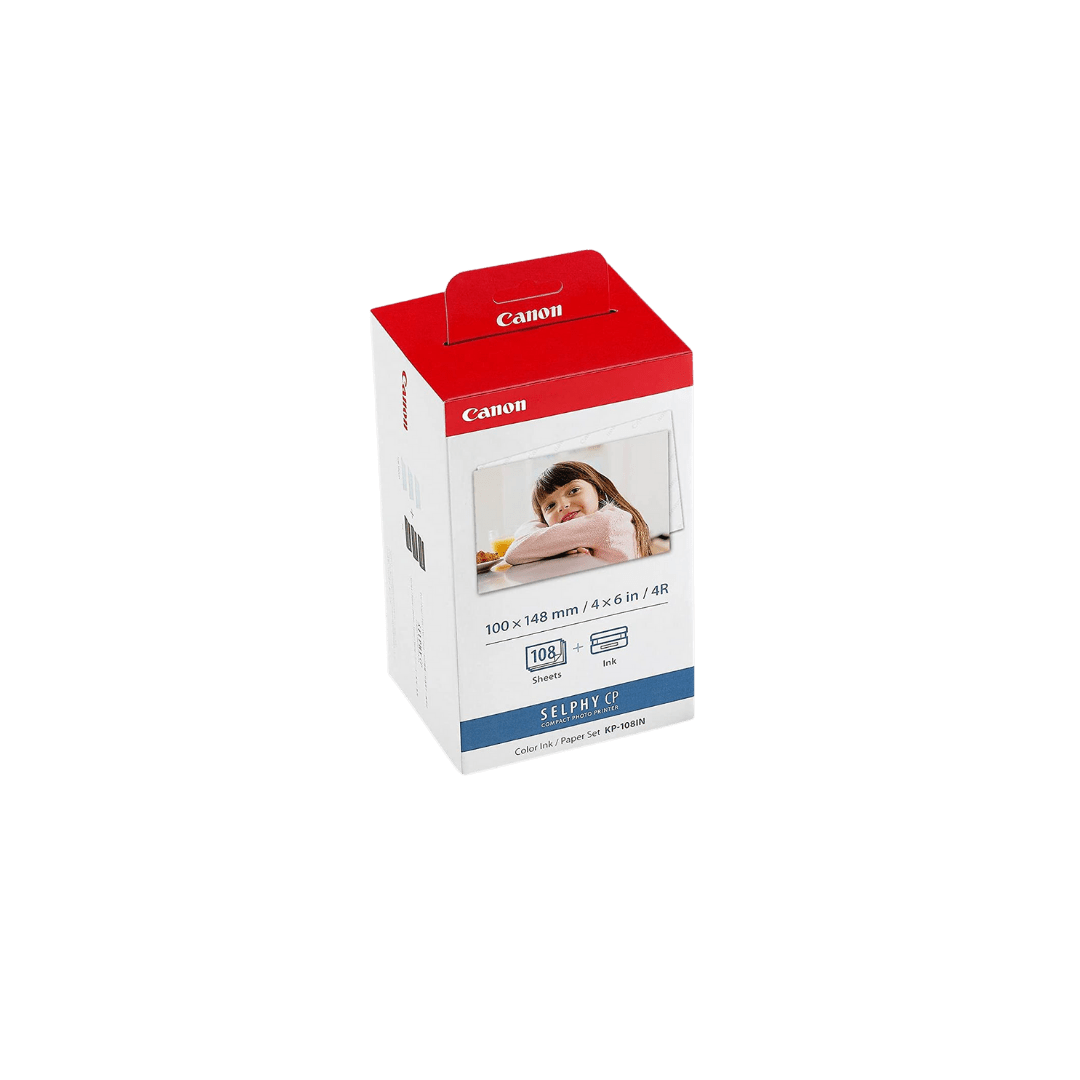 Its cartridges combine paper and ink, so in the price you must take into account that we are not only talking about paper but about the entire kit. They usually come in a pack of 108 photographs, which at a price of about €40, translates into copies at €0.37 per unit.
Canon Selphy CP1300 Price
This camera stands out for its quality price, surely the best in its category. You have it in three colors:
Canon Selphy CP1300 Reviews
We always recommend that before making a purchase of any kind, you take a look at the user reviews of the products you want to buy.
There are tons of reviews for this photo printer, for example, it gets an impressive 4.6 out of 5 on Amazon, with over 3,600 reviews.
Users highlight this printer:
Canon Selphy CP1300 vs CP1000
One of the main comparisons made with the Canon Selphy CP1300 is with its previous model, the CP1000. Let's see the main differences:
CP1300CP1000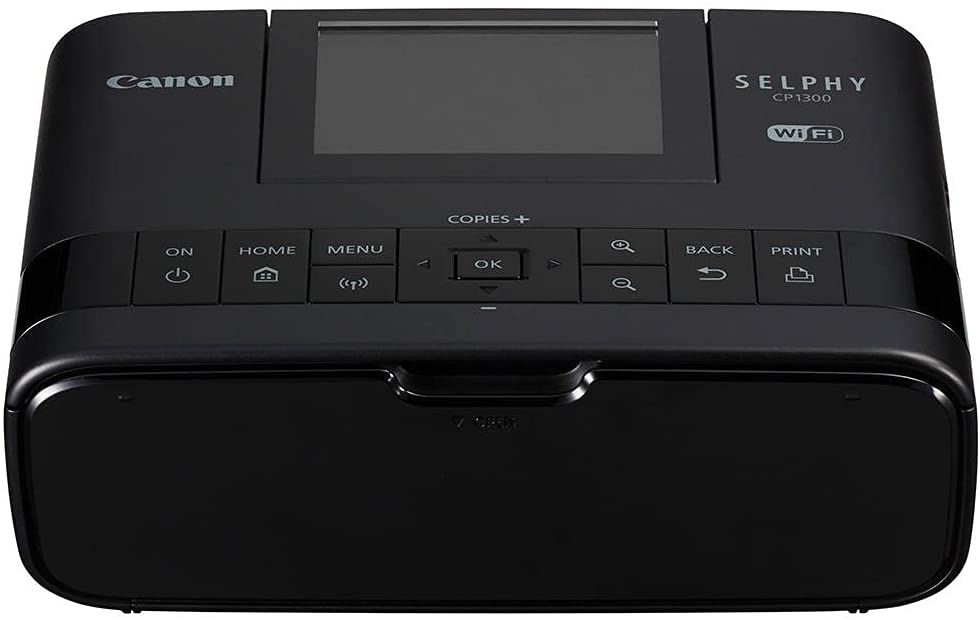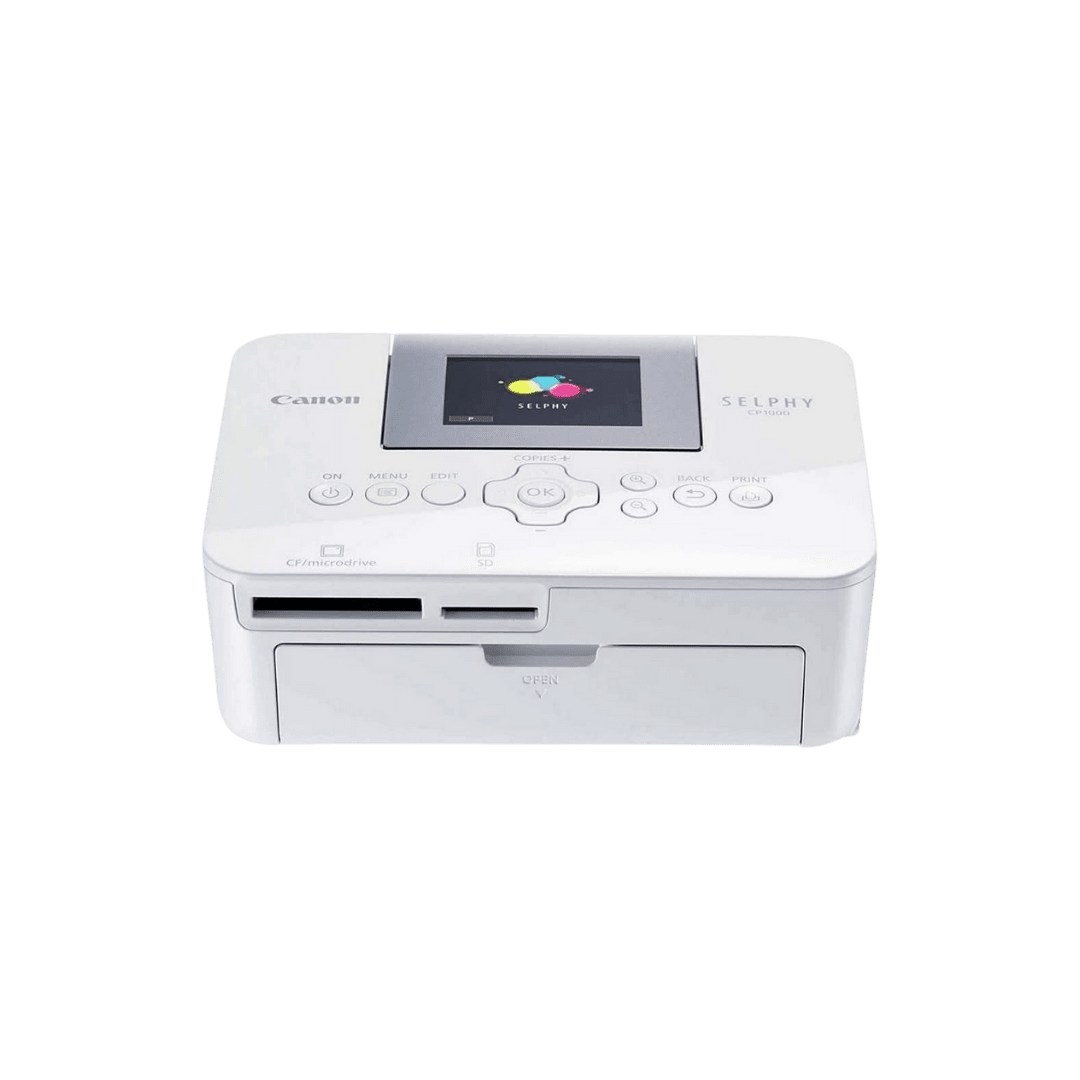 print size10×1510×15LCD screen8.1cm6.8cmCompatible CardsSD, SDHC, SDXC CF, Microdrive, SD, SDHC, SDXCUSB USB flash USBWi-Fi printingOtherwiseConnection from cameraYes, via PictBridge
(USB and wireless LAN)Yes, via PictBridgeoptional batteryYes Yesprint speed47s47sprinting technologythermal transfer
dye-sublimationThermal transfer
color sublimationAvailable colours31WeightApprox 860g Approx 840gSize18×6.3×13.5cm18x6x13.5cmPrice€145.00€115.00
As you can see, the main difference between both models is the possibility of sending photos wirelessly through the WiFi connectivity offered by the CP1300 model.
The price difference exists, although it is not notable, so it may be more interesting to get the latest model and forget about a few cables that, at least I think, the less cable, the better.
Canon Selphy CP1300 vs HP sprocket
Another possible comparison of this printer is with the Kodak Dock PlusLet's see their main differences:
ModelCP1300HP Sprocket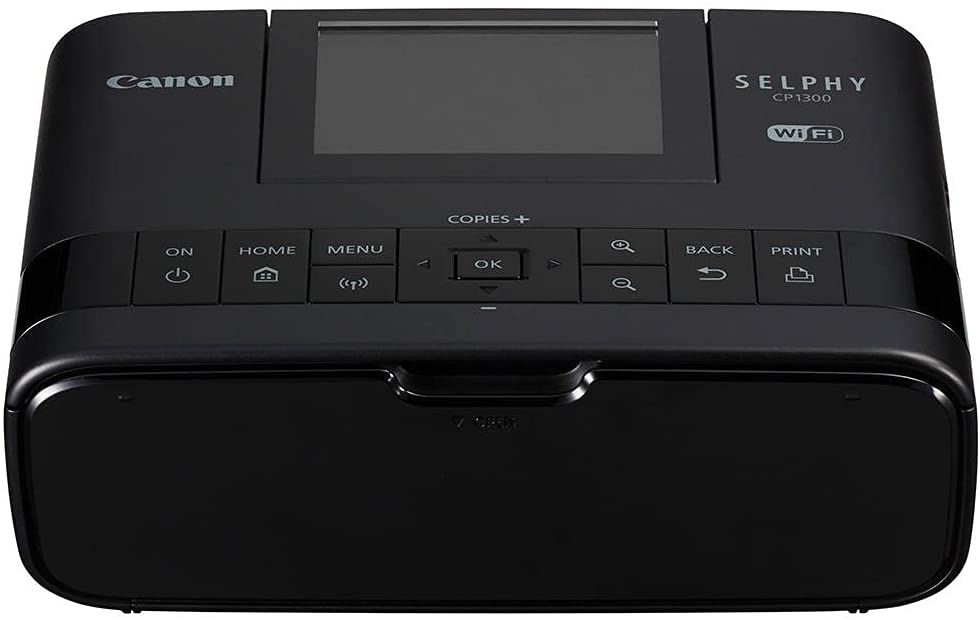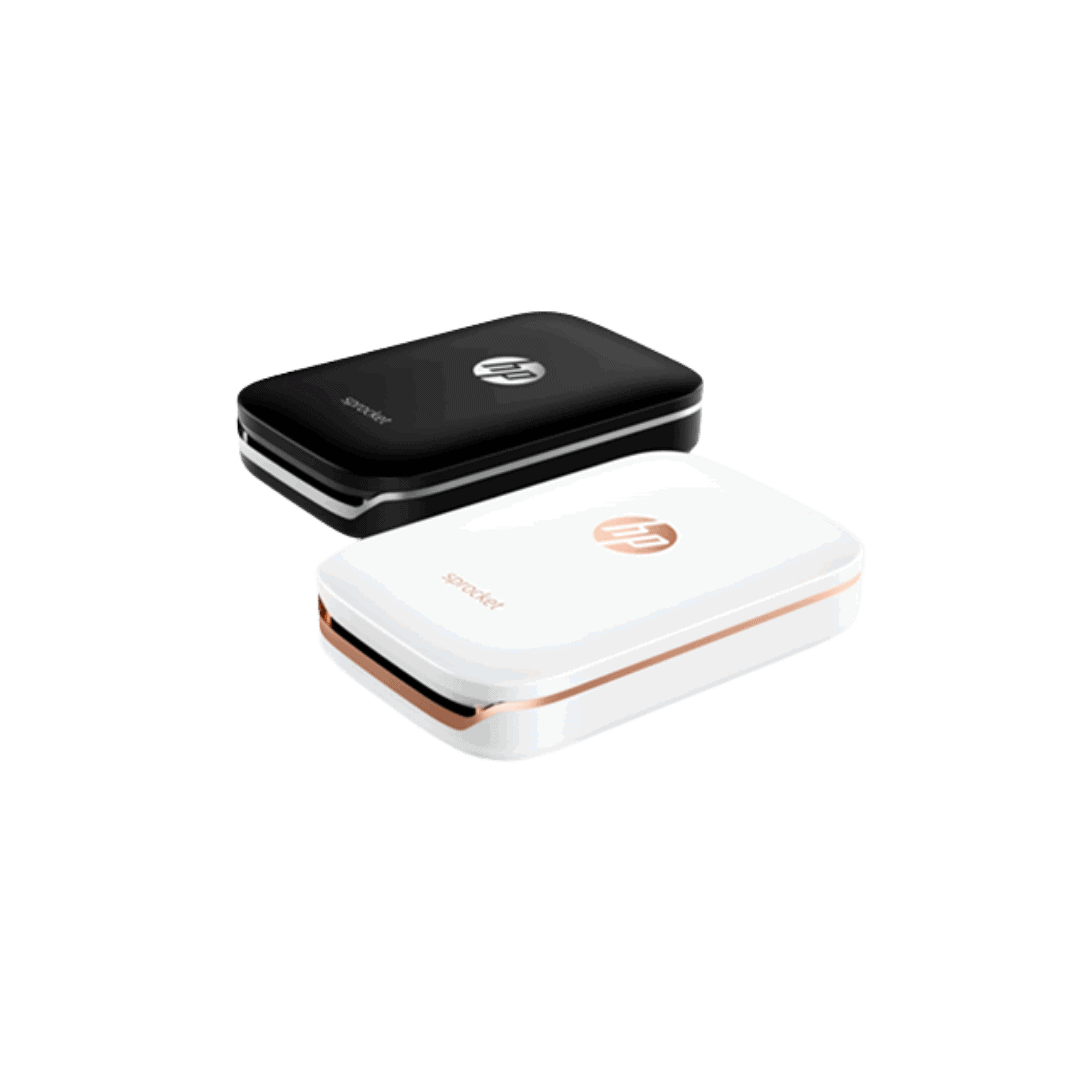 print size10×155×7.6LCD screen8.1cm NoCompatible CardsSD, SDHC, SDXC–USB USB-Flash–Wi-Fi printingYesNo (Bluetooth)Connection from cameraYes, via PictBridge
(USB and wireless LAN)–internal batteryNo Yesprint speed47s40sprinting technologythermal transfer
dye sublimationZINK® Zero Ink® thermal printingAvailable colours3. 4Size18×6.3×13.5cm11×7.5×2.3cmWeight860g172gPrice€145.00€99.99
The difference between these two photo printers is considerable. While both opt for the understated size, it's clear the HP is geared toward carrying it around and making small prints, instant camera-style.
The Canon is not a printer to carry in your bag, its portability is more to take it to parties or events and print on the spot. The size of the photos is considerably different, as is the printing technology.
I think they are for two different usage profiles, one more desktop, for good size and quality copies, the other very portable, with small size copies, perhaps a more spontaneous profile.
Here you can see a video of the comparison between both printers:
Canon Selphy CP1300 vs Kodak Dock Plus
Finally, let's take a look at the Kodak Dock Plus, another common comparison with the Selphy1300:
ModelCP1300Kodak Dock Plus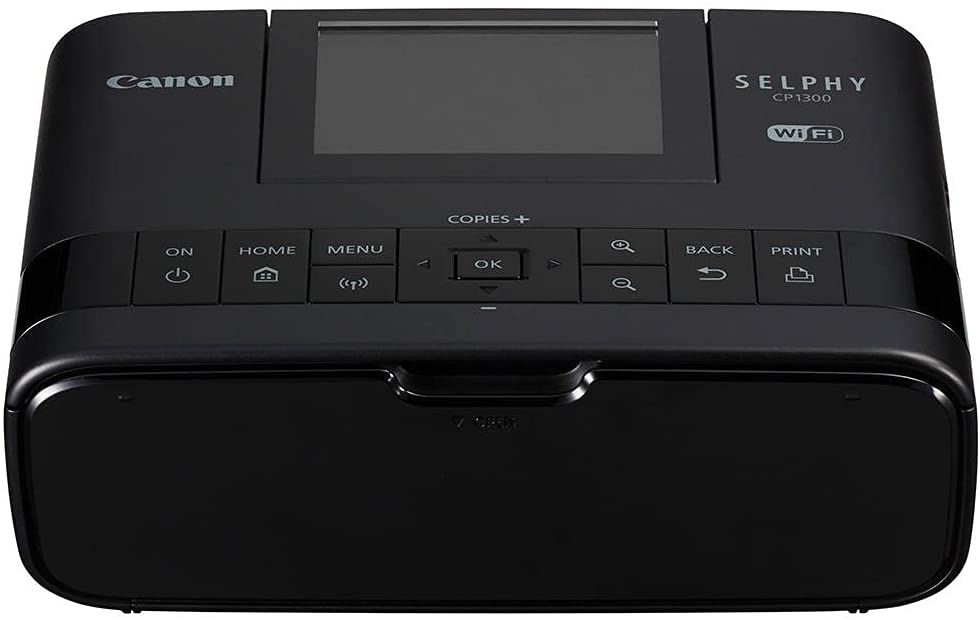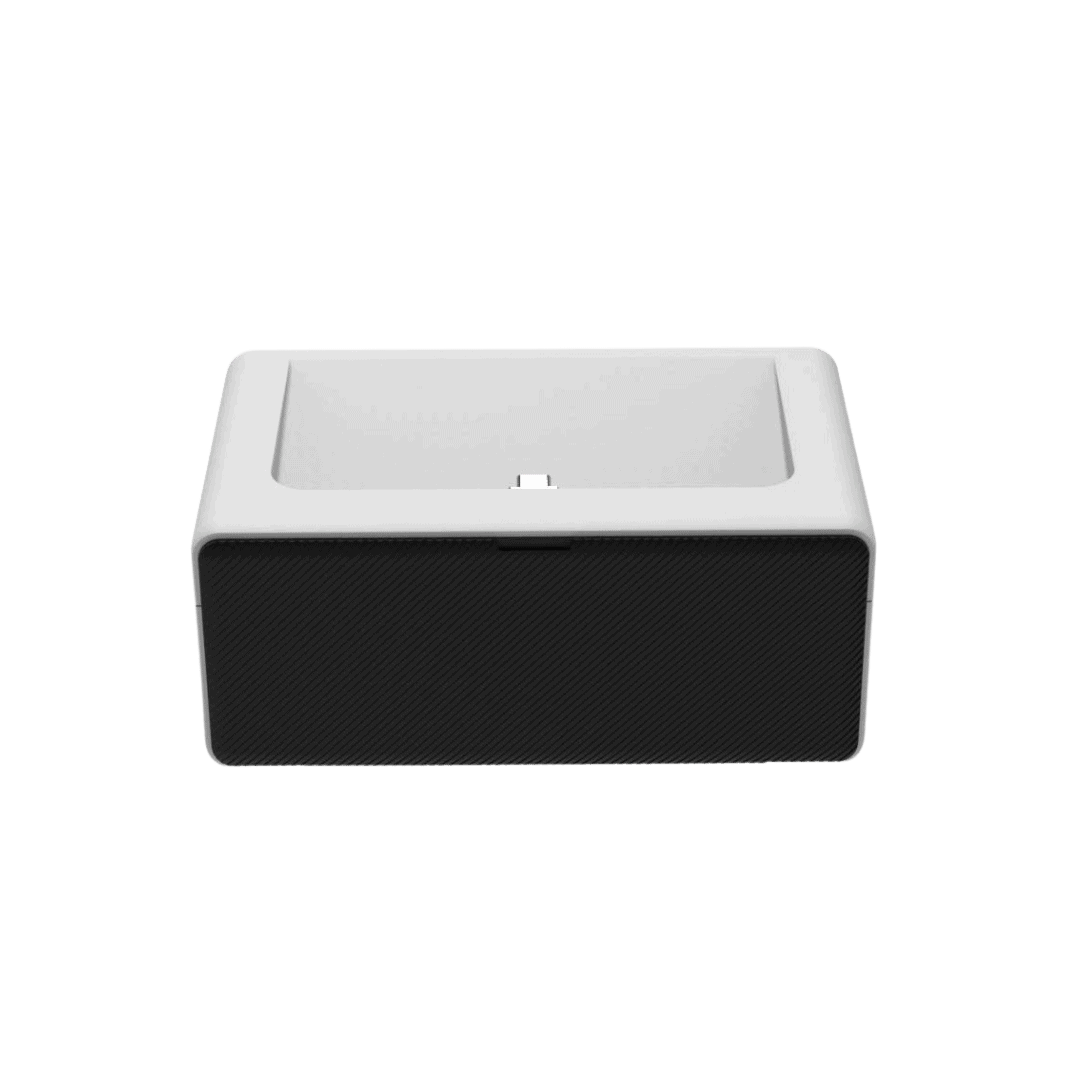 print size10×1510×15LCD screen8.1cm NoCompatible CardsSD, SDHC, SDXC–USB USB FlashUSB-C or LightningWi-Fi printingYesNo (Bluetooth)Connection from cameraYes, via PictBridge
(USB and wireless LAN)–internal batteryNerdprint speed47s50sprinting technologythermal transfer
dye-sublimation4Pass technologyAvailable colours32Size18×6.3×13.5cm10x17x69cm
Weight860 g760 gPrice€145.00€167.99 (With 90 sheets)
And so far this review of the Canon Selphy CP1300 photo printer, a more than interesting photo printer for its value for money. Ideal to give life to your photos, in a standard format and of good size and quality, compatible with all types of frames and albums.
If you want to analyze other photo printers, I recommend our printer buying guide, where you will find this and other options to help you in your choice.
Thanks for reading this far, until the next article 😉 .