Recycling lithium-ion batteries is a challenge that can make a difference for a low-carbon future. An American company has found a solution.
Lithium-ion batteries are key to a low-carbon future. The demand for their raw materials (lithium, cobalt, nickel and copper) is set to grow substantially. Ascend Elements is a US company that recycles metals from batteries by reselling more efficient cathode materials to manufacturers. Between disassembly difficulties and low collection and recycling rates, battery waste management in Europe is still an open question.
In conversations that revolve around the concept of energy transition it is impossible not to hear them mentioned at least once. The lithium-ion batteries, used for electric cars and energy storage, are essential for the decarbonisation of the global economy. However, one wonders if the quantity of metals (so-called raw materials) that make up the batteries is sufficient to cover the growing demand. In a zero net emissions scenario by 2050, the demand for lithium is estimated to increase by 2,000 percent. That of cobalt will grow by about 600 percent, that of nickel by 300 percent and that of copper by nearly 200 percent.
Also due to the war in Ukraine, the prices of these metals are experiencing a significant surge. With China dominant in the electric vehicle market, Europe and the United States will have to focus on battery recovery and recycling and the materials that compose them. If on the one hand it is increasingly important to design them with a circular approach (ecodesign), on the other hand innovation can solve many problems.
The innovative upcycling of critical raw materials
Rather than recycling the entire cathode component of batteries (which degrades over time) as competitors do, the US company Ascend Elements has developed an upcycling process that recovers metals by putting them back into circulation in the supply chain. The regenerated cathode materials then come sold "to measure" so that battery manufacturers can request different concentrations of nickel, cobalt and manganese as needed.
Read also
In practice, the innovative process, patented as hydro-to-cathode, destroys dead batteries by turning waste into blackish sand. After removing all the impurities – including pieces of plastic, aluminum and copper – nickel, cobalt and lithium are obtained. Those metals that make up the cathode of a battery.
"We recover the metals from lithium-ion batteries and transform them into a very useful raw material for manufacturers," Michael O'Kronley, CEO of Ascend Elements, told the press. "By offsetting the mining required to produce traditional batteries, we are able to reduce by 93 percent carbon footprint. It's a complex process, it took decades to perfect ".
In addition to upcycling, technology has another advantage. According to a study published in the scientific journal Joule, batteries made with Ascend Elements' recycled metals have a life cycle that exceeds that of traditional batteries by 50 percent and charge faster; specifically, the feeding capacity increases by 88 percent.
A lithium-ion battery © Pixabay
The difficulties of recycling batteries in Europe
What to do when there are different batteries, badly designed and therefore not very recyclable? To solve this problem, the European Parliament proposed a new regulation to replace the old directive 2006/66 / EC. The goal is to make the batteries of household appliances, smartphones and means of transport circulate, all this by 2024. "They will have to be designed so that consumers and independent operators can remove them by themselves in an easy and safe way" reads in the proposal.
The problem is real. In Europe, more than that are generated every year 1.9 million tons of waste batteries which, at present, are not designed to be recovered at the end of their life: therefore, it is also difficult to extract them from the equipment and disassemble them. Unlike Ascend Elements' destructive method, however, research is focusing more on automatic component disassembly. For now this operation is carried out by hand in the laboratory; making this method scalable, therefore, remains a complex challenge.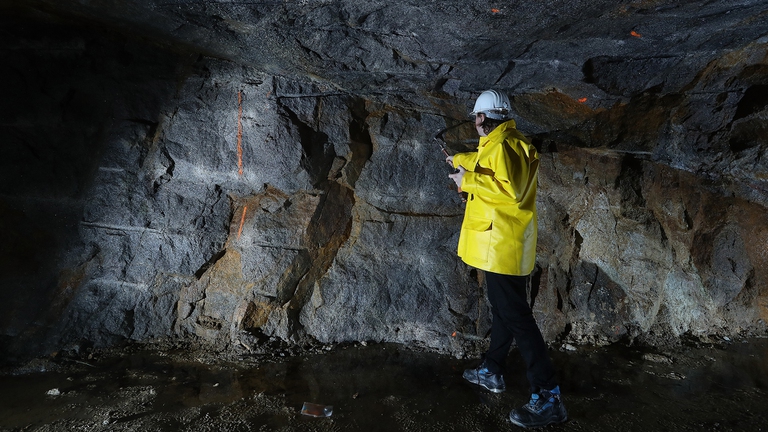 Lithium mine © Sean Gallup / Getty Images
According to a Eurobat study, the highest collection and recycling rates are achieved by lead-acid automotive batteries (99 percent). On the other hand, the collection rates of portable batteries: in 2018 only 48 per cent of those sold in Europe were collected for recycling and this translates into the loss of large quantities of precious resources. According to data from the European Commission, recycling is more oriented towards the recovery of cobalt, nickel and copper, considered economically more valuable, with an estimated efficiency of 95 percent for cobalt and nickel and 80 percent for copper. However, the volume of recovered metals that are then used for the production of batteries remains very low. Only 12 per cent of aluminum, 22 per cent of cobalt, 8 per cent of manganese, 16 per cent of the nickel used in the EU is actually put into an upcycling circuit.
The recycling of batteries, especially lithium-ion ones, is an ever-changing world. L'innovation it's a circular approach they can mitigate the climatic impact of raw materials that are already protagonists of the energy transition.


This work is licensed under a Creative Commons Attribution – Non Commercial – No Derivative Works 4.0 International License.