This automatic trading robot, known as Aurora trader, enables investors who have no previous knowledge in the cannabis business to trade in successful equities. Aurora traders assert that their trading robot is programmed to maximize profitable deals while minimizing any potential losses. They do not, however, make any assurance that your money will not be completely lost if you decide to invest in this site. Depending on their business model, online trading organizations deal in real stocks, cryptocurrencies, or forex stocks. Aside from them, there are very few options for conducting business online.

The Origin Of Aurora Trader
It is possible to invest in the equities of numerous cannabis companies using Aurora Trader, which is an algorithmic trading services company that allows consumers to do so. Many countries have legalized marijuana trading, and businesses have sprung up to cater to the needs of those involved in the trade. Aurora trading seems similar to a third-party broker site that provides to trade on your behalf using your own cash; however, Aurora trading is not a broker. Because the program is free, you don't have to think about shelling out any money for technology that is still in its infancy. Alternatively, it becomes debatable if a trading application will supply services for free. This goes directly against the fundamental principles of business.
Aurora trader is essentially a robot that operates according to a predetermined algorithm. This method can assist you in identifying profitable trades, and you will be capable of recognizing which deals are profitable as a result of using it. However, the website promises that everything is automated, and that all you need to do is deposit an initial $250 at most and wait to see if you make any money at all.
It is necessary to make an account on the site before you can use any of the features; therefore, you will be required to give your contact details first. A corporation that does not disclose any contact details will want to obtain all of your contact information.
The Operation Of Aurora Trader Consumers Must Know
The Aurora Traderprogram was developed by a team of programmers who used sophisticated trading algorithms to achieve their goals. This will guarantee that you are always one step ahead of the competition in the trading world. To begin, you must first join up and then make a financial commitment. The software invests it for you and determines which trade options are most appropriate for your investment based on your input.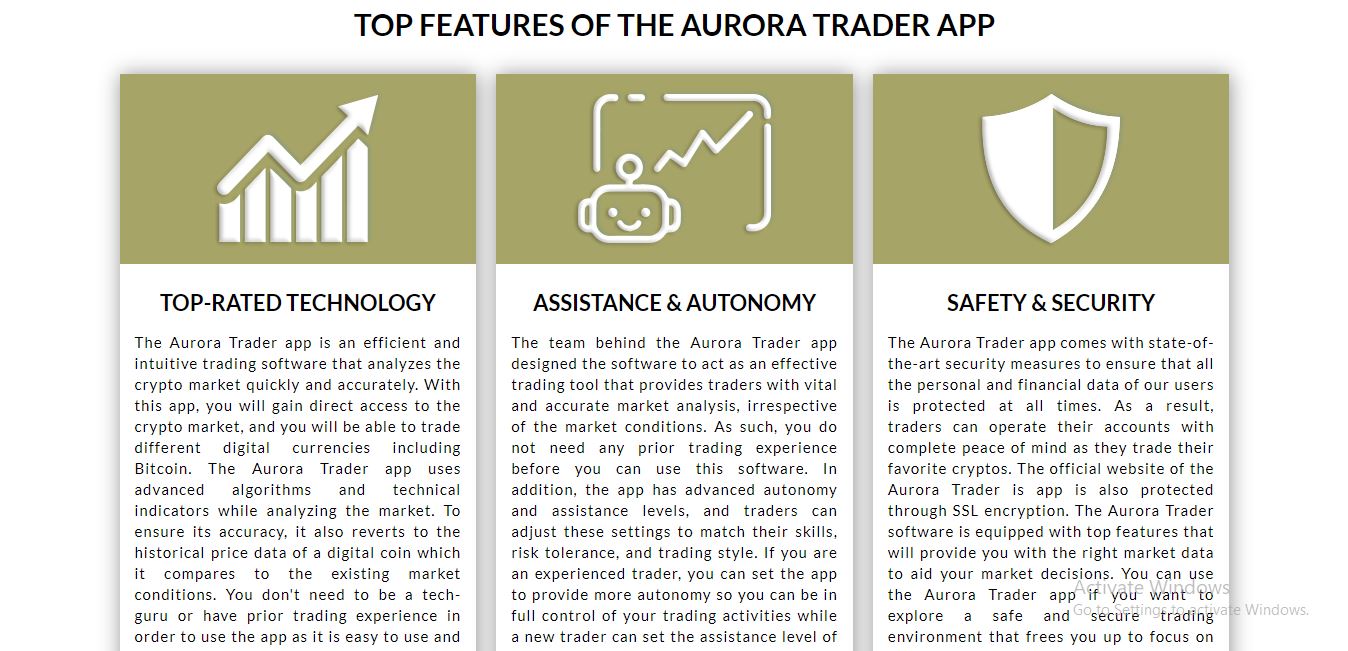 The Aurora Trader application uses a sophisticated mathematical method to make trades in the stock market on your account. You will also be allocated a broker after completing the registration process. The software provides you with two possibilities: you may control the options trading yourself or you can trust the computer to trade on your behalf.
You can begin trading as soon as you have registered using the company's app. Enrollment is a straightforward process with only a few steps. Fill out the form to get started with your account creation. This form can be found on the homepage of the website. Fill out the necessary information and create a login and password. You will always have access to a single practice account, which will allow you to obtain a better understanding of how the software operates. Once you have mastered the functions of the application and are able to demonstrate the ability to trade through it, you can go to the live account. The practice rounds will assist you in limiting your losses when you engage in genuine trading activities. After properly familiarizing yourself with the site, you will need to make a $250 investment in order to begin trading.
The Astonishing Traits Of Aurora Trader
The Aurora Traderprogram promises to have a success rate of up to 82 percent in terms of generating bitcoins for its customers. With the help of this software, it is possible to generate profits from up to $1,500 in a week. You only need to make a minimal initial investment in order to get the benefits. This little expenditure should be at least $250 in order to be effective. The Aurora Tradersoftware's system is designed to be user-friendly. 
You will quickly become accustomed to using its user-friendly interface to access and control it. After reading about that now, you will have a better understanding of what happens throughout a trading session. The firm behind this software will also assign you a broker who will help you through the investment process, lowering the likelihood of you losing a big amount of money in the process.

Is Aurora Trader A SCAM? The Final Thoughts
To attain financial success in one's life, one must be willing to take chances. However, these hazards should be evaluated rather than speculative in nature. The Aurora Traderprogram allows you to take calculated risks with your investments, increasing the likelihood that you will make significant returns. It is, without a doubt, user-friendly, and you will be able to repay your investment. 
When you consider that the Aurora Trader has a trading accuracy of 99.4 percent, there is no excuse not to utilize it. You will not be charged any registration fees for using this software. You only need to make a little initial investment (minimum $250) in order to begin the actual trading procedure.
Frequently Asked Questions 
Is the Aurora Traderapplication a genuine piece of software?
Yes, the Aurora Traderprogramme is a genuine robot for automated trading in the cryptocurrency market. It has been demonstrated to be effective for numerous users.

What is the best way for me to get access to the Aurora Traderplatform?
This software can be obtained through the company's official website. You must first sign up for the free account, whereupon the site will assign you a broker to help you with your transactions.
Is it necessary for me to spend any fees in order to create an identity on the Blockchain Era platform?
In fact, there isn't even a single dime required to register for the Aurora Tradersoftware! After registering for a basic account, you'll need to familiarize yourself with the software's operation. As soon as you feel confident enough to begin actual trading, you must make a deposit of at least $250 as your initial investment.