Former Apple CEO Steve Jobs. REUTERS/Robert Galbraith
The founder and former Apple boss Steve Jobs seems to have acted mercilessly against his competition during his lifetime. At least that's the impression given by e-mails that were published in a hearing in the US Congress due to antitrust concerns against Apple. In the emails, Jobs instructs his employees, among other things, to expel a developer who publicly criticized the company in the future.
Many adjectives apply to Steve Jobs: innovative, forward-looking, charismatic. Another word on this list is merciless. At least that's the impression given by the email history of the former Apple boss, which was published in August 2020.
Jobs, who founded Apple, died in October 2011. In the leaked emails, he instructs his employees to expel a developer who publicly criticized the company for forcing developers of subscription-based apps to use Apple's payment service, and anyone else Prevent companies from offering a digital bookstore on Apple's iPhones and iPads — unless Apple gets a share of their revenue.
Antitrust Concerns Against Apple And Other Big Tech Firms
"I think it's all pretty simple," Jobs wrote in a Feb. 6, 2011, email addressing the book retail issue. "[Apples] iBooks will be the only bookstore for iOS devices. We must stand with our heads held high. You can read books purchased elsewhere but not buy/borrow/subscribe on iOS without paying us, which we recognize is unaffordable for many."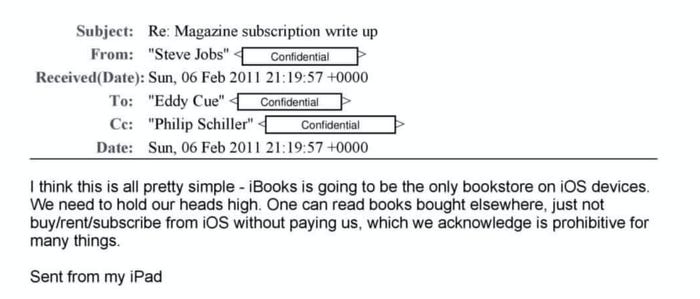 House Subcommittee on Antitrust, Commercial, and Administrative Law
Jobs' emails are among a series of internal messages released by the US Congressional Judiciary Committee's Subcommittee on Antitrust, Trade and Administrative Law. The subcommittee made the documents public after hearing about antitrust concerns against Apple and other big tech companies. The hearing focused on the statements of the current bosses of Apple, Google's parent company Alphabet, Amazon and Facebook.
read too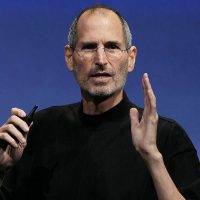 Eerily Correct: 25 Years Ago Steve Jobs Made These 9 Predictions
Much of the concern about Apple revolves around how the company manages the App Store for iPhones and iPads. The only native apps that users of these devices can usually install are those offered in the App Store. Apple sets all the rules for these apps. Also, which applications can be listed in the App Store at all, for which services you have to pay Apple and how high this amount is. Some regulators and market insiders have expressed concern that the company could use its control of the App Store to favor its own apps, thwart the competition, or charge developers unreasonable fees.
Apple was aware of concerns from booksellers
The old e-mail messages — especially those from Jobs — should certainly reinforce this impression. The 2011 email pictured above is just a sample of a more detailed exchange between Jobs and senior company officials. The question was whether and what Apple should charge developers who offer digital content and subscriptions via Apple apps. The bosses agreed to charge the developers a commission of 30 percent on the sale of such products.
During the discussion, company officials suggested that digital booksellers would certainly be opposed to paying Apple such a commission. After all, they would already be paying a comparable fee to book publishers. "The bookstores will say that this model doesn't work," said Eddy Cue, who oversaw the App Store, in a reply to Jobs' email.
Jobs also showed his ruthlessness towards Amazon
But Jobs didn't even shy away from treating other tech giants with the same ruthlessness. In a similar email exchange from 2010, he and Phil Schiller, Apple's marketing vice president, discussed Amazon's Kindle e-book app. Back then, Apple had allowed Amazon not to have to pay commission when customers bought digital books on their iPhones and iPads. Schiller was upset that Amazon ran an ad showing customers buying Kindle eBooks on an iPhone and then reading them on an Android-based phone.
"While the primary message is that there are Kindle apps on many different mobile devices. However, the secondary message not to be overlooked here is that it's easy to switch from iPhone to Android," Schiller wrote in a message to Jobs. "It's really not fun to watch."

House Subcommittee on Antitrust, Commercial, and Administrative Law
In a later message, Schiller Jobs suggested that Apple force Amazon to use Apple's payment system when selling books on iPhones and iPads, and thus pay a commission. He noted that Amazon might refuse to do so. In this case, Apple could consider banning the app from the App Store for violating company rules.
Jobs' response indicates that he would not shy away from a possible argument. "It's time they made a choice to use our payment mechanism or opt out," he said.
Jobs instructed employees to expel a developer
Jobs was probably at his most unsentimental when he had employees try to slow down a developer who was critical of the company. In the summer of 2010, Apple introduced new rules requiring developers to write apps for the iPhone and iPad in those devices' native programming language. Until now it was possible to write the apps in another language and use a software tool to translate them.

House Subcommittee on Antitrust, Commercial, and Administrative Law
A developer named Joe Hewitt criticized this requirement because he classified the language required by Apple as "mediocre". Hewitt also voiced his opinion to the press. But Jobs showed no interest in engaging in dialogue with Hewitt. Instead, he wrote in an email: "I propose that we exclude Joe from now on."
This article originally appeared on Business Insider in August 2020. It has now been reviewed and updated.
read too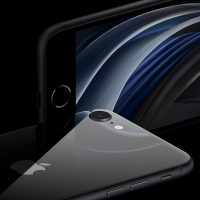 5 smartphones are among the best in the world — and cost less than 500 euros