Panthere Noire / Shutterstock As part of the September offer from Amazon, various versions of the popular Echo loudspeaker are currently available up to 50 percent cheaper. The offer includes both old models such as the Echo Show 8 * and the brand new Echo Show 5 *. In addition, the Echo Dot (4th generation) * and the Echo Flex * are available up to 50 percent cheaper.

Disclaimer: If you complete a purchase via a link marked with an asterisk, we receive a small commission. Learn more
---
The Amazon Echo is one of the most popular smart speakers on the market. This may be mainly due to its low price. The entry-level model, the Echo Dot (fourth generation), costs just 59.99 euros *. And the luxury version, the Echo Show 10 with screen, is still quite affordable compared to other smart speakers at € 249.99. But it wasn't just its low price that contributed to the popularity of the Echo. Its intelligent voice assistant Alexa, which, along with Apple's Siri and Google Assistant, is one of the most popular voice assistants, is also popular with consumers.
These 6 Echo devices are now up to 56 percent cheaper
Many of the Echo devices are currently available at Amazon at up to 56 percent cheaper. The so-called September offers, which will take place from September 6 to 14, 2022, include, for example, the two older models Echo Dot (third generation) * and Echo Show 8 *. In addition, you can now buy the brand new Echo Show 5 * and Echo Flex * at reduced prices. What should you know about the individual devices on offer? Release year: 2020Voice control with the intelligent voice assistant AlexaCompatible with Amazon Music, Apple Music, Spotify, Deezer and moreCan be connected to many smart devices such as lamps or thermostatsTelephony via voice controlData protection: Microphone-off button, with which the power supply to the microphone is deactivatedSeveral echo dots can be connected to each other and used as an intercom. When purchasing, Amazon Music Unlimited can be booked for six months free of charge
---
Release year: 2019 Plugs into the socket so that Alexa can be used in several roomsVoice control for the smart homeIntegrated mini speaker for AlexaCompatible with speakers for music playbackUSB connection for charging smartphones and other devicesCan be used as an intercomData protection: microphone off button, with which deactivates the power supply to the microphone
---
Release year: 2022Voice control with the intelligent voice assistant AlexaSmart display with 5-inch screenPlayers films, series, news, music, audio books and radio stationsCan be used for voice or video callsCan be connected to many smart devices such as lamps or thermostats and can be connected via voice command or display The display can be personalized with a clock or a picture Data protection: Microphone off button, with which the power supply to the microphone is deactivated
---
Release year: 2019Integrated smart home hubVoice control allows control of lamps, thermostats, door locks and many other compatible devices.Voice control with the intelligent voice assistant AlexaCompatible with Amazon Music, Apple Music, Spotify, Deezer and moreFive speakers with Dolby Atmos processing for more space and clarity and depth Automatically detects the acoustics of the room and continuously adjusts the playback to always deliver optimal sound Calls can be made easily using voice control Data protection: microphone off button, with which the power supply to the microphone is deactivated
---
Release year: 2018Voice control with the intelligent voice assistant AlexaCompatible with Amazon Music, Spotify, TuneIn, Audible and moreCan be connected to many smart devices such as lamps or thermostatsTelephony via voice controlData protection: Microphone-off button, with which the power supply to the microphone is deactivatedMultiple echo dots can be used Can be connected to each other and used as an intercom. When purchasing, Amazon Music Unlimited can be booked for six months free of charge
---
Release year: 2019Voice control with the intelligent voice assistant AlexaSmart display with 8-inch screenPlayers films, series, news, music, audio books and radio stationsCan be used for voice or video callsCan be connected to many smart devices such as lamps or thermostats and can be connected via voice command or display The display can be personalized with a clock or a picture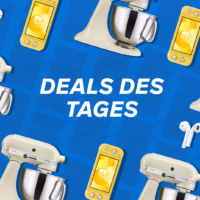 Deals of the day: Reebok Club C 85 sneakers at the best price and many other bargains