If you have an Apple device, it is likely that when you export your photos to some other device, you have seen the termination .heic in the extension. Or it's possible that someone sent you image files with the same extension and you couldn't open them.
Don't panic, it's not a Trojan virus that has come to infect your computer 🙂 , it's an Apple invention to compress JPEG format images but more optimized. Let's see what it is then HEIC-formatits characteristics and what uses it has.
INSIDE THIS ARTICLE… 📖
What is the HEIC format?
The HEIC-format (High Efficiency Image Coding) is a high-efficiency image compression format introduced by Apple starting in 2017 with the iOS 11 or higher operating system. This format optimizes compression while preserving image quality.
HEIC is also known as HEIF, which stands for High Efficiency File Format. It comes as the default image format on Apple devices, and it has some notable advantages over other formats.
Advantages of the HEIC format
This format has not been introduced lightly, the main advantages it offers us are:
It occupies much less space than other more widespread formats such as JPEG but retaining the same quality. It allows you to store files such as Live Photos or the widely used burst shot on iPhone. It allows you to save image files with transparent backgrounds. editing changes such as cropping and image rotations. Does not lose quality when transferred from one device to another. Uses 16-bit color support compared to 8-bit JPEGs.
Drawbacks of the HEIC format
The main drawback that exists today is that of compatibility, especially if we have any of the Android or Windows devices.
However, there are many easy ways to go from HEIC to JPEG. We see them below.
How to go from HEIC to JPEG
Despite the fact that it is a format that is gradually gaining a place among users, mainly due to its ability to reduce the size of images, it is possible that at some point you will need to change the format due to some compatibility issue.
Convert HEIC files to JPG with Windows
To convert HEIC files to JPG on a Windows operating system, the ideal is to have version 10 or higher updated. If you already have it, perfect; otherwise, try updating first.
Through the installation of an extension for HEIC images
Your computer may already include this extension, but if it doesn't, it's as simple as going to the following link and downloading the extension for images (HEIC or HEIF) and the extension for videos (HEVC).
Once both extensions are installed, clicking on an image file will open the Windows Photos app. From Photos, you can edit it and save it as a JPEG.
If what you want is to transform a set of images, then perhaps the best thing is that you opt for an application that allows you to do it, like the ones I show you below.
Through specific applications
As simple as downloading one of its applications from Microsoft to convert the .heic extension to .jpg. Here I leave you some very simple to use and that allow you to export several images at the same time: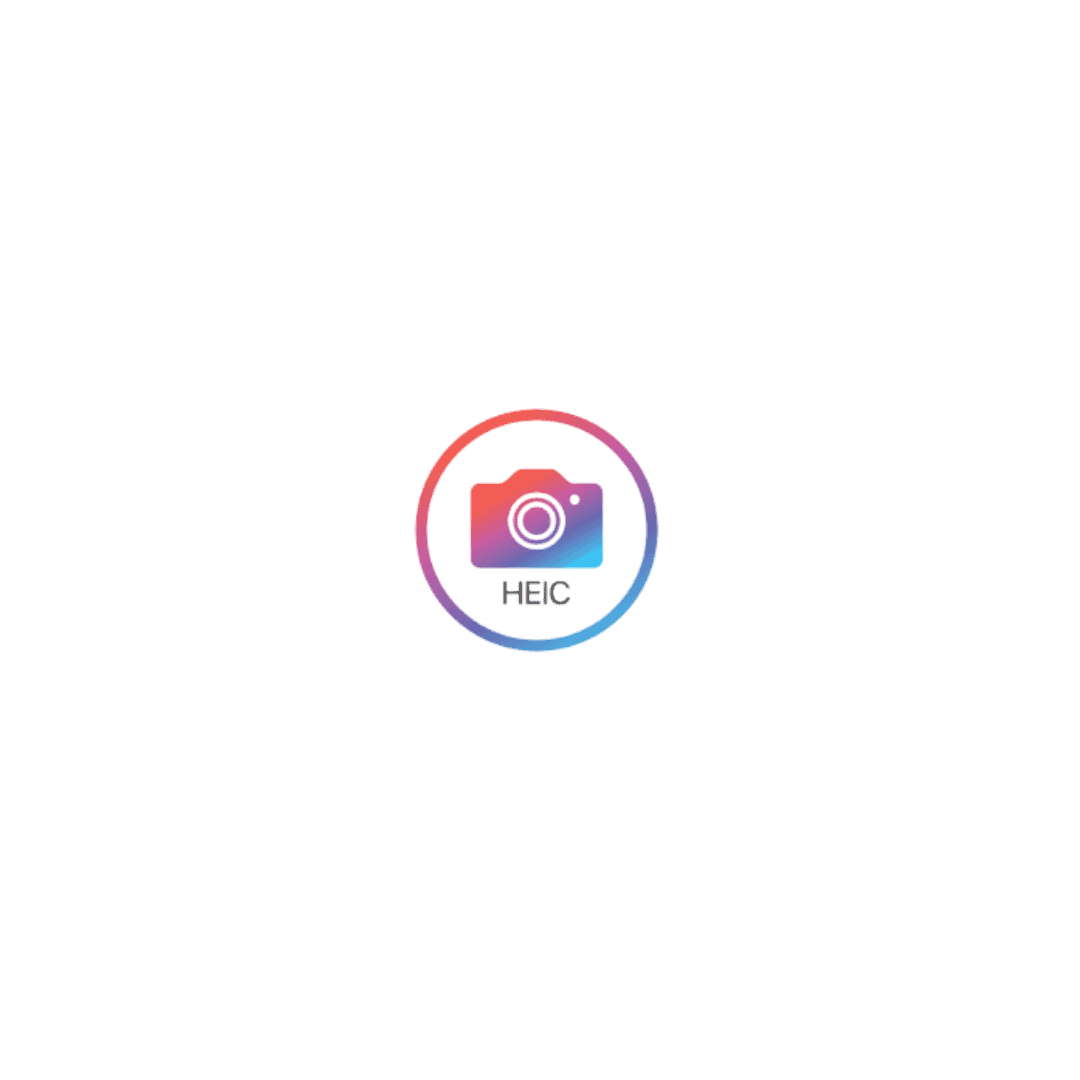 iMazing HEIC Converter: Free application that allows you to convert your HEIC files to JPG in batch. Very intuitive, easy and fast.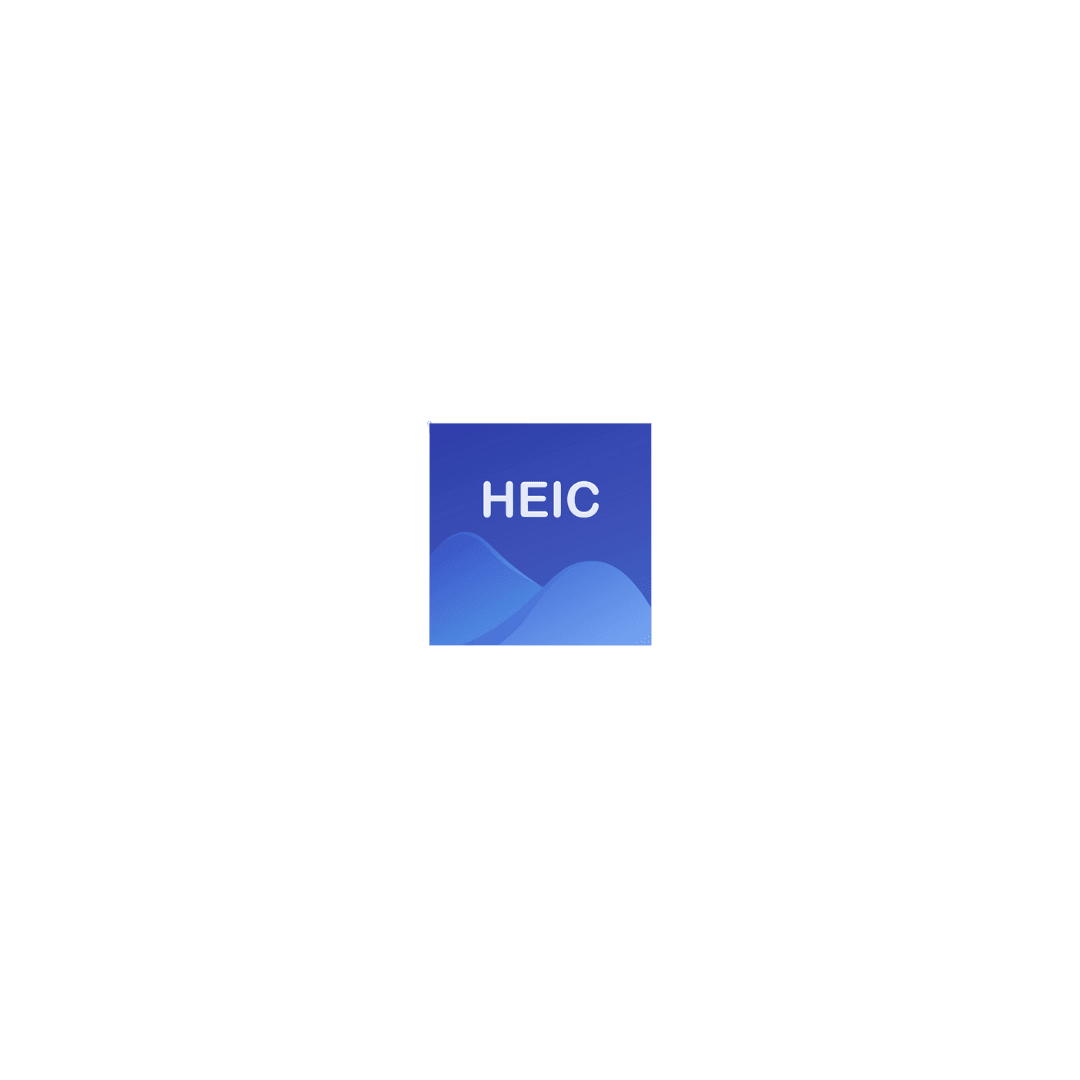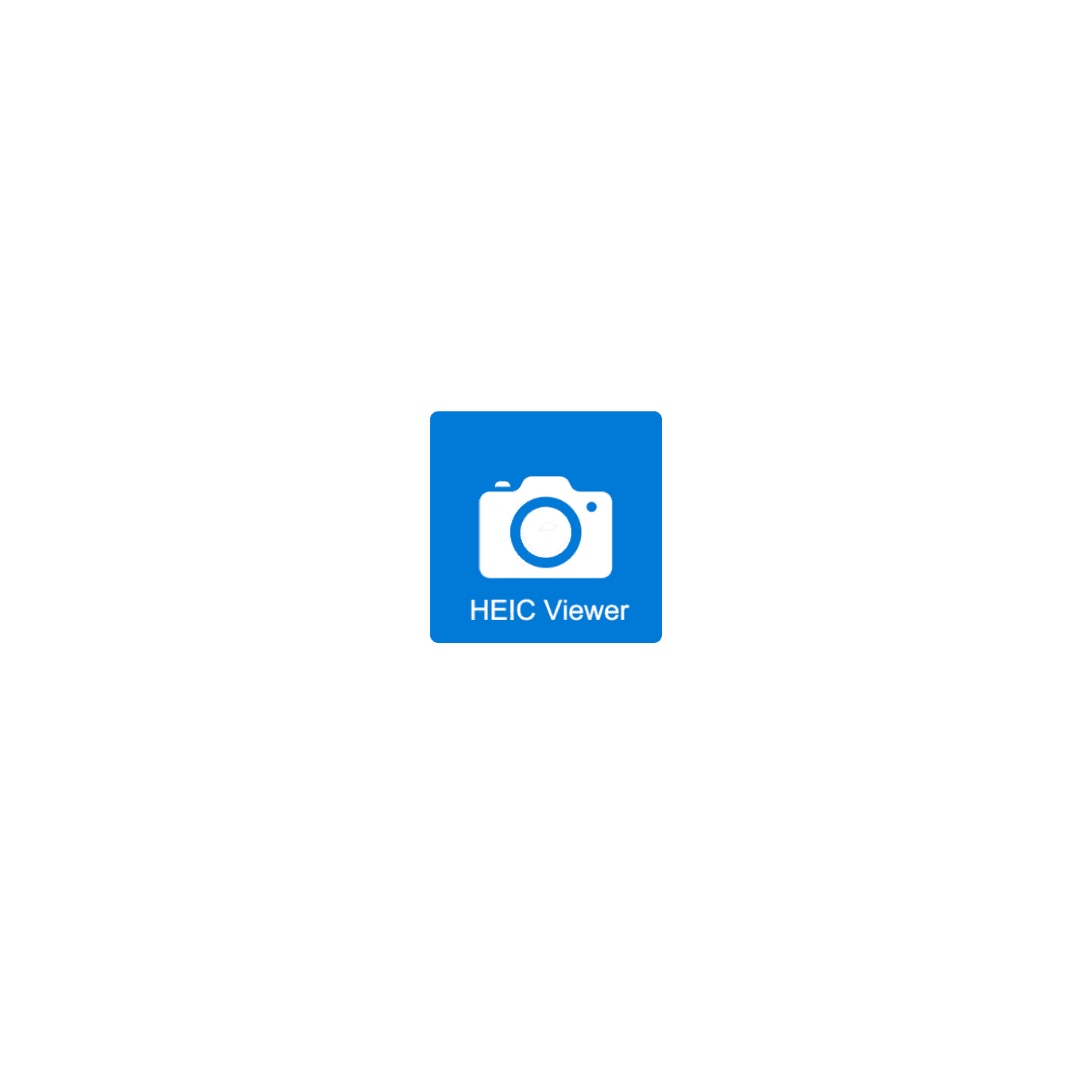 HEIC Image Viewer, Converter: Another application that allows you to convert HEIC images. The preview is free, although to export them you have to go through the box.
If you want to take a look at some more app to convert from HEIC to JPEG, you can dive into the Google Store, there are quite a few. Here I leave the link.
How to convert from HEIC to JPG online
If you prefer not to download any type of extension or application, you can use one of the many online converters that circulate on the net. Here are some very simple and agile to use:
Convert from HEIC to JPG through a Plugin
If what you prefer is to have access from your own computer without the need for a connection, you can look at options such as Copytrans that, once installed, allows you to read the HEIC and HEIV formats in Windows.
It integrates with Windows Explorer and allows you to change the format of your images in batch. You can check it out here.
How to convert HEIC files to JPG on a Mac computer
If you need to send a JPEG file, but you have it in HEIC format, a very simple way to do it is to open your image in "Preview" inside your Mac.
When you have it open, simply hit Export > Format > JPEG (or whatever you prefer).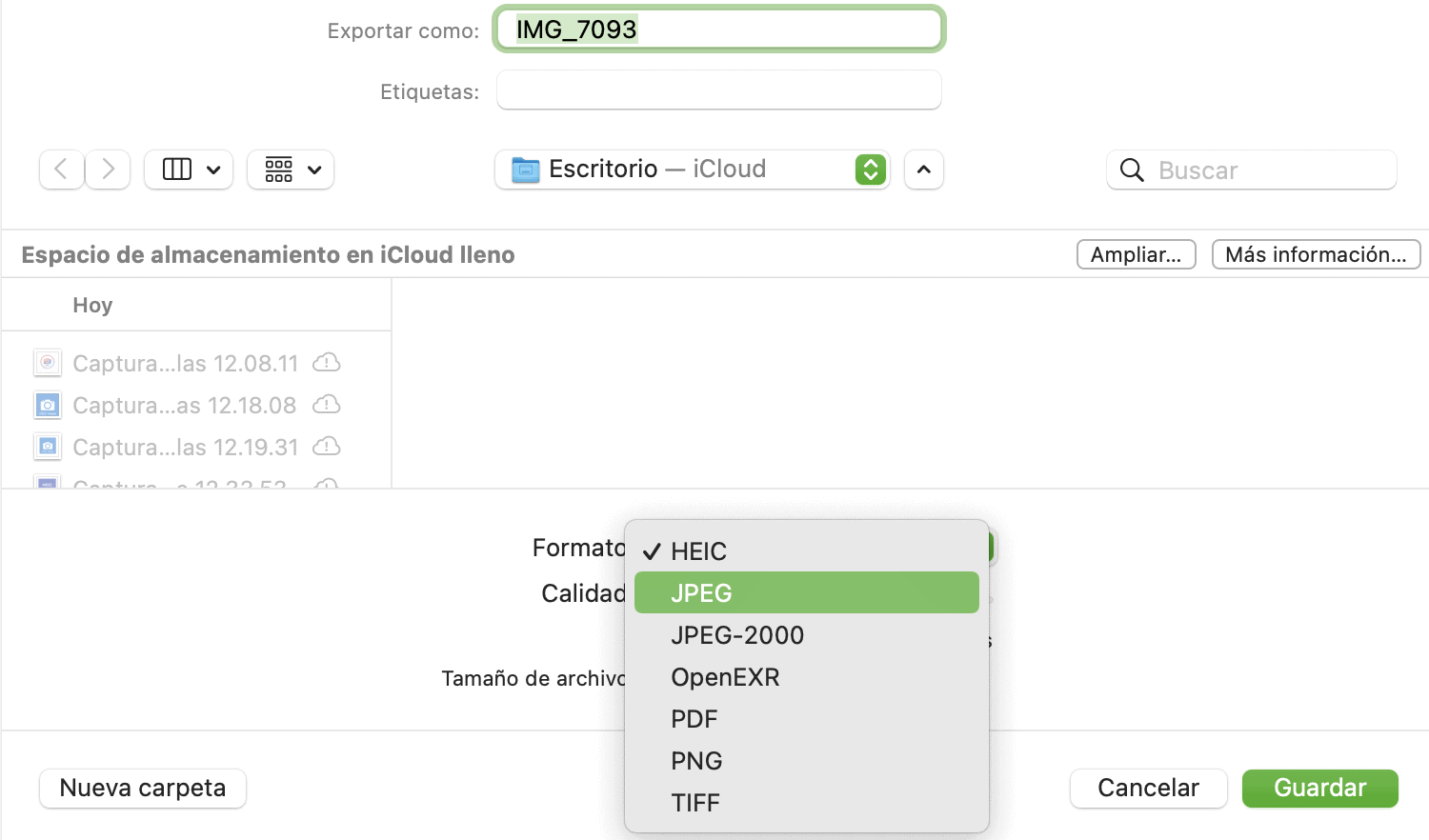 To export images in batches, it is best to use an application like the ones I mentioned earlier, in this case specific to Apple: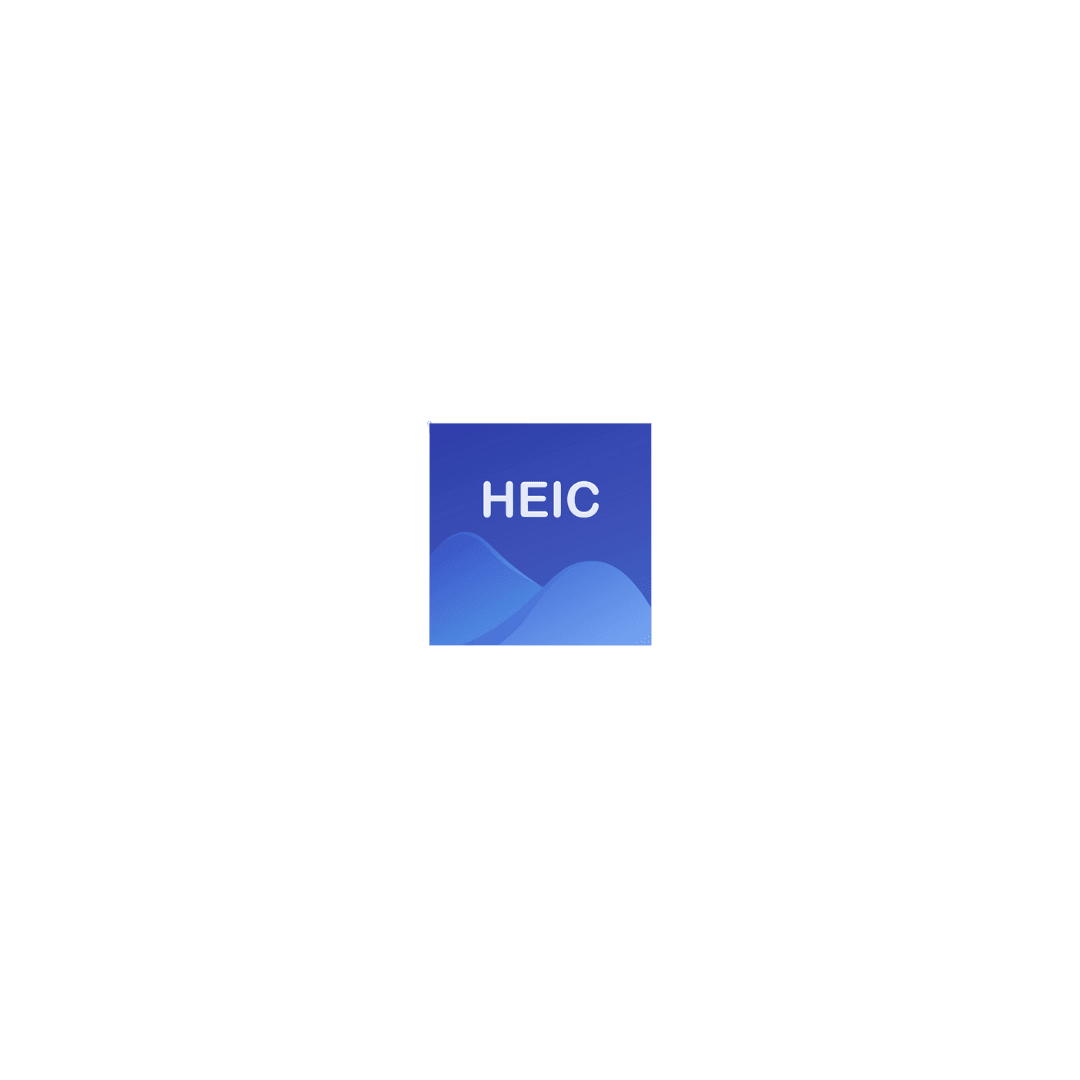 Luma Convert Heic 2 Jpg: Free application that allows you to preview and export images to JPEG one by one or several at the same time. Simple and intuitive.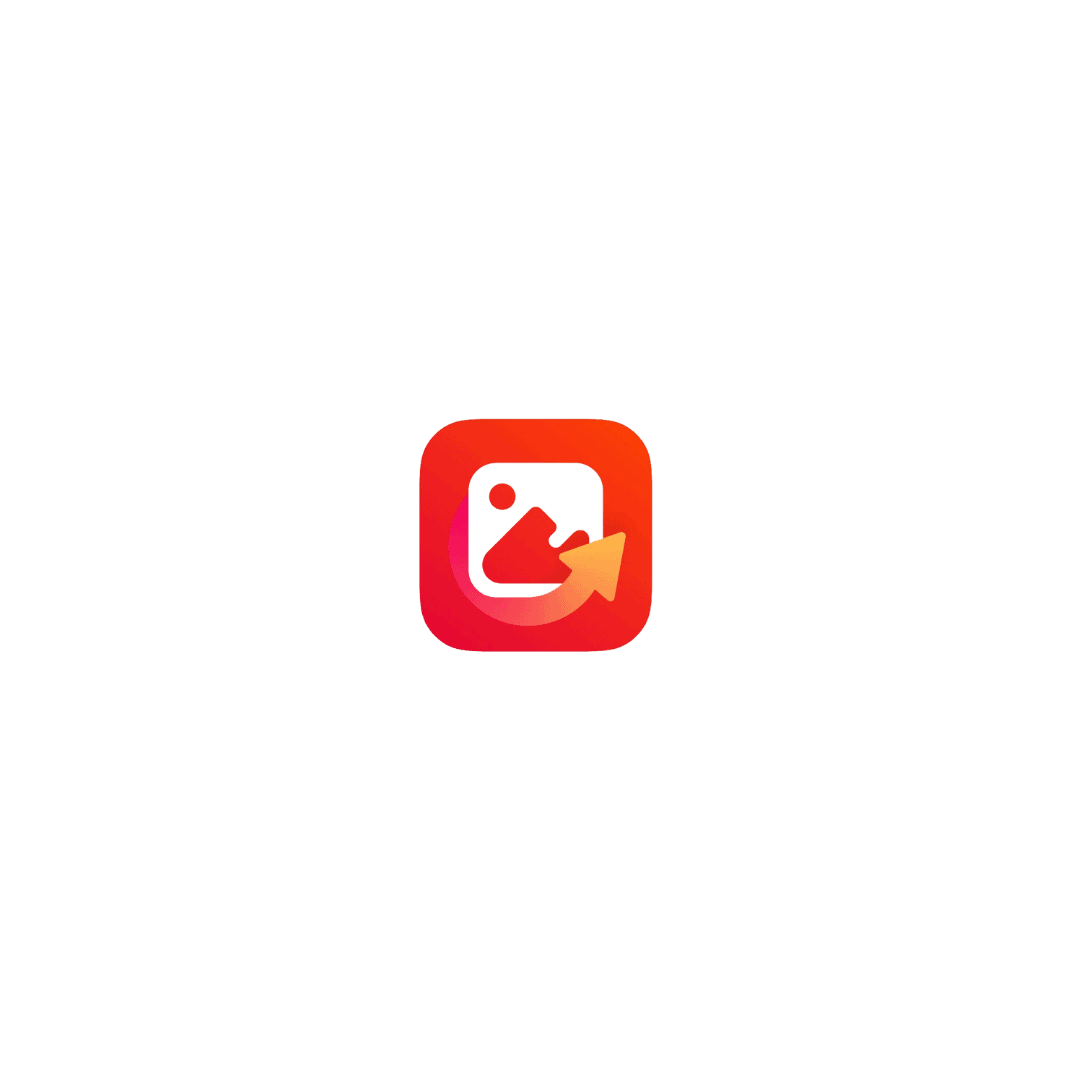 Photo Converter: Free application to export HEIC files to JPEG one at a time or several at a time. Simple, easy to use and with good user reviews.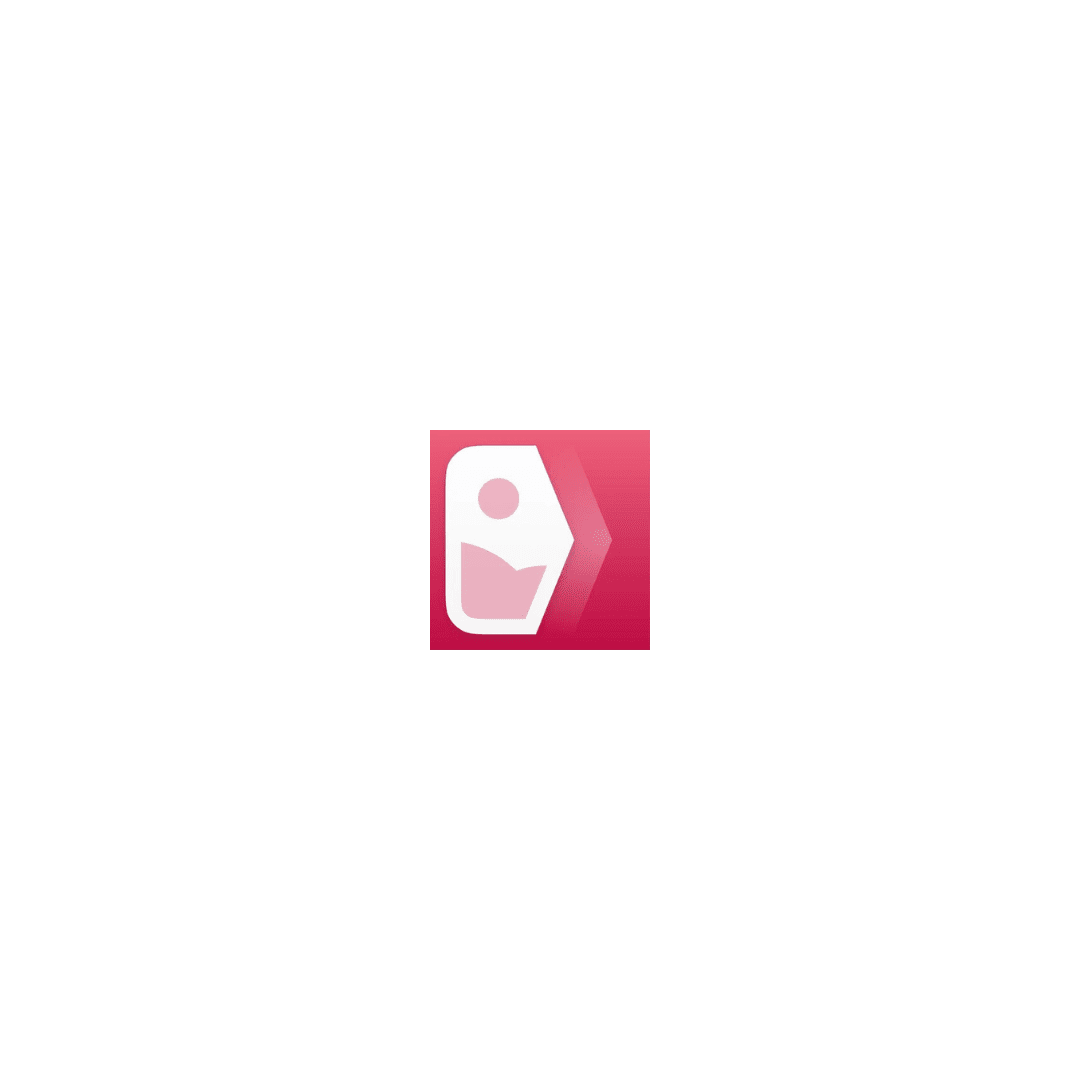 If you want to have a look at other apps to convert HEIC files to JPEG, please dive here.
How to Change Image Format on iPhone from HEIC to JPEG
If you prefer to have your images stored directly in JPEG format, follow these steps on your iPhone:
Go to "Settings". Then look for "Camera". Within the camera, go to "Formats". In formats, choose "The most compatible". This is equivalent to the JPEG format. Keep in mind that doing so will take up more space on your iPhone than the HEIC format that corresponds to "High Efficiency."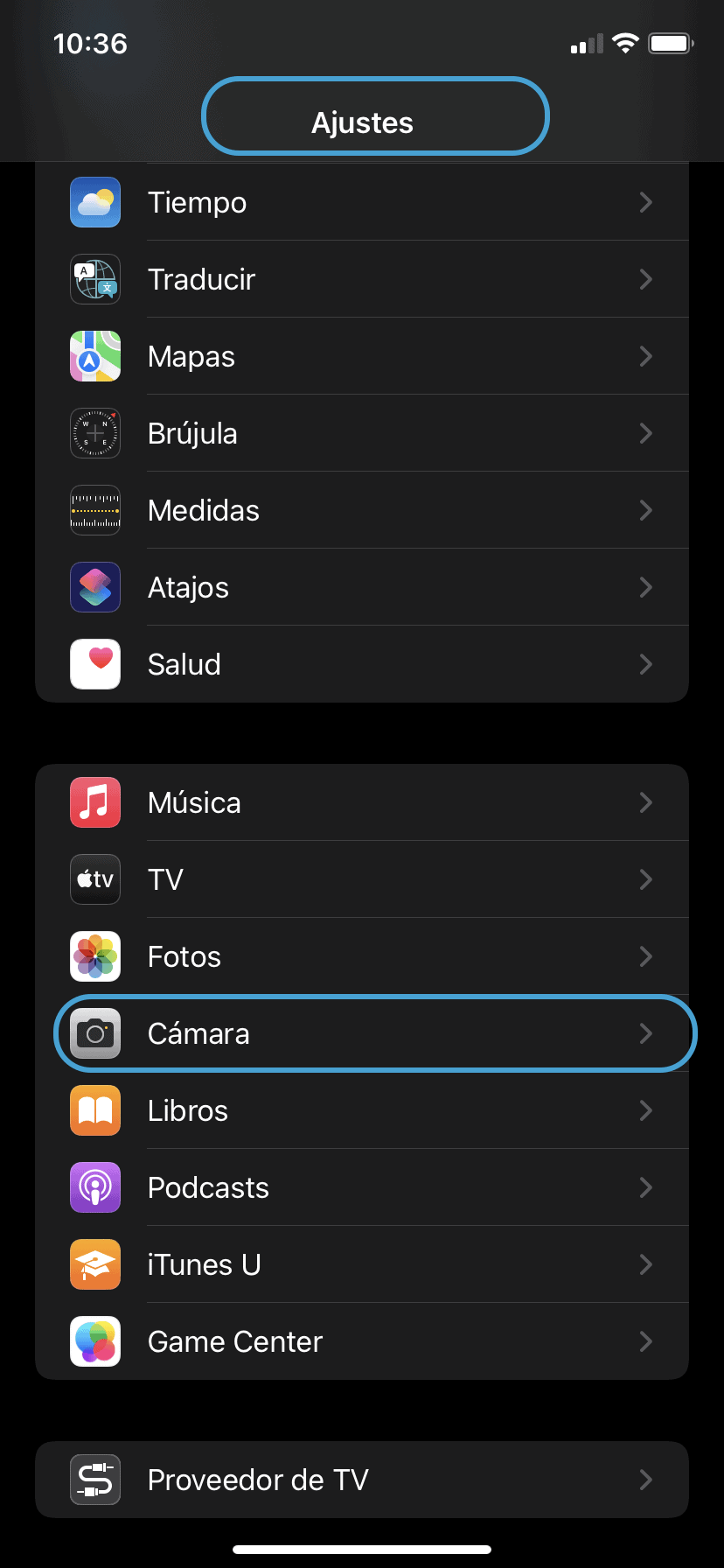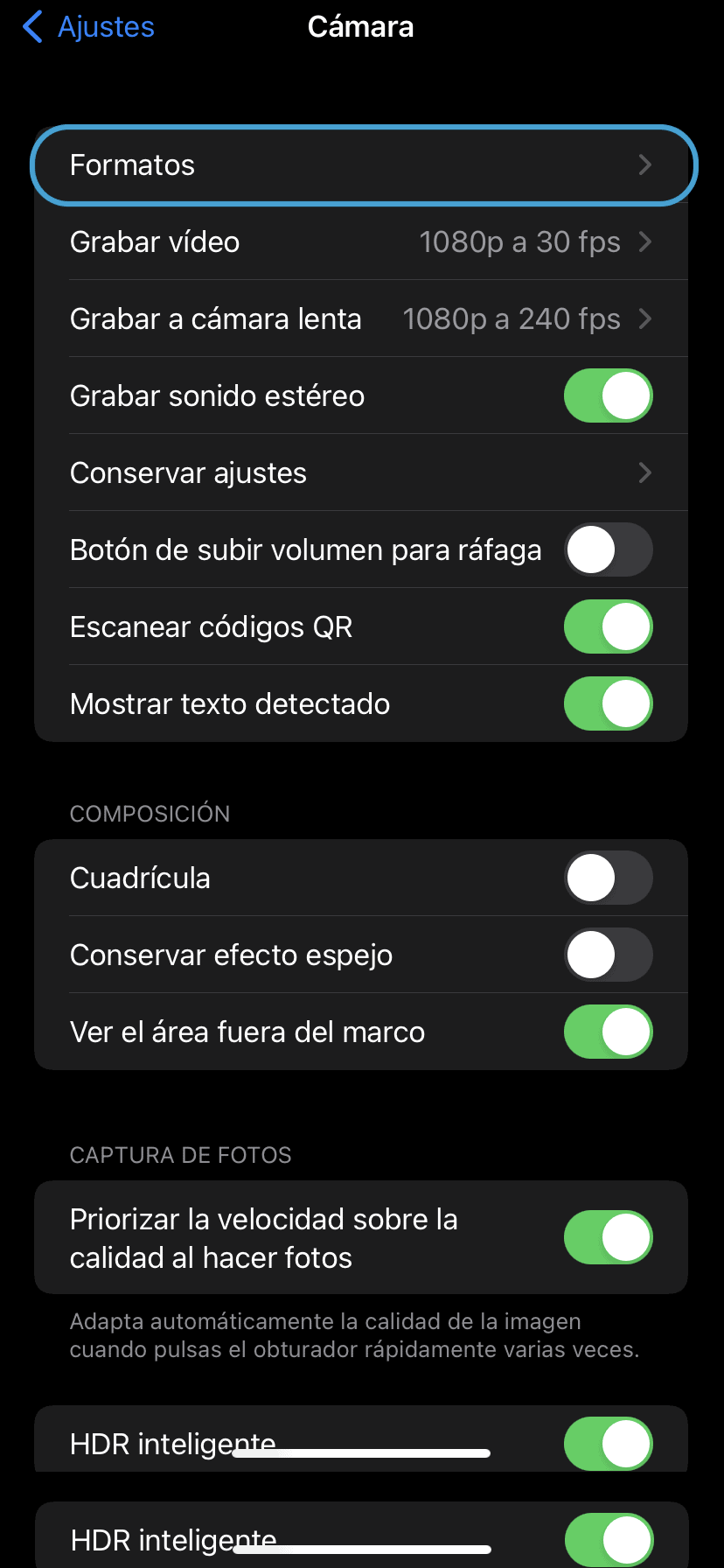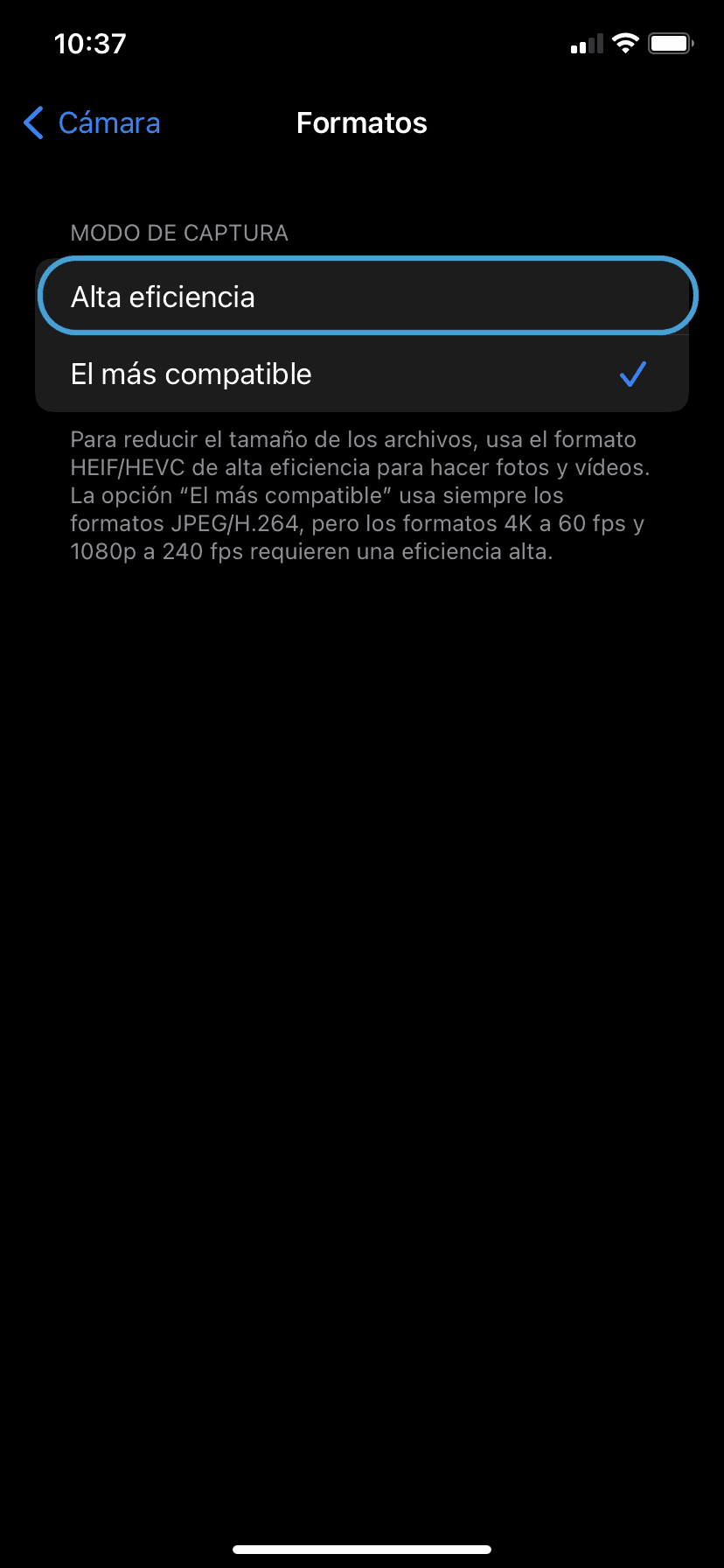 And so far everything you need to know about the HEIC format 🙂 . After the initial scare, you will have verified that it is interesting to consider this type of file for your images. Taking into account that they occupy practically half of the JPEGs and that they maintain the same quality, it is an interesting option when it comes to managing space on the mobile.
And if you prefer to change the file type for a compatibility issue, you have also seen that you have many options and ways to do it and, furthermore, they are very simple.
I hope this article has been useful to you. If so, don't hesitate to share it so that other users of this format can enjoy its advantages or fix possible compatibility problems 😉 . Thank you very much and until the next article.