The stock market is extremely volatile. For investors, each second of the trading hours plays a crucial role in deciding their portfolio's fate. This commercial playing field attracts 18 million investors in India alone. The mutual funds, however, record participation from 2 crore people nationally.
Given this dense member population, we often hear stories of a selected few who made it big in the industry and are bestowed with the title of a Successful Investor. The rest are either thrown-off from the market uncertainty or simply decide to quit after incurring persistent losses.
As such, a question that frustrates many people is: What are the secret hacks that provide leverage to these successful investors?
Essentially, there is one strategy that stands supremely important in the world of investing: Setting Financial Goals. While this may sound no rocket science to an ideal reader, there are many investors out there who often neglect this policy. 
This is precisely the crux of this article: decoding the 'how' and 'why' behind setting financial goals and understanding the implications of the same.
Your journey to becoming a successful investor starts here. 
Defines Investment Strategy
How do you define the ROI on your investment? And in what time frame?
This question forms the purpose of investing. The consensus settles on gaining returns. Better, to gain maximum returns in shorter time frames.
There is no universal set of norms to define an ROI. It depends upon your goals. What are you trying to achieve? Higher equity holding? More liquidity? Assets? Or something else?
Your answer will be different from your contemporaries. Therefore, setting financial goals is an essential step towards climbing the ladder of successful investing. These personal goals help build a vision. This vision, in turn, acts as the final destination of your investment journey.
To reach this peak, goals act as directions to draw investment strategies that weave your path as a successful investor. 
Wealth Creation for Future
As Robert Kiyosaki, author of 'Rich Dad Poor Dad,' the Number 1 Best-Selling book on Personal Finance, quotes, "It's not how much money you make, but how much money you keep, how hard it works for you, and how many generations you keep it for."
As humans, we are primed to act as caregivers – for ourselves and our families. It is critical to understand that a wise investment today yields a better return tomorrow.
For example, if you have invested wisely early on and developed a strong cushion for purchasing real estate, you're saving the mounting rental costs for yourself, and most importantly, your future generations.
Here, the financial goal is to purchase a property. This point corroborates the one listed above. The future goal of comfort and luxury is driven by wealth and assets, achieved by a set of calculated investment strategies.
So what's the takeaway? Profitable investing is a loop. Investing success necessitates setting financial goals, which in turn suggest investment strategies that help achieve them. 
Retirement Planning
The corporate world has a shelf life. After a point, you're obligated to retire without any financial assistance, like pensions.
This is where investing plays a significant part in shaping the second innings of your lives. Drawing financial goals will help you make beneficial decisions when you're young. The implications of these actions are realized when retirement strikes and radically transforms your lifestyle.
To be in charge of your actions is a serious responsibility. It is prudent to avoid ambiguity in such times. Listing goals provides a clear direction that successful investors inculcate during their investing activities. 
Provides Clarity on Outcomes
Stocks are uncertain. For example, in week 1 of January, we witness the market riding bull, followed by adopting bear's characteristics by the end of June. It is taxing to keep-up with this inconsistency. Impractical, to be honest.
While you can't control the ambiguity, you can certainly be prepared for these challenges. Setting financial goals helps in this regard. Based on the actions you've taken, you can map an estimated range of returns that the market will yield. While this doesn't eliminate the risks, it surely reduces them to suit your investing psychology and appetite.
As Warren Buffett quotes, "Predicting rain doesn't count. Building arks does."
Improves Saving Habits
A good investor can make money. But a great investor can make money, spend it, and save the rest for repurposing for their benefit.
It's great to witness temporary green patches on the portfolio, but it is equally important to channelize them for future growth. 
While savings is not considered important by many investors, this is one significant factor that restricts growth. And you can save in various ways, for example, if you have a decent credit score, you can research some of the best credit cards for yourself and start using one. Credit cards give you offers and cashbacks, as opposed to debit cards.
The laws of economics signify success as a dual combination of savings and investments. Financial goals help outline needs, wants, and motives to adopt healthy financial disciplines like saving with each paycheck or capital gains.  
Keeps You Well-Informed
The best way to weave your investment path is by taking informed decisions. Your financial goals help set a strategy. But it is important to capitalize upon the strategy to witness growth.
Stock market investing works best for those who are well-acquainted with market sentiments and actions. An investor gains increased alpha when he can make bold moves, increase his risk appetite, and develop the confidence to ditch herd-market-moves.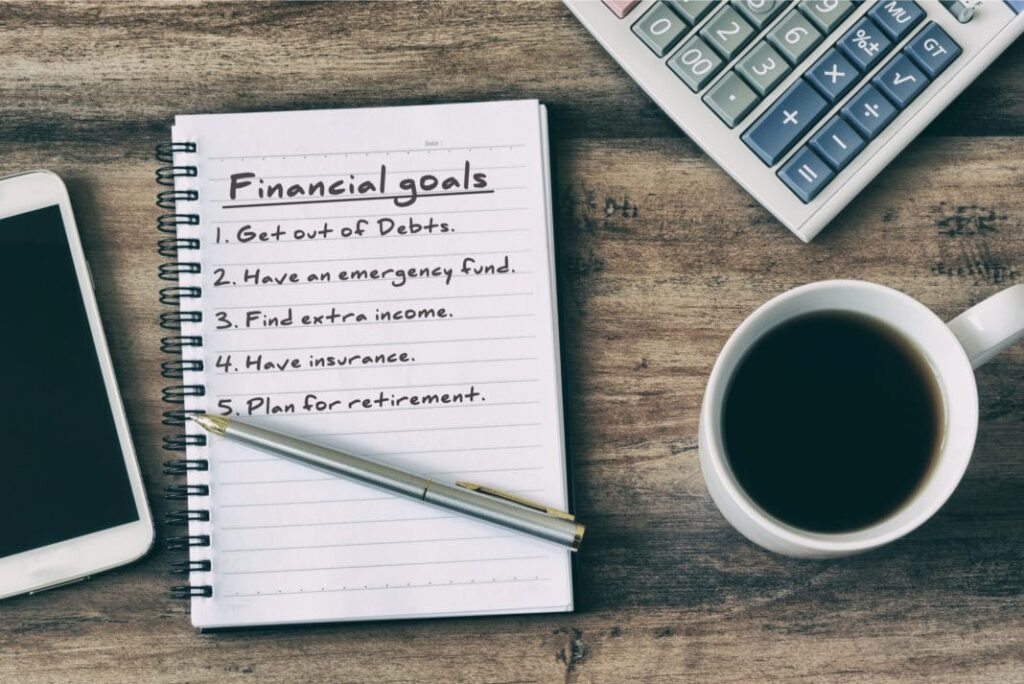 Financial goals streamline your attention to focus on what matters to you. How it will affect your portfolio, and what steps should you take to avoid calamities.
Let's assume your financial goal is to earn short term liquidity to re-invest in large-cap stocks. You study the market and conclude that it is profitable to opt for short selling. What do you do next? You lend a stock from an investment broker, sell it, and wait for the market to drop. Next, you purchase the stock at the reduced price, in the hopes of striking a profit.
There is no definitive answer to the strategy; rather, it is a risk that you decide to take. You either experience unforeseen profits or incur hefty losses. Either way, your goals help you educate yourself, build your confidence, and encourage you to make a move.
Either outcome will teach you a new thing or two, thereby fostering your development as a successful investor. 
Keeps Your Strategic Juices Flowing
Strategizing financial goals always keeps you on toes. That adrenaline rush of planning, investing, and waiting for outcomes affect all categories of investors – novice, intermediate, or experienced.
And if you see this objectively, it is, in fact, a positive by-product of setting goals.
As humans, we tend to achieve things we set our eyes on. We love taking pride in the results and strive to emerge as successful leaders. Calculated investing helps you see the light of such days. For example, have a clear goal on where to invest and how much to invest, draft a plan and pay your bills on time. If you have a credit card, you can use CRED to pay your credit card bills. These kind of hacks save you time and focus your energy on the right investment track.
Having a clear goal motivates you to work harder and work better. 
Allows Assessments
Investing is a scientific art. There are no fixed routes and no fixed returns. Like experiments, you need to set and re-set your strategies to keep up with market movements.
This is where goals help. With a fixed view in mind, you are certain about the result you're trying to achieve. Once an investment is made, you can wait for the results and analyze your strategies and market behavior to conclude whether they have met your goals or not.
With no goals in mind, there is no pattern of assessments, and therefore no way of understanding the implications of your decisions. 
Final Words
This list provides a holistic view of why setting goals is not an option, but a necessity to achieve success in the investing world.
The significance of planning is irreplaceable. It has essentially formed a part of your life, right from the start. It's time to expand this philosophy in the investing realm.
While setting goals is the first step towards the path of financial success, it is not exhaustive in itself. A multitude of factors is involved in generating the desired results.
Beyond the scope of financial benefits, the motivation and direction brought upon by adopting this practice enable you to evolve as a successful professional.
No goals are right or wrong – they don't need market acceptance. They need not be perfect. But what's important is that you abide by them. You believe in them. And think of them as an integral element of your investment journey.
As Warren Buffett quotes, "The most important quality for an investor is temperament, not intellect."