Google is much more than a search engine. Although it was born as such, over the years it has entered a large number of sectors, mainly web services, although it is also present in hardware with the Pixel range and as a fiber operator with Google Fiber, although, for now, only in United States. In addition to the search engine, Gmail, Google Drive and Photos, Google offers us other types of services that you probably don't know.
Next, we show you services that Google offers today, but that are not so popular, but it is not worth giving them a try.
Google People Locator
This Google platform is focused on finding people where they have happened natural disasters, humanitarian crises, mass exoduses of countries and others. Every time a phenomenon of this type occurs, Google contacts humanitarian organizations and country governments to create a list of people whose whereabouts and status are known.
Google Shopping
Google Shopping is a platform where we can find and buy all kinds of items. It is nothing more than an aggregator of products from different platforms that are listed and where the price and valuation of the products are shown so that we can compare which is the best offer available at that time.
In addition, we can also access a tab of all products from where we can access all the offers available at that time. Covers most categories (home, decoration, consumer electronics, computers, crafts, appliances and much more).
Buy domains
Google is also in the field of web domains and allows us to choose from more than 300 domain endings in addition to offering support 24 hours a day. The prices that this service offers us are practically the same that we can find in similar companies, but with the comfort of being able to link the domain with the web that we can do through another of the services that Google also makes available to us: Google Sites.
In addition, it also allows us to transfer the management of a domain from other platforms. The cost for most domains is 12 euros per year, though not all. The .tech, .live or .world domains are among the most expensive with a price of 38 euros per year.
Create your own website
Thanks to the Google Sites platform, we can create web pages of all kinds, just like Wix, but totally free and with a large number of functions. In addition, it includes a large number of templates designed for different uses, be it resumes, events, presentations, online help center and much more.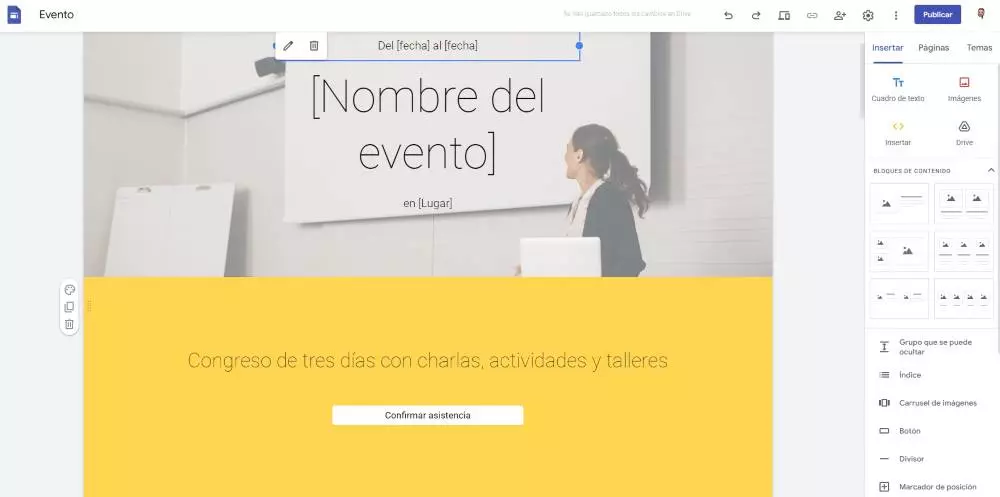 Integration with Google platforms such as YouTube, Google Maps, Google Docs and others is seamless, which allows us It will allow you to easily and very quickly create any unpretentious web page, but more than enough for most users.
Create advertising campaigns
Adwords is the Google platform that makes it available to any person or company to start advertise on google in a very simple way. We just have to create the ad with a headline and a description, select the keywords for which we want our ads to be displayed and set the maximum price we want to pay for each time our ad is clicked.
Depending on the sector, the price of words can be more or less expensive. It allows us to adjust a weekly or monthly budget, the posting schedulesthe countries or regions where we want them to be displayed, the age groups of the users to whom they will be displayed, and much more.