Good ideas often come from young creative minds. We will tell you about 3 developed in Switzerland, in a place that favors its realization.
L'innovation that looks to a sustainable future often arises from the preparation and enthusiasm of young entrepreneurs who come together to give substance to brilliant ideas. That's what happened in Swiss, in particular in a structure that encourages and develops the creativity of those who attend one of the most prestigious universities in the country. Three startup were born within the Student project house (Sph) di Zurigoa source of pride forEth, the Federal Polytechnic of the city, whose full name is Eidgenössische Technische Hochschule. The Sph is a building open to all students who want to put their projects into practice: here there is space to study and discuss with colleagues, the advice of teachers is offered for each subject, the tools are made available needed to prototype your ideas and much more. All managed by the students themselves who in this way acquire autonomy and responsibility in a comfortable environment and with all the comforts (free coffee and drinks, workstations at no cost, recreational spaces, exchange opportunities). What do you need to access it? A good idea.
1 Autonomous river cleanup, for clean rivers
It is one of the ideas that strikes you when visiting the Student project house because it gives a concrete answer, even if still in progress, to a huge problem of our time:pollution of rivers. The mission of the project Autonomous river cleanup (Arc) in fact, it is using technology, in particular robotics and automation, to maximize the impact of removing plastic from rivers. A large team of volunteers, bachelor's and master's thesis students supervised by expert doctoral students and professors from Eth Zurich has developed a system capable of significantly reducing plastic waste in river waters which, of course, then end up by also pollute the seas on their final journey. The prototype of this ingenious machine – made with the support of important industrial companies – was put to the test in the waters of the Zurich river, the Limmat.
But how does it actually act? In practice, a "plastic collector" is mounted on a boat, then assisted by a robotic arm which, thanks to artificial intelligence, after analyzing the waste, is able to distinguish it from other non-harmful residues found in the water, such as shrubs or other .
Waste sorting thanks to Autonomous river cleanup © ETH Zurich
2 Digit soil, to analyze the soil in minutes
The second start-up is linked to the world ofagriculture. The two founders of Digit Soil in fact, they are developing a device that allows an analysis of the state of soil health in real time. "Our long-term goal is to develop a soil monitoring system that will help implement results-based agricultural policies. We also plan to provide farmers with an internet platform that will help them improve the health of their land, "says Hélène Iven, co-founder of Digit Soil and associate researcher with Eth in Zurich. The two creators of the project met inside the Student project house: Sonia Meller, PhD student presented her idea and Hélène Iven, then Master's student, was so enthusiastic about the project that she decided to join her to optimize strengths and skills. Their Digit soil has already received a grant of 150,000 Swiss Francs and now the spin-off has started.
What does Digit soil consist of? It is a portable detector that analyzes the state of the ground in a few minutes (maximum 20): a sample is taken, inserted into the machine – not bulky, light and easily transportable – and the result is also obtained on your mobile phone thanks to an app . The enzymes, basic for the health of the soil, are analyzed and, depending on the reports, the fertilizers to be used for crops are also recommended. It all started from the need to remedy the degradation of the soil: with this machine anyone in a short time and with a reduced expense, can analyze and act accordingly on their land and therefore on the health and productivity of the same.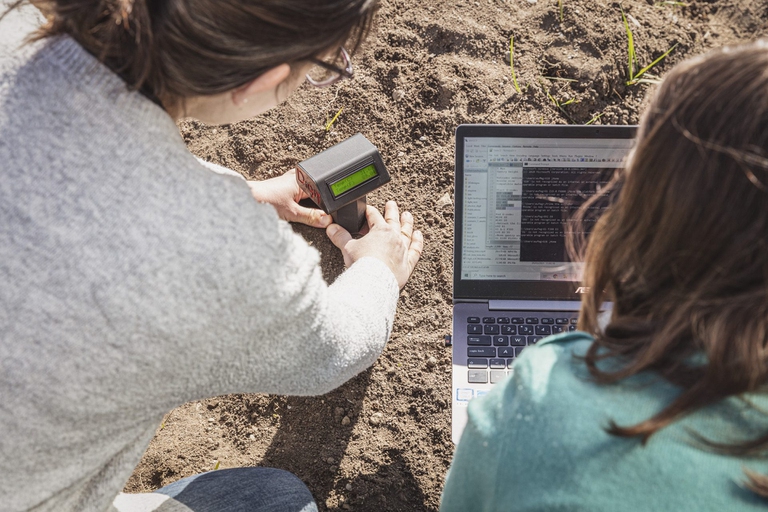 Digit soil at work: immediate analysis of soil characteristics © Digit soil
3 Groam, the bioplastic from vegetables for packaging
We always remain in the field of agriculture for Grom, once again conceived by two girls who thought about transforming agricultural production waste into a bioplastic that was degradable in an even simpler way than those already existing. It all started by examining, on the one hand, the data on plastic production, especially that used for packaging, and on the other, those relating to waste in the agricultural and food sectors. A surplus in both cases. Hence the project to create a bioplastic that could be used as packaging to decrease the production of plastic and at the same time reuse bio waste.
At first glance it looks like a sponge but it has great possibilities: now it is mainly used for hydroponic agriculture but they are also testing it for packaging and in the near future, improving it, also for the fashion and footwear industry. Three good examples of how valuable ideas can be transformed into successful projects and products if properly supported.



This work is licensed under a Creative Commons Attribution – Non Commercial – No Derivative Works 4.0 International License.